Aldi's Pet Advent Calendars Are Being Recalled Over Potential Choking Hazard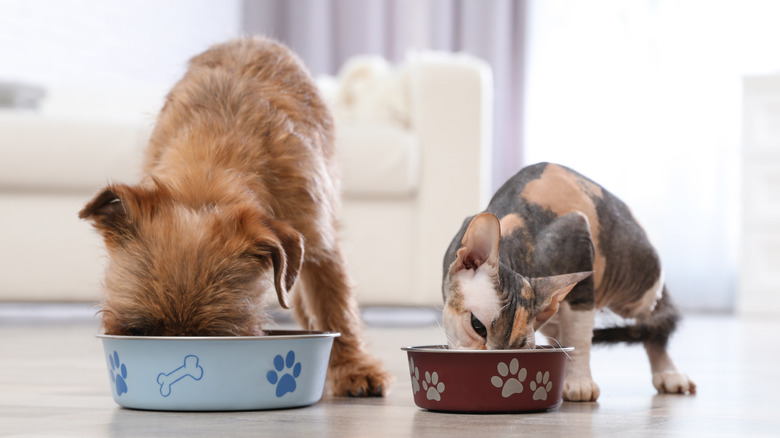 New Africa/Shutterstock
Shoppers flock to Aldi early every holiday season for the release of some of the grocery chain's most coveted items: advent calendars. Each Aldi advent calendar — and there are many — sports a different theme, ranging from Legos to bath bombs and even wine, allowing revelers to count down the days until Christmas in a fun, engaging way. 
This December, two of Aldi's advent calendars were catered toward pets, with one for dogs and another for cats. However, on December 9, Aldi recalled its Pure Being Cat Advent Calendar and Pure Being Dog Advent Calendar, both in the 5.15-ounce box size, "as a precautionary measure due to a potential choking hazard," according to a press release. The announcement said that the decision to recall the items and remove them from stores was based partially on a "small number" of complaints sent in by consumers. "Calling these treats hard is an understatement. They're like little cement blocks," wrote one commenter on an Aldi Reviewer article about the calendars.
Discard your Aldi pet advent calendar for the sake of your furry friends
Aldi's pet calendars' potential choking hazards aren't news. Mashed reported earlier this month that Reddit had voiced concerns over the treats in the store's cat calendars, with one user stating that they were so hard, they soaked them in water before trying to give them to their cat — but even that didn't soften them up. Aldi Reviewer assessed the dog calendar when it first came out, giving it four out of five stars and writing that while the treats were tasty, they were too hard for her pet to chew. One commenter on the article shared that her small dog nearly choked, and her older dog had trouble breaking the treat apart. "As a former vet tech I am dissatisfied and disappointed."
After the calendars were recalled, Reddit chimed in on the announcement with another thread, this one with many comments claiming that owners not only feared for their pets' safety, but also their health. "One of my dogs started throwing up daily after feeding him the Aldi treats for 4 days. I figured it was the treats and stopped giving it to him and he hasn't thrown up since," wrote one user. Aldi's announcement encourages customers who have bought one of the affected advent calendars to throw it away or return it for a refund.