Sonic Has Good News For Fans Of Its Classic Patty Melt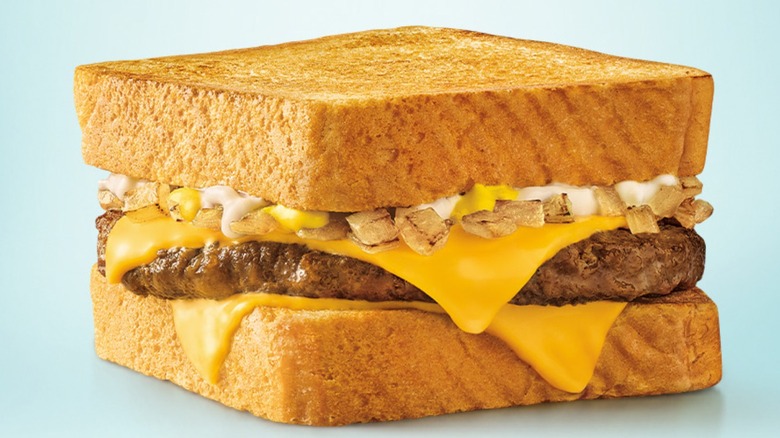 Sonic Drive-In
Earlier this year, Sonic upgraded its cheeseburger lineup, and looking back, one of the highlights came in August with the introduction of a cheesy new menu Item: The Grilled Cheese Burger, which combined two classics in one sandwich. Starting at $2.49 and up (depending on the toppings added), it was little more than a snack for some, particularly those who view any burger that weighs less than quarter-pound as a mere "slider." For those looking for something bigger — say, a classic patty melt — the Sonic Grilled Cheese Burger came close, but  didn't quite get there.
Like the actual patty melt, whose origin story dates back to Southern California in the 1950s (via New York Times), Sonic's Grilled Cheese Burger nestled meat, melted cheese, and onions between two slices of buttery grilled bread. Unlike the classic, which has a hint of sweetness from caramelized onions, the Grilled Cheese Burger came with raw onions and got its sweetness from ketchup. While fans seemed appreciative of Sonic's effort, they weren't all that impressed, as seen on Reddit. But, now, Sonic has some exciting news for those craving something more substantial.
Sonic's classic patty melt sandwich is back!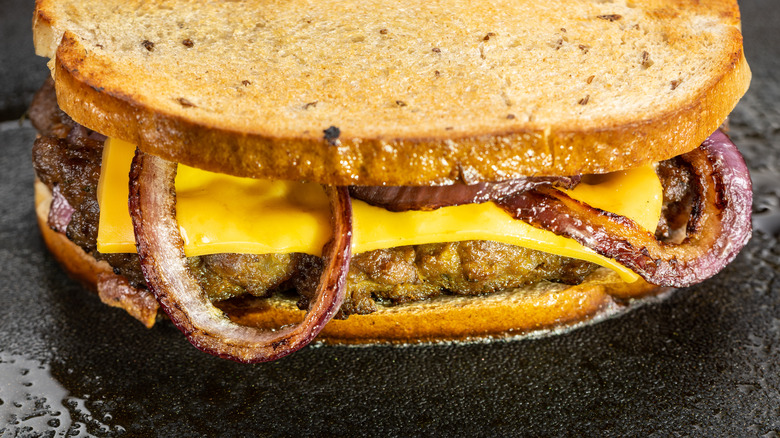 Steve Gadomski/Shutterstock
"Patty melts are BACK!" Sonic announced on its website December 27, and it's welcome news for fans of the classic sandwich who weren't 100% pleased with the Grilled Cheese Burger that Sonic introduced to its menu for a limited time over the summer. The Sonic Patty Melt features a quarter-pound seasoned patty made with 100% pure beef, plus grilled onions, two slices of American cheese, mayo, and mustard, served between two slices of buttery Texas Toast, according to a company press release. There's also an option for a double-sized sandwich. The real draw is the fact that, instead of raw onions, those on this new patty melt are grilled, as they are in the recipe you might make at home. 
The Sonic Patty Melt is available starting at $3.99 through February 27, 2022, at participating Sonic locations while supplies last. And as an extra added bonus, you can try one for half-price if you order through Sonic's website or the Sonic app. "With guests enjoying our now even more craveable cheeseburgers, Sonic wanted to provide a familiar dining staple wrapped in signature savory flavors with the return of the patty melt," Sonic's executive chef Scott Uehlein said in the press release. "A comforting option after the holidays that's complete with melty cheese and grilled onions, we've layered in all the ingredients between thick, golden slices of Texas Toast to offer guests a moment of delightful bliss!"