Aldi Fans Are Psyched To Grab Its Returning Toasted Ravioli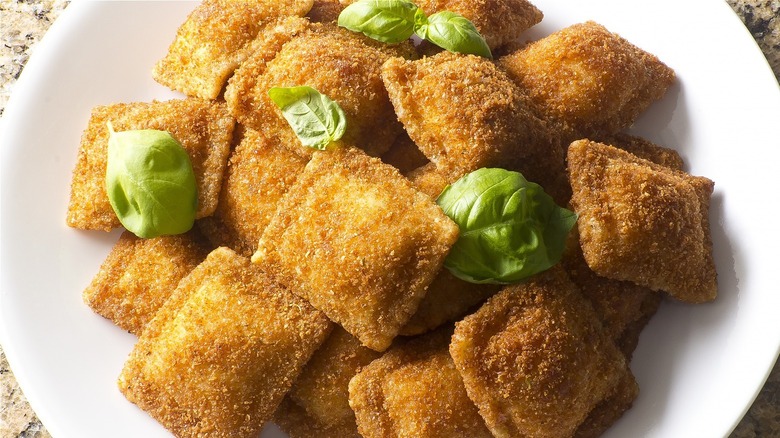 Ezume Images/Shutterstock
When you're in the mood for Italian food — specifically pasta — you have a lot of choices. There are more than 50 different types of pasta, not even including all of the size varieties (via Insider). Maybe you like a classic plate of spaghetti and meatballs, twirling the long noodles around your fork. Maybe you prefer a hefty slice of lasagna, with its layers of pasta and ricotta cheese. Maybe you're into fettuccine Alfredo, smothered in creamy sauce. Or maybe, you're a fan of ravioli.
If the latter is the case, you aren't alone. According to YouGov, the stuffed pasta squares are one of the more popular Italian dishes, ahead of baked ziti and pasta with vodka sauce. Only 6% of people surveyed this year said they don't like it. Now there's good news for ravioli fans: Aldi just brought back its highly coveted toasted ravioli. A recent Instagram post revealed the frozen dish is back on shelves —  and shoppers are very excited.
The frozen ravioli is filled with cheese and spinach
An Instagram post by Aldi fan account @aldifavoritefinds shared, among other things, a photo of Mama Cozzi's breaded toasted ravioli. The frozen ravioli appear to be coated in a thin layer of bread crumbs and are stuffed with a blend of real Italian cheese and spinach. The package costs just $3.49 at the location where it was found. It seems that some commenters can't wait to get their hands on them. "Yay the ravioli are back!!!! Stocking up!!!" exclaimed one. Another declared, "Toasted Ravoli are the best!" And a third person who only tried a previous beef version called Aldi's ravioli "so delicious" that they could down a whole box. Some recommended heating them up in the air fryer for added crunch. 
People have praised various versions of Aldi's toasted ravioli over the years. "Perfectly toasted ravioli, with just the right ratio of crispy & chewy seasoned outside to creamy & cheesy filling," the blogger at Almost All Aldi wrote in 2020, adding they like to dip the ravioli in tangy marinara sauce. In 2018, a Redditor wrote, "Just bought some of these. As a St. Louis native, I can say they are the real deal."  A blogger from à la aldi who had the beef version said, "These are so simple and delicious for a snack, lunch, or dinner. When air fried, the breading comes out so crunchy to counter the soft, perfectly seasoned beef mixture inside."