Easy Norwegian Waffles Recipe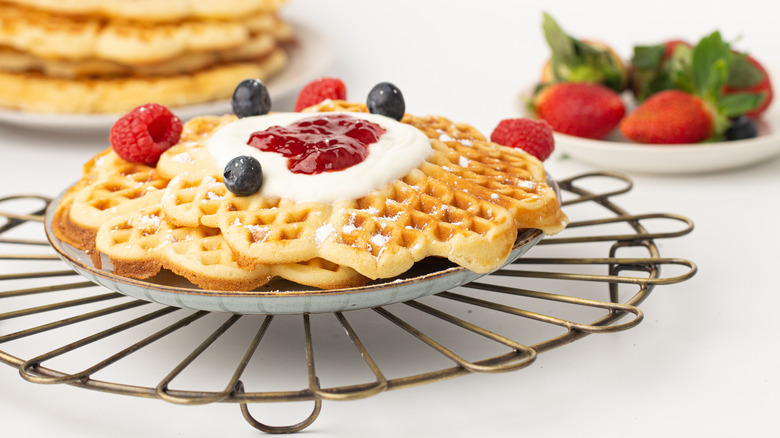 Susan Olayinka/Mashed
Scandinavian food isn't too well-known in most of the U.S., apart from those delicious IKEA meatballs. IKEA is in fact Swedish, as is much of the food on its restaurant menu (with the other items being all-American). While Norwegian food has many overlaps with the fare served in Sweden, Swedish Nomad notes that there are a few typically Norwegian specialties. Some of these may seem a bit strange to American tastebuds — we're not too familiar with reindeer meat or whale steaks, and what we've heard about lutefisk has been anything but positive. However, one Norwegian delicacy certainly has universal appeal: thin, crispy, heart-shaped waffles!
Susan Olayinka of The Flexible Fridge tells us that her version of this recipe is a fairly traditional one, although she adds that she puts her own spin on them by using plain yogurt in place of the traditional sour cream. She describes the texture of her waffles as "soft, buttery, and cake-like." Olayinka notes that some Norwegian recipes use yogurt, so her variant isn't too outside of the norm. What's more, she says, "I used a heart-shaped waffle iron — as Norwegian as I could find!"
Gather the ingredients for Norwegian waffles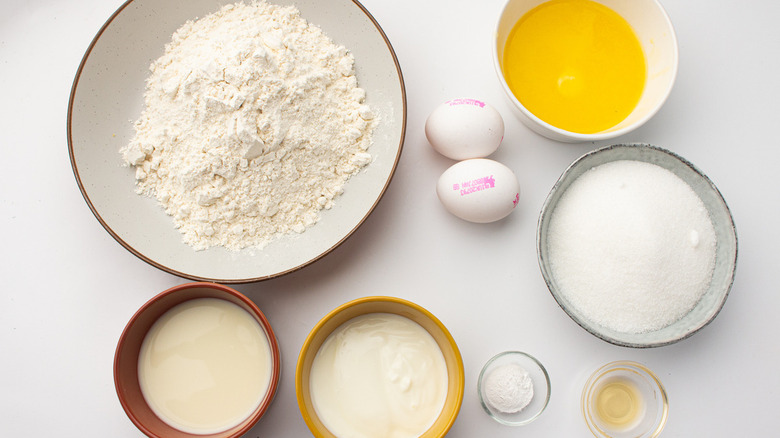 Susan Olayinka/Mashed
In addition to the yogurt, this recipe calls for some basic pantry and fridge staples. The dry ingredients consist of flour (the all-purpose kind), sugar, and baking powder, and you'll also be using eggs, vanilla, butter, and milk. Olayinka uses whole milk and says, "Whole milk is definitely better for that buttery taste. As these are a treat, don't skimp on the fat." If you've only got 2% milk in the house though, you probably won't notice a huge difference once you add the toppings. Or else, Cook's Illustrated recommends making a whole milk substitute by mixing 6 tablespoons of 2% milk with 2 tablespoons of half and half. 
Begin by making the waffle batter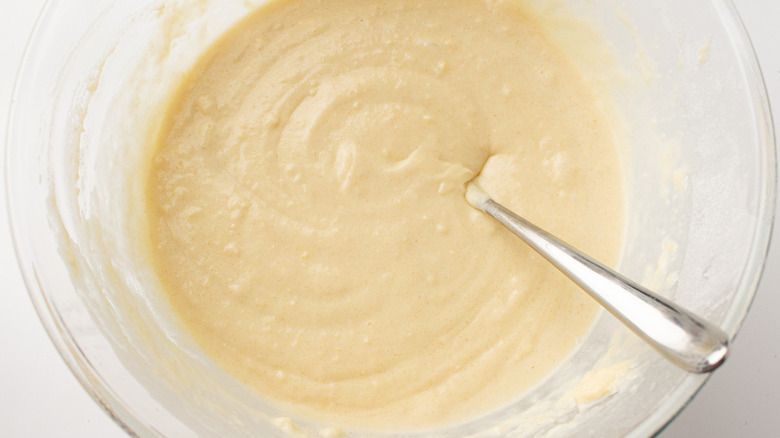 Susan Olayinka/Mashed
Combine the flour, sugar, and baking powder in one bowl. There's no need to sift them, but you should at least stir and scoop the flour before measuring it out since packed-down flour might cause your waffles to be too heavy. In another bowl, beat the eggs together with the milk, vanilla, and melted butter. Gently stir the wet mixture into the dry ingredients until everything is just combined. You don't have to worry about making it perfectly smooth since waffle and pancake batter tends to have a few lumps.
Prepare the waffle iron and cook the waffles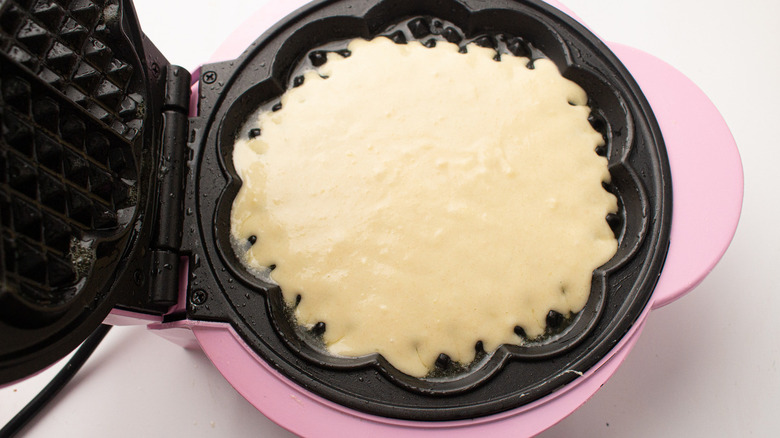 Susan Olayinka/Mashed
It's best to preheat your waffle iron before you begin to cook. Olayinka notes that if your iron is so fancy as to have temperature settings, then you should set it on medium-high. Once the waffle iron is hot, brush the plates with a little more melted butter — Olayinka notes that it takes about 1 tablespoon of butter to brush the plates seven times for all of the waffles. 
When the iron is greased, pour ½ cup of batter right onto the center and close the lid to start the cooking. Cook each waffle for 3 minutes at which point it should be a nice golden brown. Repeat the waffle cooking process, first brushing the plates with butter and then adding ½ cup of batter, until all seven waffles have been cooked.
Serve the waffles hot with your favorite toppings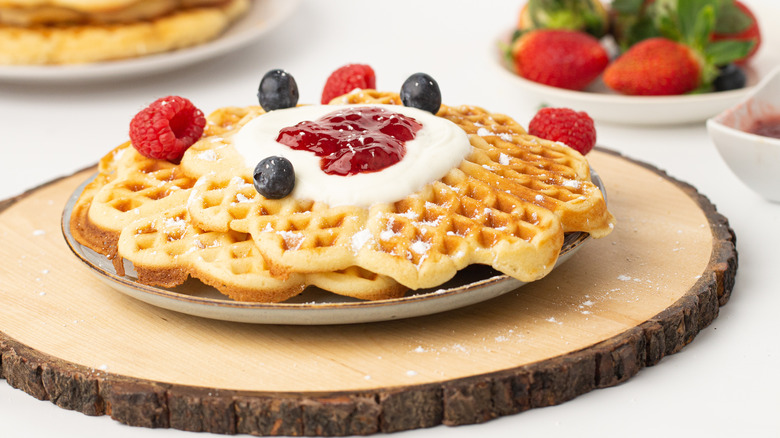 Susan Olayinka/Mashed
These waffles are best served fresh and hot, although, of course, the very first waffle will have cooled down a bit by the time the last one is done. Oh well, it can't be helped, unless you have two waffle chefs taking turns cooking as the other one eats.
These waffles are delicious by themselves, or you can serve them Norwegian-style topped with sour cream and strawberry jam. Olayinka also likes them with yogurt and lingonberry jam (which you can purchase in the IKEA marketplace) or suggests "whipped cream and fresh berries." You could even go American/Canadian-style and enjoy your waffles with maple syrup.
Easy Norwegian Waffles Recipe
Try this easy Norwegian waffles recipe for a sweet touch to your day. Fridge and pantry staples make these waffles a quick option to whip up any time you like.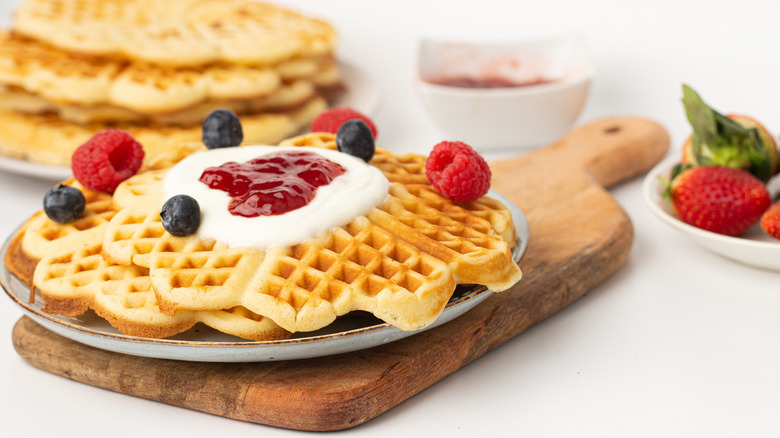 Ingredients
2 cups all-purpose flour
1 cup granulated sugar
1 teaspoon baking powder
2 eggs
¼ cup plain yogurt
½ cup whole milk
1 teaspoon vanilla extract
¾ cup (1 ½ sticks) + 1 tablespoon unsalted butter, melted, divided
Optional Ingredients
yogurt or sour cream, for topping
lingonberry or strawberry jam, for topping
whipped cream, for topping
fresh berries, for topping
Directions
Combine the all-purpose flour, sugar, and baking powder in a bowl.
In another bowl, beat the eggs, yogurt, milk, vanilla, and ¾ cup of butter to combine.
Gently pour the wet mixture into the dry mixture.
Preheat the waffle iron.
Brush the waffle iron with the remaining melted butter.
Pour ½ cup of batter into the center of the waffle iron.
Cook the waffle for 3 minutes.
Repeat the process until all 7 waffles are cooked.
Serve the waffles immediately with your choice of toppings.
Nutrition
| | |
| --- | --- |
| Calories per Serving | 465 |
| Total Fat | 23.7 g |
| Saturated Fat | 14.5 g |
| Trans Fat | 0.9 g |
| Cholesterol | 105.2 mg |
| | |
| --- | --- |
| Total Carbohydrates | 57.4 g |
| Dietary Fiber | 1.0 g |
| Total Sugars | 30.0 g |
| Sodium | 84.8 mg |
| Protein | 6.3 g |