Dunkin' Donuts Employee Just Shared 'Delicious' Upcoming Coffee Flavor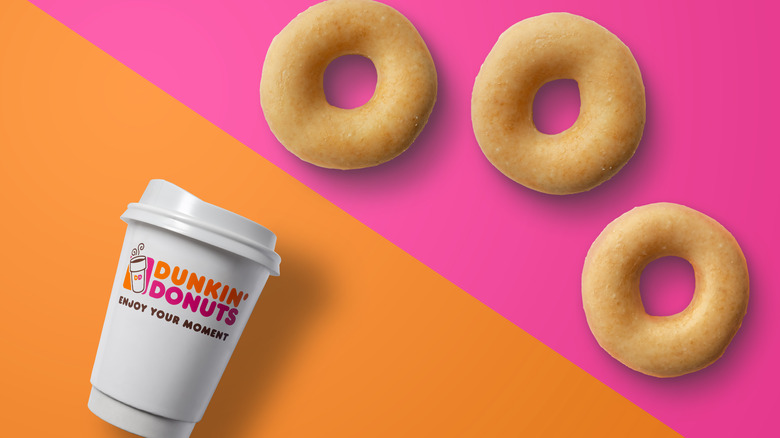 Nixx Photography/Shutterstock
It has certainly been a banner year for Dunkin'. Their spring menu, leaked on Reddit, boasted new items like a new cold foam topping option for cold drinks and an Irish Creme Swirl to rival the Irish Cream Cold Brew at Starbucks. Their newer merch also garnered enough attention and buzz to get Instagram in a tizzy to find even the smallest of items like their iced coffee keychain.
And that is not even scratching the surface of their holiday items. Their hot chocolate bombs took over the internet and continued to gain popularity during the first winter of the pandemic. They also added holiday drinks to the menu, like iced and hot versions of their Peppermint Mocha Signature Lattes, Toasted White Chocolate Signature Lattes, and White Mocha Hot Chocolates. 
And despite Dunkin's best efforts to keep things under wraps until they announced the launch themselves, it seems one of the few employees who have decided to take to Reddit with their excitement is at it again with the announcement of yet another new and tasty coffee on its way.
Slam Dunkin
According to Reddit user naruto1597, Dunkin' has a new Brown Sugar Cookie syrup that will be available to be added to drinks in early January — and they claim it is delicious. Fans are already keyed up and excited about the announcement, with some corroborating naruto1597's post. One user even said, "It's so good. These syrups have been really good since chocolate stout, I've been impressed with each LTO cold brew with cold foam."
Others shared their excitement. One commenter said that they're looking forward to it: "I loved the cookie dough swirl from summer time, and then gingerbread last winter was great. This will probably be up my alley." Meanwhile, another simply said, "Woo I love the syrups." 
If the crowd on Reddit is any indication, this new syrup flavor is already likely to be a hit, especially among those who are fans of the cookie-flavored offerings Dunkin' has launched recently.