This Chef Has The Best Meatball Recipe, According To Alex Guarnaschelli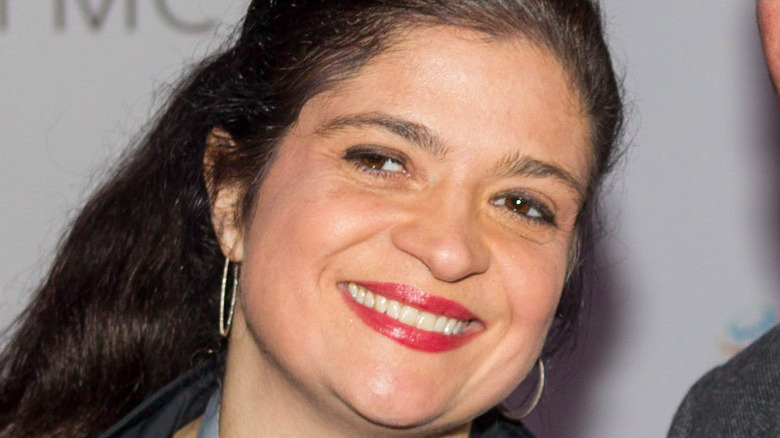 Jamie Lamor Thompson/Shutterstock
Like a perfectly balanced dish, chef Alex Guarnaschelli has a blend of sweet and a little salty that keeps fans coming back for more. The Food Network star has been known to deliver the cold hard truth as a judge on "Chopped," and is ready to go to the mattresses with an entire nation on her upcoming show, "Alex vs. America." But her feisty personality comes with a warm hug, and Guarnaschelli's maternal instinct (on display in her recent Instagram "mom brag") carries over to the kitchen too, often in the form of lifting her fellow chefs.
Take last year's meatball showdown from The Kitchn, for example. The October 2020 article set out to determine which meatball was best, out of four highly popular contenders. A tester lined up (and cooked) meatball recipes from celebrity chefs Ina Garten and Anne Burrell, along with one from the food blog Smitten Kitchen and another from legendary New York eatery Rao's. The ball by Burrell was the undisputed champion, with the tester claiming that Chef Burrell's meatball recipe was so good in fact, that it "ruined all other meatballs for me." When a cheeky Twitter user posted the story a couple of weeks ago, she admonished The Kitchn, saying they must not have tried the meatball recipe from Alex Guarnaschelli's collection. Guarnaschelli replied: "I could have saved you all the testing," she tweeted, "and just told you @chefanneburrell's are the best."
In a meatball showdown between Anne Burrell and Alex Guarnaschelli, the latter lays down her spatula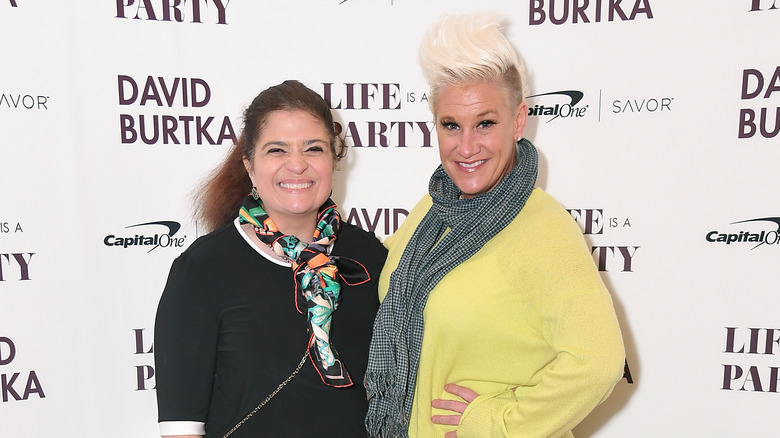 Michael Loccisano/Getty Images
No exclamation points, no playful emojis. Just a flat-out statement: Anne Burrell's meatballs are the best in town, according to Guarnaschelli's tweet. Guarnaschelli is no stranger to girl power; a recent People article took great joy in witnessing the bond that formed between her, Giada De Laurentiis, and Dominique Crenn when the trio guest-starred on "Guy's Grocery Games" on the Food Network. But when it comes to Guarnaschelli's love and respect for Burrell, the proof is in the pudding. The former was even a guest at the latter's wedding earlier this year, posting a photo of the happy couple on her own Instagram page.
What makes Burrell's meatballs so good that Guarnaschelli would promote them to the Twitterverse over her own? It's not just the chefs' BFF status that cements Burrell's place in the meatball hall of fame. The Kitchn says that Burrell's recipe has hundreds of 5-star reviews for a reason; while they may take a little longer than your average meatball, particularly if you're using the complementary sauce recipe that calls for a few hours of simmering, they are well worth the extra time and effort. And if Guarnaschelli concurs, then we should all concur.