In David Chang's Career, One Recipe Stands Above The Rest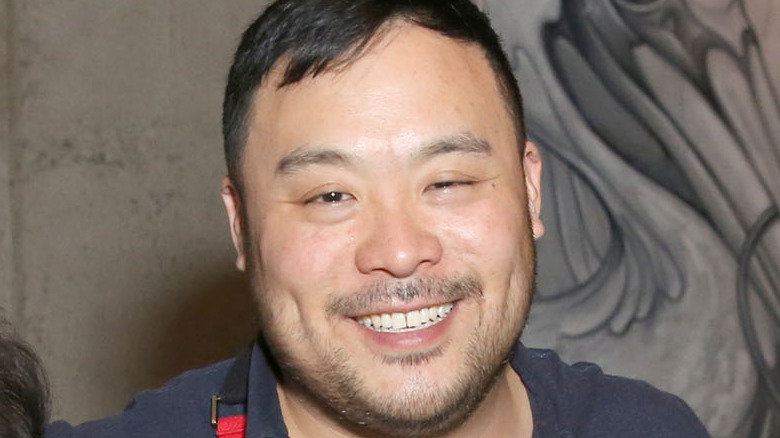 Rachel Murray/Getty Images
David Chang has influenced the restaurant industry in innumerable ways, and he's also been a huge inspiration for other chefs since he began his career in the early 2000s (via Forbes). The dinner experience you enjoy tonight might not exist without the influence of David Chang, posits The Washington Post: They profiled the chef, host, and producer of "Ugly Delicious" in the newspaper's 2019 five-part "Decade Influencers" series. Such a force is Chang that his name has become an adjective in certain circles, as in "Changing," says the newspaper. Even if you don't live in New York or one of the cities where the 44-year-old has restaurants, you've experienced the Chang effect. 
Washington Post writer Maura Judkis puts it perfectly: "If you've had ramen in a smaller city, circa 2014, that's David Chang. If you've heard Notorious B.I.G. or LCD Soundsystem in a restaurant. If you've sat before an open kitchen, in a place with a minimalist, plywood aesthetic. If your neighborhood has a restaurant started by a young chef with an attitude, and an eclectic menu of whatever the hell he feels like cooking, all of those things are David Chang."
David Chang's rise to success began in 2004, according to Fortune, with his Momofuku Noodle Bar in New York. Chang went on to open several other outposts of Momofuku, Fuku fried chicken restaurants, Momofuku Milk Bar with Christina Tosi, and several other bars in the Big Apple, as well as cities like Los Angeles, Toronto, and Las Vegas. 
Pork buns are Chang's iconic dish
Although David Chang has his popular Fuku chicken sandwiches (per Rockefeller Center) and his iconic ramen (per NPR), one recipe stands above the rest: the pork bun. Writing for Wired, Chang said that in creating the recipe, he sought to offer an experience that would halt dinner conversation and "melt" guests' faces. Chang says the idea for the pork buns (also known as gua bao) came from classic Peking duck (duck roasted in hoisin sauce, ginger, and honey, per Taste Atlas) buns served in Chinese restaurants. 
This "11th-hour addition" to the Momofuku menu in 2004 (per Good Food) soon became Chang's best-selling menu item, Chang wrote for Wired. He substituted duck with pork belly, added sauce and toppings, and "people went crazy for them." 
Eater's Greg Morabito says that Chang's "luxe" pork bun set a new standard for the traditional snack. Entire restaurants were founded around copycat versions. Eater broke down the real thing, which is still offered on at Momofuku Noodle Bars. Soft and fluffy bao buns are steamed before serving. They're filled with sliced pork belly that is cured in-house with salt and sugar, then slow-roasted. Each bun gets a layer of Lee Kum Kee hoisin sauce, a garnish of thinly-sliced scallions, and cucumber slices that are quick-cured in sugar and salt. After nearly 18 years, pork buns are still David Chang's most notable recipe. For more Chang genius, check out Mashed's Momofuku ramen recipe with a twist.