Frozen Hot Chocolate Is The Drink You Need In Your Life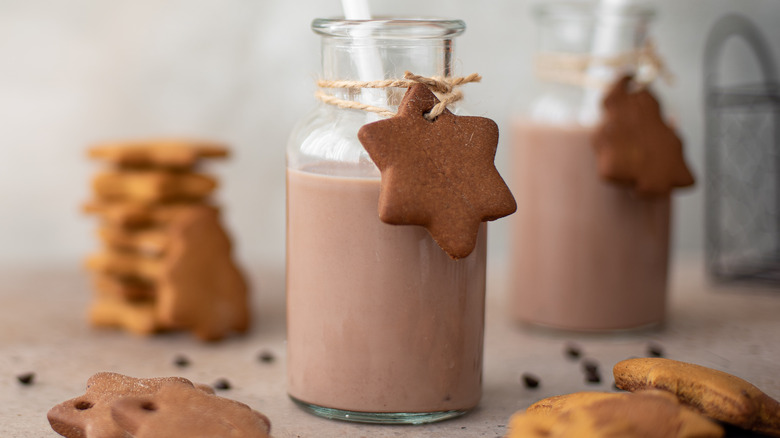 Gagarova Olga/Shutterstock
Sipping on a mug of hot chocolate is an essential wintertime activity, especially when the frigid temps encourage many of us to hunker down and get cozy indoors. The frothy, rich, and satisfyingly sweet libation is enjoyed all around the world. It's believed that the ancient Mayans imbibed on a more bitter and spicy version of the chocolate drink around 1500 B.C., adding chili pepper to it (per Hotel Chocolat). Even former U.S. Presidents George Washington and Thomas Jefferson were said to indulge in the decadent, creamy drink.
But no matter how you choose to enjoy hot cocoa, whether classically simple or with all the bells and whistles, the drinkable dessert can warm you up and might even bring you right back to a happy childhood memory. 
There are times, however, when spoiling yourself with a refreshing, frozen beverage is warranted — even in the colder months. Frozen hot chocolate, despite its name being quite oxymoronic, is an ideal sipper for those who desire to shift to something other than a cup of piping cocoa. Thankfully, the recipe is very similar to its steamy counterpart with just a few alterations. 
Frozen hot chocolate is simple and satisfying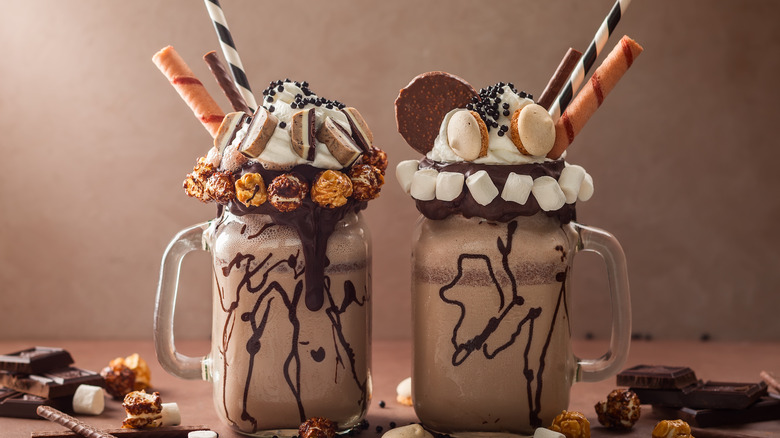 Kolpakova Svetlana/Shutterstock
Not a far throw from a classic chocolate milkshake, frozen hot chocolate has made its way into the culinary atmosphere via numerous cookbooks and food blogs. Frozen cocoa was first created, and made famous by, the popular restaurant Serendipity, located in Manhattan (per Southern Living).
Consumers around the globe have tried different variations of the frozen treat. According to Refinery29, in 2019 YouTube sensation, Emma Chamberlain, launched her own coffee brand called Chamberlain Coffee. Keeping up with the cocoa trend, the company took to Instagram to announce its newest blend, Cocoa Grizzly Hot Chocolate. Elite Daily shares Chamberlain's go-to recipe for frozen hot chocolate using three ingredients: Cocoa Grizzly Hot Chocolate, milk, and ice. You can also toss in a dollop of peanut butter, banana slices, marshmallows, or any other ingredient that harmonizes with chocolate.
Delish boasts a frozen cocoa recipe claiming that it's better than the New York original and bake shares a recipe by the famous pastry chef, Jacques Torres.
Whether you enjoy it with a straw or a spoon, go classic or over the top, frozen cocoa may just become a year-round sweet treat in your life.