The Big Problem Some People Have With Gordon Ramsay's Egg Fried Rice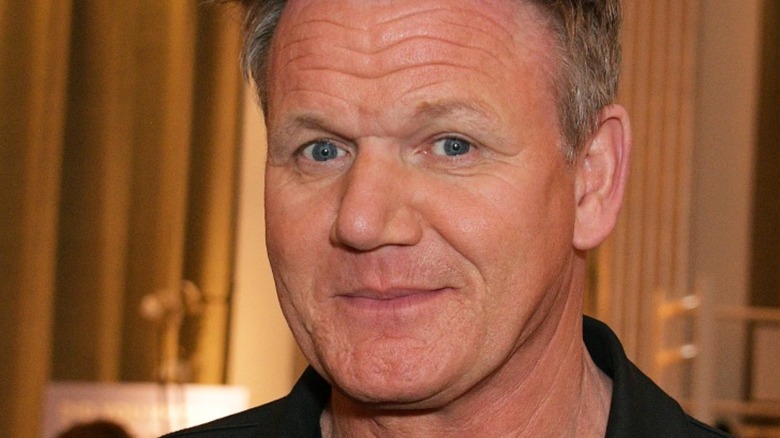 David M. Benett/Getty
Of all the Asian dishes out there, fried rice is arguably one of the most versatile. It's light enough that you can order it on the side of your General Tso's chicken but also hearty enough that you can enjoy it as a meal all on its own. Not only that, there are so many different varieties you can make. Start with your preferred type of rice, add in your choice of protein (like shrimp, pork, or chicken), then mix in any veggies, fruit, and extras you'd like. According to Eating China, fried rice actually started as a way to avoid wasting day-old rice, so it's no surprise that it's still a convenient way to use up any leftovers in your fridge.
Even Gordon Ramsay is a fan of the simple yet satisfying dish. He recently shared a video on Instagram of some fried rice from Lucky Cat by Gordon Ramsay, which is his Asian-themed restaurant in London (via Gordon Ramsay Restaurants). "Egg fried rice at @luckycatbygordonramsay.... what a cracking start to the new year," he captioned the post. As per usual, people have some thoughts about Ramsay's meal — here's why.
Many don't think the fried rice is fully cooked
While Gordon Ramsay may have thoroughly enjoyed his meal at Lucky Cat, people on Instagram weren't as impressed with the fried rice dish. Their main complaint? That it looks undercooked or, as many would argue, completely raw — especially the egg on top. "I do love a runny yolk but that egg is a no from me," one person wrote, with a vomiting emoji face. Others seemed put off by the overall appearance. "Looks like a bowl of grass and soil," another person commented, while another said, "You don't need to be professional to know that that looks like absolute garbage."
However, despite all of the backlash that Gordon is facing for his runny yolk fried rice, he isn't the only person who enjoys runny eggs on rice, as evidenced by a New York Times Magazine article by Eric Kim. There are plenty of recipes for fried rice topped with sunny-side-up eggs, including one for turkey fried rice shared by celebrity chef Anne Burrell (via Today). Many people who like it say that the runny yolk adds buttery texture and flavor that binds everything together.