Alton Brown Had A Hilarious Spit-Take For His Quarantine Quitchen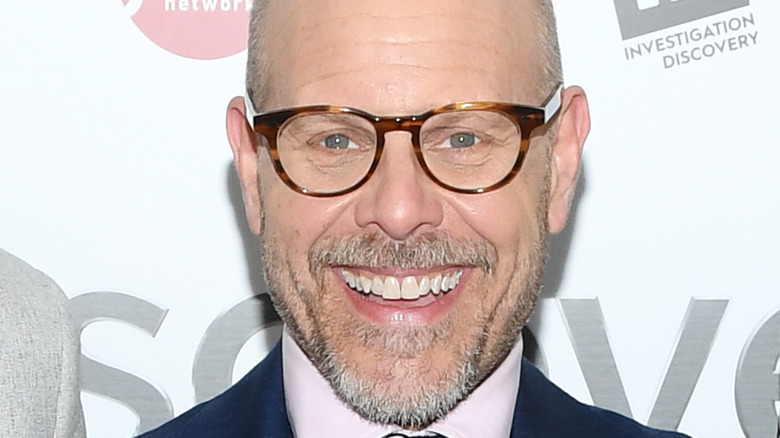 Dimitrios Kambouris/Getty Images
Alton Brown is at it again. If you are a fan of Brown's "Quarantine Quitchen," then you know this series is a raw and authentic look into the celebrity chef's inside world that took off when he and his wife, Elizabeth Ingram (a restaurant designer), decided to stream themselves making dinner in their home kitchen together — totally unscripted, and just for fun. What they could not have known was how popular their experiment would be and that it would morph into a new brand altogether. In fact, Brown told Fast Company, "It's kind of the unplugged version of me. It's really peculiar after all these years to have a new brand."
In fact, his low-budget venture has made Brown even more popular, and dare we say, more likable. As he explained to Fast Company, "I have never seen responses to anything that I've done like ['Quarantine Quitchen']. People are like, 'Oh my gosh, after all these years of 'Good Eats,' we get to see this completely other Alton. This Alton cusses. This is like Fun Alton.' And people love my wife." Even better, Fun Alton recently shared what an "unplanned" spit-take looks like, and Twitter is loving him even more for it.
Cue the new memes and gifs
Alton Brown recently took to Twitter to share an unscripted moment of "Quarantine Quitchen," offering a screen grab of himself spitting out food, as his wife looks calm, cool, and collected. If words like "gross," "yuck," and "eww" come to mind, we are right there with you. But, we also appreciate the reality of the moment because the two are engaging in hilarious talk about the time when the "Chopped" star did his voiceover work for "SpongeBob Squarepants," and it is all kinds of funny. So much so that we'd probably spit out our food, too. Along with the photo and a Youtube link to see the full scene, Brown Tweeted, "So if you want to see what an unplanned spit-take really looks like, scan forward to about :58 in." 
Brown's followers loved the snippet and were all too happy to reply with some hilarious comments. One wrote, "And just like that, a new Gif was made," while another encouraged viewers to watch the whole episode, and said, "The spit-take was just the embodiment of what the whole show was like. I'd strongly suggest watching the whole video to get a better understanding of the yin and yang that is Alton and Elizabeth. It's loads of fun." We agree. The chemistry between these two is amazing, and Elizabeth definitely steals the show. We can't wait for more episodes!