This Secret Ingredient Gives Padma Lakshmi's Martinis More Flair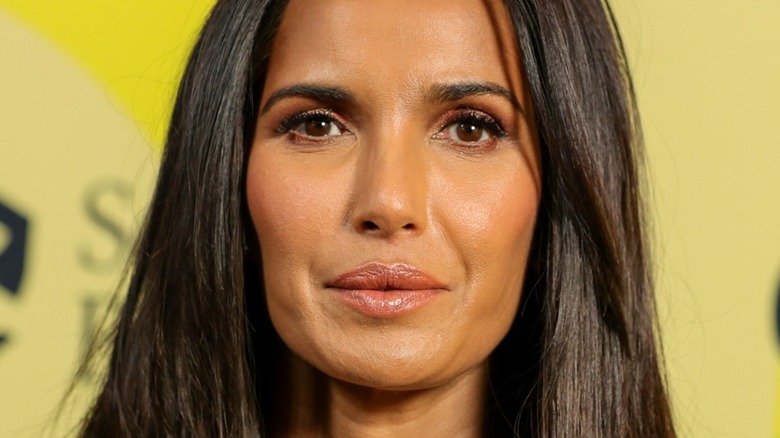 Rich Fury/Getty
From the Negroni to the Old Fashioned, the world is full of elegant and classy cocktails. However, no alcoholic beverage is more influential than the Martini, whether it's shaken or stirred. In fact, the V-shaped glass and the crystal clear liquid inside of it has practically become synonymous with cocktail culture, as noted by Food Republic. Mythologized by books, movies, and TV shows alike, it's hard not to feel effortlessly cool sipping on one of these drinks. If it's good enough for James Bond, it's good enough for us, right?
One of the best parts about the Martini? It's not complicated. This signature cocktail only has two main ingredients, gin or vodka and vermouth, as noted by A Couple of Cooks. That being said, there are so many ways to put a spin on this classic cocktail. For one, when it comes to Martinis, it's just as much about the garnish as it is about the cocktail, whether you opt for a white pearl onion, an olive, or a lemon twist (via Saveur). 
To top that off, numerous variations of the traditional martini have become popularized over the years and everyone has their personal preference — including celebrities. While Oprah tends to opt for the Lemon Drop Martini, Madonna's order of choice is a Pomegranate Martini (via Spoon University). As for Padma Lakshmi? The "Top Chef" host likes a good ol' fashioned Dirty Martini, but with a special twist.
Padma Lakshmi's Dirty Martini is perfect for those who can handle their spice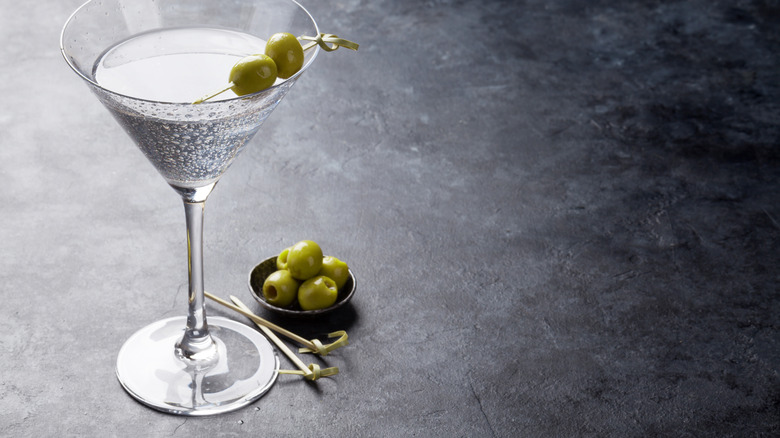 Evgeny Karandaev/Shutterstock
Padma Lakshmi loves playing hostess and, as the beloved television personality knows, every great dinner party comes with a signature cocktail. Lakshmi's go-to? A Dirty Martini, as noted by Saveur. For the former model and cookbook author, sugary cocktails equate to a "headache in glass" making this slightly savory beverage the perfect antithesis. To start, Lakshmi favors using Ketel One vodka as the foundation for her drink. Not only has this reliable and established brand has been family-owned for three hundred years, but it's also free of GMO grains.
The cherry on top of the cake (or the cocktail) for the Indian-American chef is a scrumptious Spanish olive for garnish. But Lakshmi has another trick up her sleeve and it involves substituting the traditional olive brine with another ingredient. "I'll use the escabeche [from] Mexican pickled jalapeños instead of the olive brine — I find it's a nice twist to give the Martini a little punch," she shared. "I like to use about a half to three-quarters of a teaspoon per [drink], and a couple of nice, juicy olives along with a slice of the pickled jalapeño."
No cocktail is truly complete without snacks and Lakshmi's perfect complement to her spicy beverage is indulgent. "I like to pair appetizers that are also savory," she shared with Saveur. Some of her staple snacks include mini grilled cheeses with gruyere and hot jalapeño jam, as well as roasted, spiced nuts.