Martha Stewart's Stable Kitchen Has Instagram Confused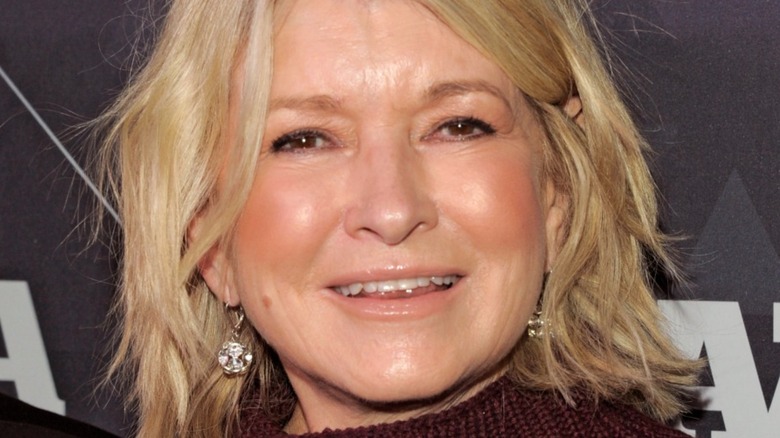 Ron Adar/Shutterstock
Remember that old rhyme (via The Oklahoman), "[Your name, your name], if you're able, get your elbows off the table, this is not a horse's stable?" Well, if you take it at face value, you may be able to forget the no elbows rule should you be dining in Martha Stewart's kitchen (or one of them, at least). Why? Because the kitchen is, in fact, located in a stable!
According to Martha's Instagram, "My stable kitchen is perhaps one of my favorite places on the farm." She goes on to describe its high-end fittings including an AGA cooker in a custom shade of gray – the AGA being a cast-iron stove that's a favorite of Mary Berry and Nigella Lawson as well as Stewart. Her stable kitchen also features a floor made of black tiles, a soapstone sink with shelving to match, vintage wood brackets holding up those shelves, and, as Stewart admits, "lots of tin molds." What she doesn't say, however, is exactly why she chose to have a kitchen added to her stable, nor what she uses it for. Needless to say, Stewart's followers had a few questions.
Instagram has questions, but no answers
There were a few Martha Stewart fans who admired her kitchen and/or expressed the wish that they, too could have a similar one, whether it be in a house, stable, dog house, fallout shelter, or anywhere else. For the most part, however, the typical reaction this Instagram post elicited was one of pure bafflement. As one person put it, "Honest question.. just because I'm curious... why would one need a stable kitchen?"
Other commenters had a few questions about the stable kitchen's fittings and functions. One asked "Is there a stable table to eat at? Can we see the sink?" and added, "How often do you use it?" The answer to that last question may depend on whether, as someone else inquired, the stove is used "to make hot mash for your horses? Or, is it for people?" Still another person imagined that the kitchen was for the use of the stable's inhabitants, remarking, "Wow, Fresians are beautiful AND they can cook?! Stewart herself (or her social media team) has not yet seen fit to reply to any of these questions, though, so for the moment, the true purpose of this stable kitchen will have to remain a mystery.