Old Fashioned Fudge Pie Recipe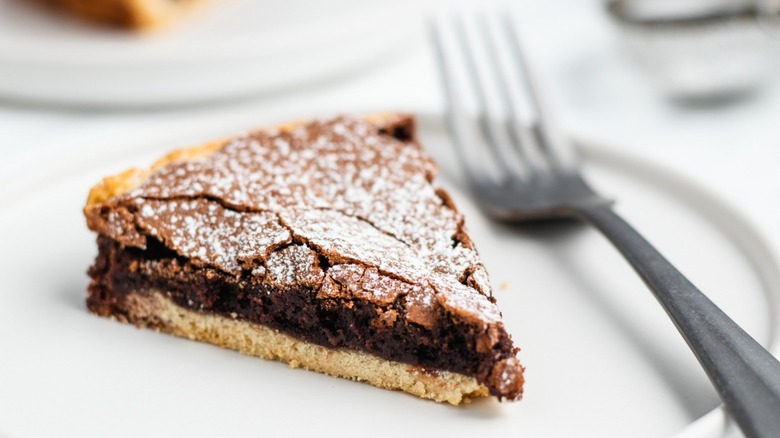 Catherine Brookes/Mashed
With the supply chain crisis being what it has been as the pandemic has rolled into its third year, it really isn't all that surprising that so many Depression-era foods are making a comeback. Many of the foods associated with those days, including baked beans, "meat" loaves, and various pies that require little in the way of ingredients beyond water, sugar, flour, and butter, are located at the intersection of hungry bellies and empty shelves. And the reality is, that's where many across the globe are feeling stuck right now. Even those not facing food insecurity, per se, have likely had some opportunity to witness empty shelves in supermarkets and to experience the frustration of not being able to find what they're looking for, even if it's something as seemingly basic as a carton of eggs.
Recipe developer Catherine Brookes' old fashioned chocolate pie is a sweet and fudgy callback to those days long ago, but it's also perfect for the modern era because it requires so little — in terms of ingredients and time — to achieve such deep, flavorful deliciousness. "I love how easy this delicious dessert is to whip up! Just mix up the ingredients, pour them into the crust, and bake. It couldn't be simpler, but still feels super decadent." 
Gather your ingredients for old fashioned fudge pie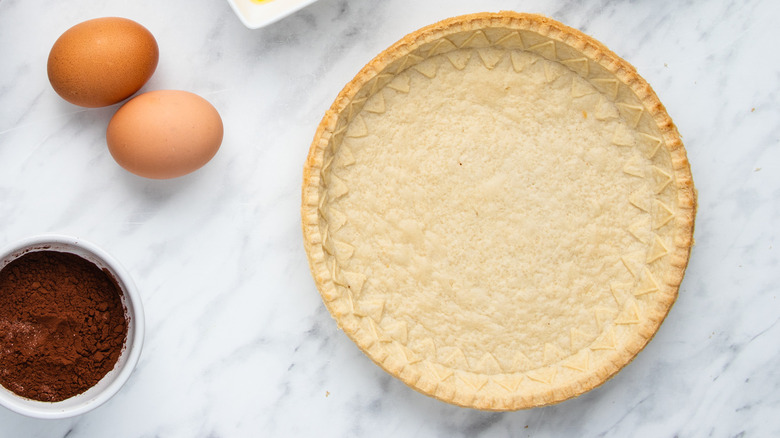 Catherine Brookes/Mashed
In order to make Brookes' recipe for old fashioned fudge pie, you're going to need the ingredients for the crust and for the filling. But good news! There's just one ingredient for the crust, and that's a pre-baked single pie crust. For the filling, you'll need ½ cup of melted butter, 1 cup + 2 tablespoons of white sugar, 2 large eggs, 4 tablespoons of cocoa powder, 1 teaspoon of vanilla extract, and ¼ cup of all-purpose flour. Powdered sugar for dusting on top is optional.  
Preheat your oven and prep your ingredients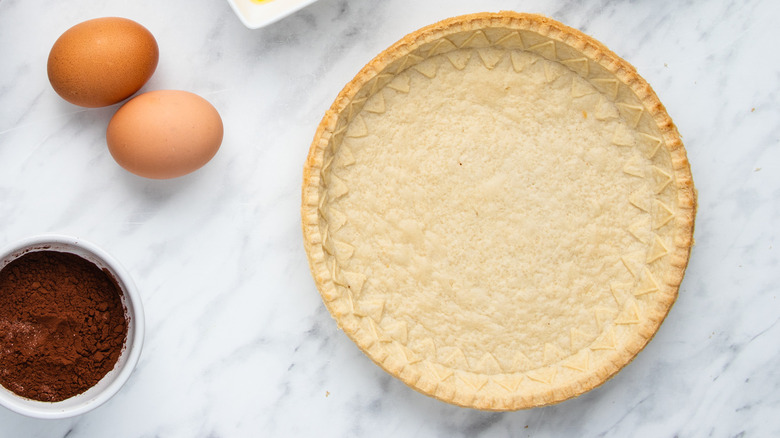 Catherine Brookes/Mashed
First, take the eggs out of the refrigerator to allow them to come to room temperature, which Brookes says is a good move when combining eggs with melted butter. Preheat the oven to 350 F, grab a baking sheet, and place the pie crust on it. Baking the pie on a baking sheet helps avoid the crumbs that can end up in your oven when baking a pie directly on the rack. And although the filling for this old fashioned fudge pie recipe isn't likely to ooze while it's baking, it's good to know there's a baking sheet there standing in the way of the pie and your oven. Who wants to worry about cleaning the oven when there's an old fashioned fudge pie cooling on the counter? But, we're getting ahead of ourselves. Let's move onto the next step: mixing the filling. 
Whip up the filling for this old fashioned fudge pie in virtually no time at all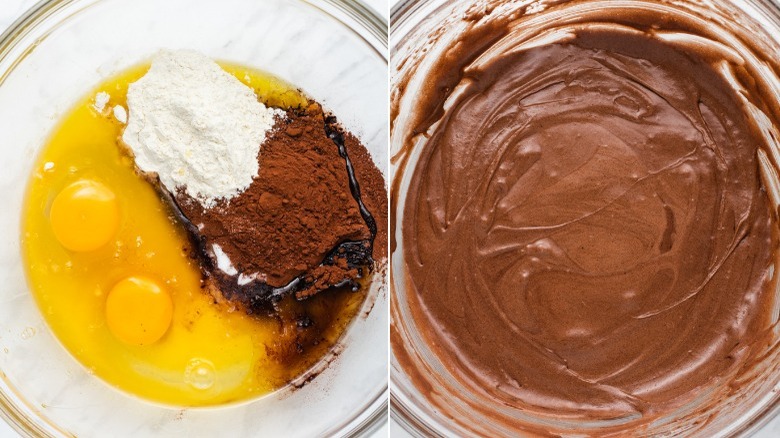 Catherine Brookes/Mashed
If you haven't melted the butter yet, now is the time to do so. Then you'll want to combine all the remaining ingredients with the butter in a large mixing bowl. Use an electric mixer set to medium. Of course, if you want to channel the olden days, you should feel free to use a wooden spoon since Brookes says that works just fine. Regardless, you don't want to over-mix the filling. Once it's combined smoothly — as shown — you're ready to move onto the last step.
Pour the filling into the crust, bake, and serve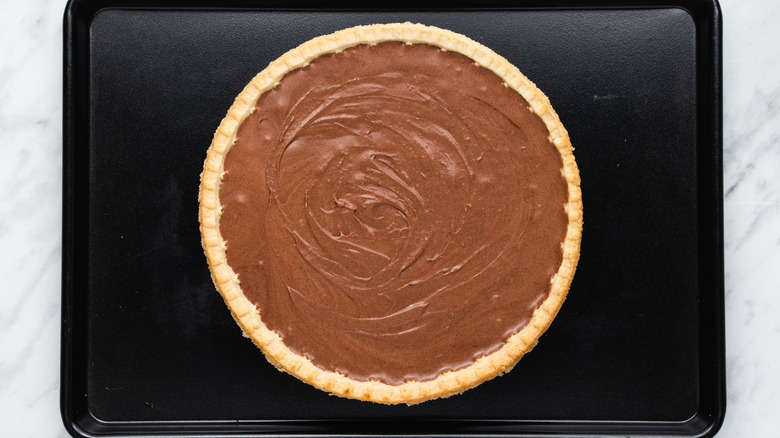 Catherine Brookes/Mashed
Pour the filling mixture you just made into the pre-baked pie crust, then smooth out the top using an articulated icing spatula. Place the pie in the preheated oven, and set a timer for 30 minutes. When the timer goes off, the top of the fudge pie should have risen slightly, and it may be crackly on top, similar to what home-baked brownies tend to look like when they're ready to be taken out of the oven. And like brownies, the filling here will sink slightly as it cools. 
Cool the pie at room temperature until it's completely set (around 2 hours). If you'd like to dust it with powdered sugar, be sure to wait until the pie is cool before doing so. Slice, serve, and store in an airtight container at room temperature for up to 4 days.
Old Fashioned Fudge Pie Recipe
When you're looking for a recipe with a hint of nostalgia, this old fashioned fudge pie recipe is sure to hit the spot.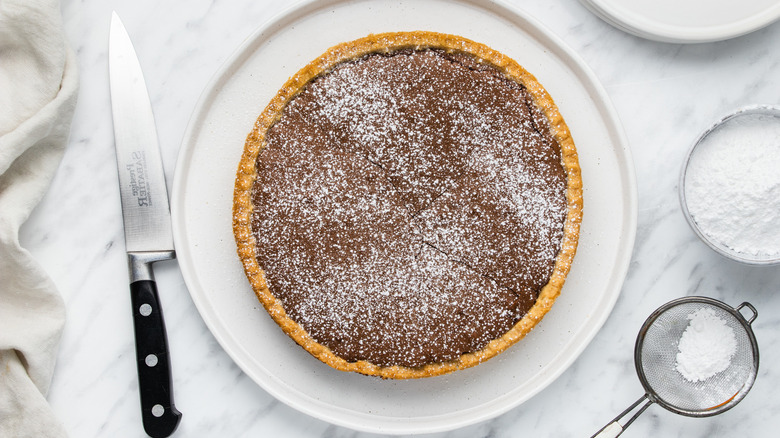 Ingredients
½ cup melted butter
1 cup + 2 tablespoons white sugar
2 large eggs
4 tablespoons cocoa powder
1 teaspoon vanilla extract
¼ cup all purpose flour
1 8-inch sweet pie crust
Optional Ingredients
Powdered sugar for dusting on top (optional)
Directions
Preheat the oven to 350 F and place the pie crust on a baking sheet.
Add all ingredients (minus the pie crust) to a large mixing bowl.
Beat with an electric hand mixer until smooth.
Pour the mixture into the pie crust and smooth out with the back of a metal spoon or spatula.
Bake for 30 minutes, at which point the top will be slightly crackly.
Leave the pie to cool completely (about 2 hours).
Dust with powdered sugar (optional), then slice and serve.
Store in an airtight container at room temperature. This will keep well for up to 4 days.
Nutrition
| | |
| --- | --- |
| Calories per Serving | 378 |
| Total Fat | 20.4 g |
| Saturated Fat | 10.6 g |
| Trans Fat | 0.5 g |
| Cholesterol | 77.0 mg |
| | |
| --- | --- |
| Total Carbohydrates | 47.5 g |
| Dietary Fiber | 1.6 g |
| Total Sugars | 28.2 g |
| Sodium | 137.4 mg |
| Protein | 3.5 g |