Here's A Sneak Peek At Pepsi's Super Bowl LVI Halftime Show
The Super Bowl is one of the most iconic and anticipated championship games of the year, with fans tuning in to see the best teams in the NFL battle it out for the coveted Super Bowl rings. If you're not a big football fan, chances are you might still watch the show for the release of the best commercials of the year and for Pepsi's star-studded halftime show.
This year's show features music legends Dr. Dre, Eminem, Kendrick Lamar, Mary J. Blige, and Snoop Dogg. If this lineup excites you as much as it does us, you can get a sneak peek right now on YouTube as Pepsi has posted the trailer for the event. The video highlights the five entertainers and their massive contributions to music, and was directed by F. Gary Gray of "Straight Outta Compton" fame. "As a super fan, I consider it an honor and privilege to authentically build and create this moment with five of the most legendary artists in music history. It's been a blast!" Gray said in a Pepsi press release obtained by Mashed.
Fans are pumped to see the music legends perform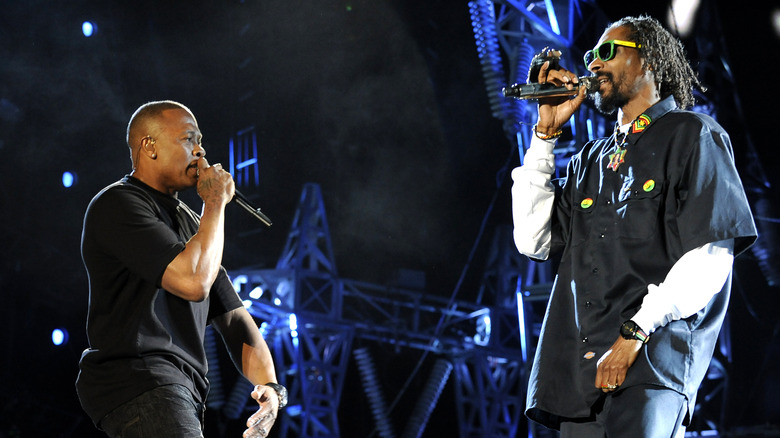 Tim Mosenfelder/Getty Images
The entertaining YouTube video, titled "The Call," opens with a chessboard that morphs into a city, eventually transitioning to Eminem spitting the lyrics of "Rap God" back and forth with a younger Slim Shady. Next up is Snoop Dogg, driving down the freeway in an impressive classic car, and then cuts to Mary J. Blige at a photoshoot while her hit song "Family Affair" plays.  
Kendrick Lamar is shown scribbling lyrics as his hit, "Humble," plays, and the video shifts to Dr. Dre walking along the beach with a piano playing in the ocean. Each scene is cut when the artist receives "The Call" to perform and embark on a journey to SoFi Stadium where they will appear in Pepsi's Super Bowl LVI halftime show on Sunday, February 13, 2022.
The YouTube comment section is filled with excited music fans, 5,216 as of now, expressing their anticipation for the halftime show after watching the creative trailer. "One of the coolest halftime show trailers ever," wrote one user, to which Pepsi replied, "Let's go!" with a fire emoji. "Anybody else get chills watching this?" commented one user, while another wrote, what perhaps we're all thinking, "This is about to be history."