Exclusive Food Tour Of Disney's Art-Themed Food Festival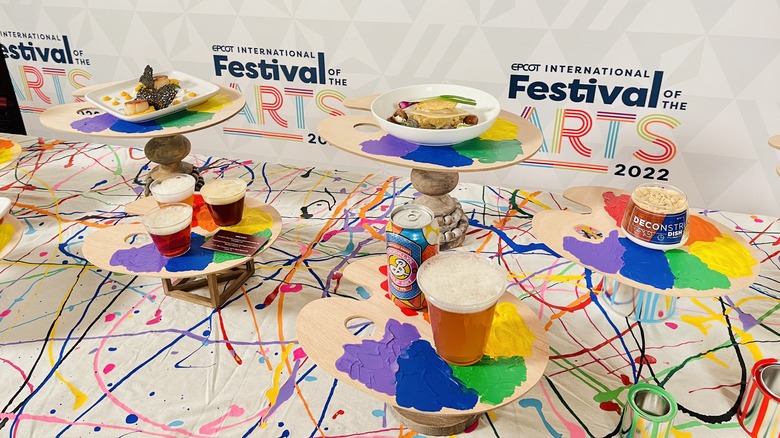 Carly Caramanna/Mashed
To some, Disney parks are all cotton candy, characters, and coasters. But, to the foodie, the parks are home to some of the best food festivals in the country. Walt Disney World in Central Florida has played host to such grand-scale events since the 1990s. Their largest, the Epcot International Food & Wine Festival, may take all the glory in its over 20 years in operation, but we can't stop gushing about some of the park's newer festivals. We recently feasted on Christmas cookies as far as the eye can see at their International Festival of the Holidays, but, now, we're returning for the Epcot International Festival of the Arts.
Back for its sixth year, there's something really special about this one that sets it apart from the rest. That's because it's a celebration that encapsulates not only the culinary arts but the visual and performing arts, too. Here, the food is as beautiful as it is delicious. Taking place through February 21, 2022, you can savor and sip your way through 15 freestanding food studios all while in the presence of jaw-dropping works of art and live entertainment. It's a true feast for all five senses. 
Grab your paintbrushes, your palate, and, most importantly, your appetite as we head to Epcot for an exclusive tour of Disney's art-themed food festival.
Admission is free with park tickets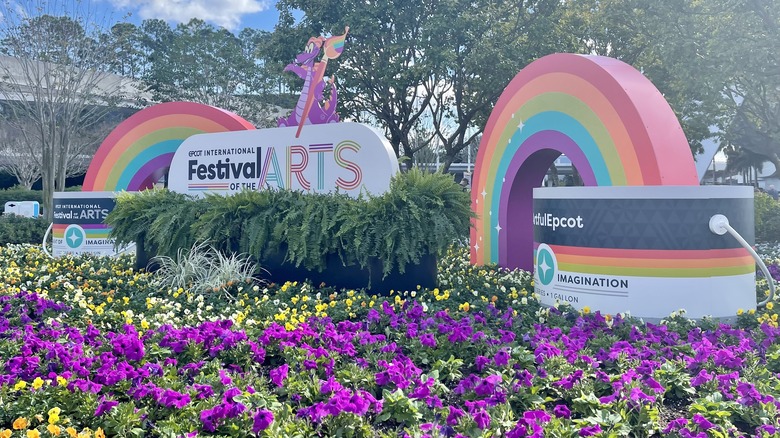 Carly Caramanna/Mashed
Visiting the Epcot International Festival of the Arts is included with admission into the park. After taking a spin on Test Track or riding the park's classic attraction Spaceship Earth, you can make your way toward the festival's hub, World Showcase. Surrounding the gorgeous lagoon, you'll find 15 outdoor food kitchens, each with its own distinct theme — from the tres chic vibes oozing from L'Arte de la cuisine Francaise in the French Pavilion to the rustic charm of Gourmet Landscape located next to the Canadian Pavilion.
Each booth plays host to several food options, of both sweet and savory delights, in addition to beverages, including craft beer, wine, and cocktails, that are reflective of the theme. With most items in the $6 to $10 dollar range, we savored in the ability to try something possibly new to our palates without the massive financial commitment attached.
What's on the menu this year?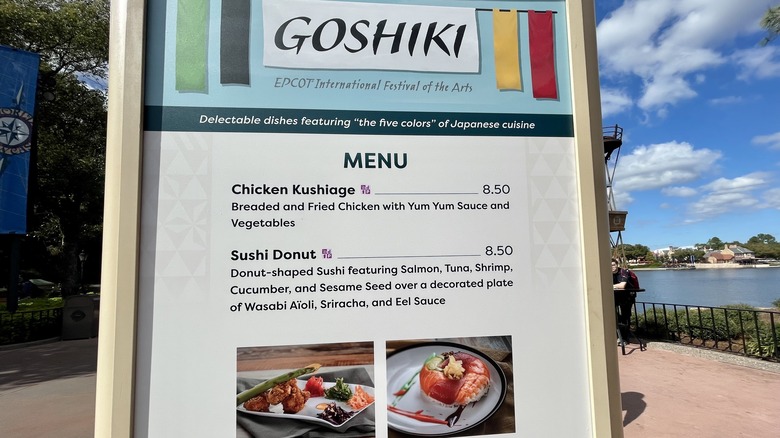 Carly Caramanna/Mashed
This year's International Festival of the Arts features over several dozen items available at its 15 outdoor kitchens representing the culinary fare of Canada, France, Italy, Japan, Mexico, Latin America, and China. The menus embrace classic domestic dishes, including a beef Wellington with mushroom duxelle in the American Pavilion-themed Artist's Table, as well as a ton of international fare, including the very popular sushi donut in the Japanese Pavilion's Goshiki booth. The festival marks the ultimate realization of Magic Kingdom's "It's a Small World": Walt Disney's vision of us all coming together side by side, no matter how different. And what better way to do that than through breaking bread — literally?
These mini masterpieces offer a little something for everyone, from incredibly savory dishes, like a roasted bone marrow with onion marmalade, to sugary highs that'll impress even the most discerning sweet tooth, like a molton chocolate-and-hazelnut cake with pure premium Valrhona chocolate.
Disney World has also made a conscious effort in recent years to appeal to its many visitors who are plant-based eaters. Selections at this year's festival include a blood orange-braised beet carpaccio with mustard vinaigrette and pickled clamshell mushrooms as well as plant-based bratwurst with spicy turmeric aioli and coffee barbecue jackfruit.
The food looks just as beautiful as it tastes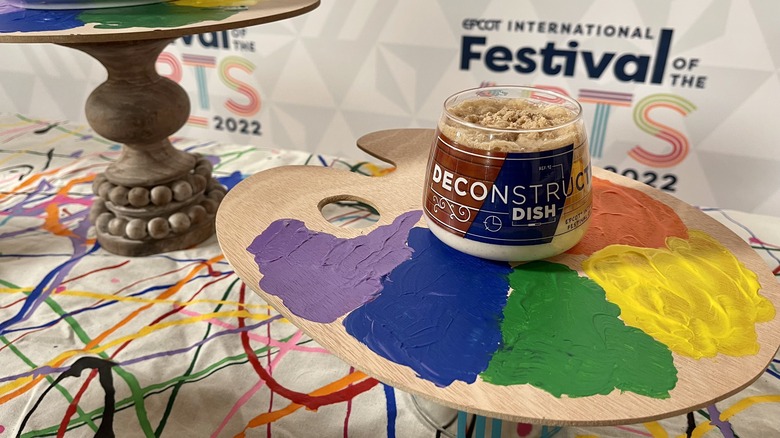 Carly Caramanna/Mashed
So, how do these culinary masters at the International Festival of the Arts approach creating dishes that are both visually appealing and full of flavor? Well, their process often considers the flavor at first, but that is not always the case.
Epcot Festival chef Kevin Downing shared with Mashed some insight into the process. He explains: "Our approach is often a mix. We determine what we actually want to put on the menu and then, depending on the food studios, it determines how visual we want to go. With something like the Artist's Table, we want to make it look more artistic, but something like over at Pastoral Palate, with its Bavarian inspiration, it's a little more old world, little more rustic. So, we play into that theming of the different styles of art we are trying. It's both about the visuals and the flavors. This festival, more than others, is about the culinary arts, and that gives us a little more room to play."
This year's festival features plenty of new items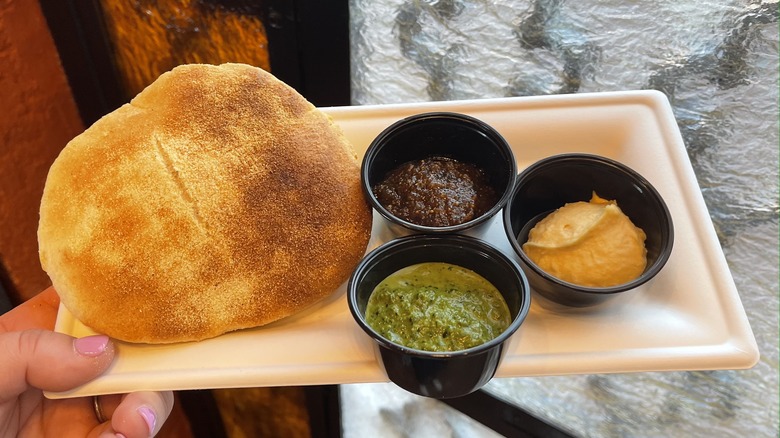 Carly Caramanna/Mashed
Returning guests know that in its six years of existence, you can always find something new to try at the Epcot International Festival of the Arts. This year sees the addition of two new studios, Deco Delights and The Craftman's Courtyard, as well as new items at returning booths. Those include a standout deconstructed French onion soup comprised of beef broth ravioli, gruyère espuma, onion bread pudding, and onion textures and a mousseline de bisque de homard froide, brioche feuilletée à l'Aneth, a chilled lobster bisque mousse served with dill brioche.
Booth newcomer The Craftman's Courtyard immediately wowed festival goers with an impressive country pork pate with pistachios, truffles, toasted ciabatta, red onion marmalade, pickled mustard seed, and caperberries. Other newcomer Deco Delights sweetened up the ante this year with a dulce chocolate mousse featuring chocolate crémeux and dark chocolate truffle.
As well as many returning favorites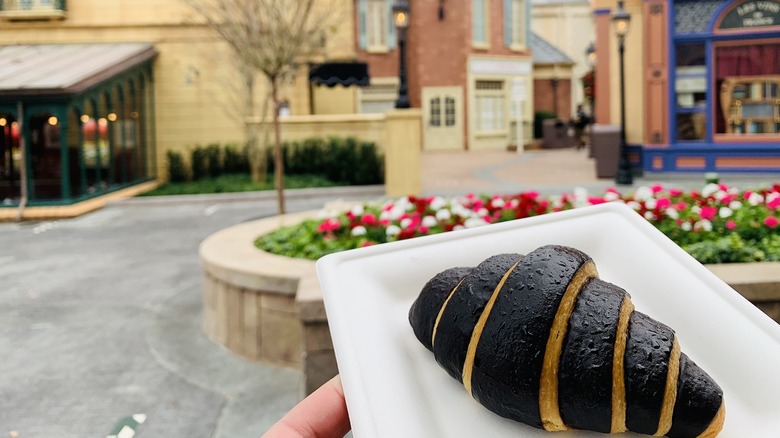 Carly Caramanna/Mashed
What would a return visit to the International Festival of the Arts be without seeing a few beloved items making their grand appearances once again? Disney chefs are very aware of the responses from guests, so at each and every festival, we see returning menu items. Without a doubt, one of the most popular booths year after year remains the outdoor kitchen in the Japanese Pavilion. This year dubbed Goshiki, the booth brings a mix of Japanese favorites, including sake served in your own personalized wooden cup. The most popular item here? A sushi donut! Donut-shaped sushi is topped decoratively with salmon, tuna, shrimp, cucumber, and sesame seed over a plate of wasabi aïoli, sriracha, and eel sauce.
Over in the French Pavilion, L'Arte de la Cuisine Francaise proves to be another popular returning booth thanks to two very well-known French exports: cheese and booze. Their warm creamy brie is served in a house-made bread bowl best paired with their frozen French martini that combines Vodka, black raspberry liqueur, pineapple, orange, and grape juice with lemon-lime foam.
So, what was our favorite?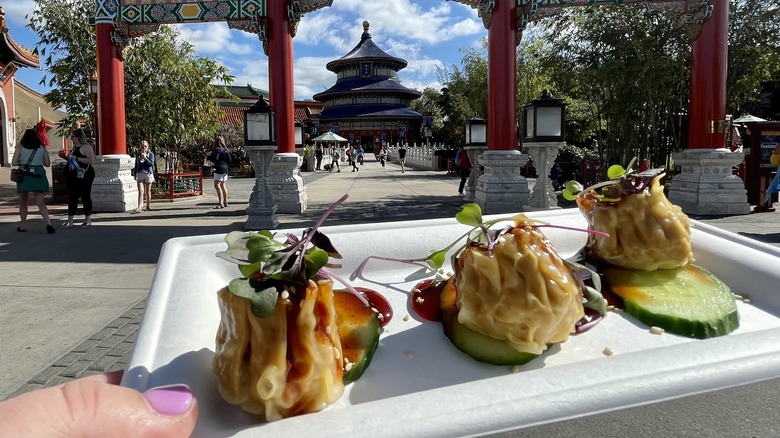 Carly Caramanna/Mashed
We spent days galavanting around the International Festival of the Arts to uncover the most delicious bites to peak our fancy and dazzle our eyes. A whole lot of calories and even more steps went into the process of creating each item. So, what reigned on top, worthy of a visit to the sunshine state?
First off, we were quite impressed with nearly everything we tried but settled on a few solid winners. In the Chinese Pavilion, The Painted Panda served as a favorite once again thanks to this year's imagining of shumai. The General Tso's chicken shumai came with three generously-sized pieces and offered a really nice flavor profile rounded out with a welcomed kick of spice.
Over in Morocco, it was a new booth that dazzled us — Tangierine Café: Flavors of Medina. Its stone-baked Moroccan bread may sound pretty straightforward, but this was no ordinary presentation of the carb. It was served steaming hot from the oven and paired with hummus, fig tapenade, and an incredible zhoug dip bursting with flavors of cilantro and chili, and we simply couldn't get enough. 
Our third favorite was a returning item from L'Arte de la Cuisine Francaise: the Croissant à la Truffe Noire d'Hiver. This unique spin on the classic French treat was a black winter truffle croissant served warm and filled with creamy truffles. The delicate pastry proved to be absolutely divine bite after bite.
The showstopper is a $25 popcorn bucket resulting in six-hour long lines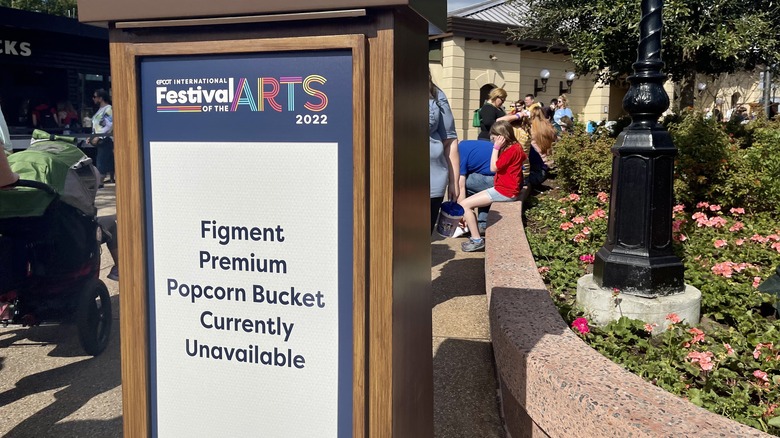 Carly Caramanna/Mashed
The icon of the International Festival of the Arts is the beloved character Figment. For those not in the know, the adorable purple dragon has been an emblem of Epcot since 1983. Known for his wild imagination, it's of no surprise that he serves as the mascot for the art-themed festival. Merchandise always plays a big role in Disney's festivals, and little did they know that this year's themed-popcorn bucket would send people into an absolute frenzy.
On opening festival day, lines to secure this year's Figment specialty popcorn bucket circled around the entire park, resulting in a wait time of over six hours. While the intentions were pure for many, others used this as an opportunity to profit, reselling on eBay for over $1,000. No, we did not wait in the absurd line for popcorn, and, unfortunately, after a few days, they were out of stock.
Foodies will love the Wonderful Walk of Colorful Cuisine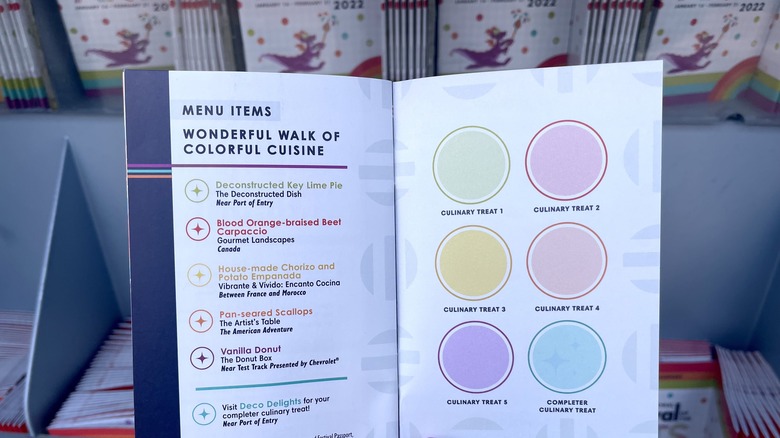 Carly Caramanna/Mashed
We are always down for a food challenge — especially when it involves eating food and being rewarded with, you guessed it, even more food. Similar to the Christmas cookie crawl we completed at the Epcot International Festival of the Holidays, the International Festival of the Arts offers a little something in the form of healthy competition. The Wonderful Walk of Colorful Cuisine sends visitors on a scavenger hunt of sorts around the festival to eat five distinct items from different booths.
As you acquire each item, you'll receive a stamp on an accompanying passport. Once your 'palette' is full, you can revel in victory — and your completer item. The prize this year is a colorful artist palette cookie and a mixed berry smoothie. This is a fun challenge fit for the glory of the entire family — or just yourself, if that's your thing. Overall, you will indulge in a mix of three savory items and three sweet items (including the prize), totaling just under $30. Not a bad way to spend the day, in our humble opinion!
The Encanto-themed booth was extremely popular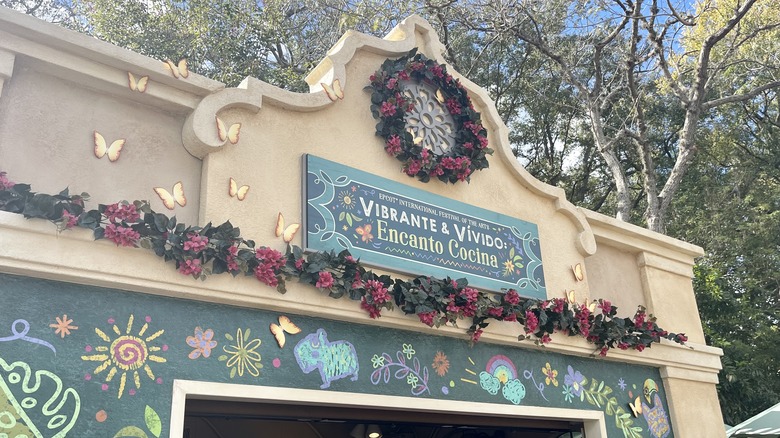 Carly Caramanna/Mashed
Unless you've been living under a rock, you are likely familiar with Disney's animated release "Encanto," a musical celebration of a special Colombian family with superpowers.
Without a doubt, Vibrante & Vivido was one of the most popular booths of the festival this year. Embracing both visual and culinary elements of the smash hit Disney film, the unique collaboration was a labor of love between the film studio and Disney Parks chefs. To say it's been a hit already would be an understatement, as many videos of the booth and its Latin-inspired offerings have already gone viral on TikTok.
So, what's on the menu? For savory, there's a house-made chorizo and potato empanada with turmeric aioli and annatto aioli as well as a spicy aijaco soup with guajillo and árbol chili-spiced chicken, potato, avocado, corn, and crème fraiche. The booth's dessert is a passion fruit mousse with dragon fruit jam elaborately decorated in colors inspired by the film. All three packed a punch and ranked among some of the best eats of the festival.
How does a movie and food collaboration of this magnitude work?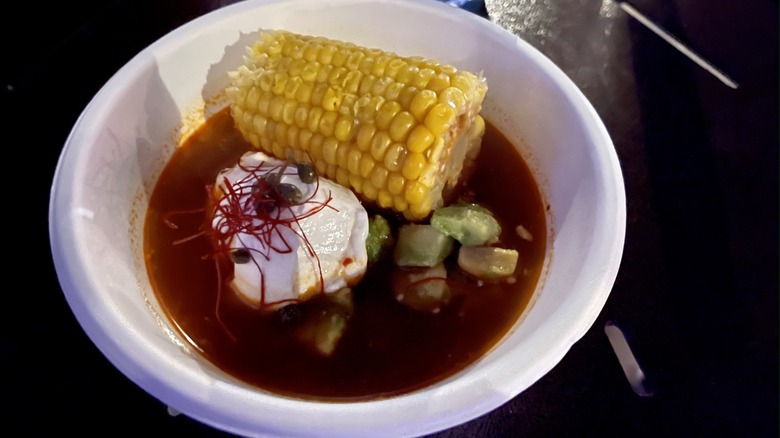 Carly Caramanna/Mashed
As we mentioned, the "Encanto"-themed booth was super popular at this year's International Festival of the Arts. Epcot Festivals chef Kevin Downing shared details with Mashed on this unique movie-meets-food collaboration:
"The studio sent us a list of ingredients and some dishes that were going to be showcased in the film ... the film is very centered around the kitchen and the family. We took that list and took some of the ingredients and took some wonderful dishes that are featured in the movie, including a stew, and we literally took those and put them on the menu. The dessert is coming back from last year's festival, but we reworked it to include visuals from the film as some decorative pieces. It was a fun food studio to create, and it has really resonated with guests. We're serving a lot of empandas, and the stew is fantastic. It's been the surprise of the festival so far how this particular food studio has been received."
And, trust us, when he said "a lot of empanadas," he meant it. The dish has been the most talked about since the festival began, thanks to its layers of flavors and perfectly executed pastry crust.
Lily Aldridge created a cocktail for the festival
The Mexican-themed booth, El Artista Hambriento, at the 2022 International Festival of the Arts continues to be a hit festival after festival. Literally meaning "the hungry artist," the cuisine is inspired by the beloved flavors of the country. This year, in addition to a carne asada with grilled queso fresca and a cilantro huarache with cochinita pibil, they enlisted a little star power to round out the menu.
Model and influencer Lily Aldridge is not new to the Disney family. She has long worked with the company (via DisneyFanatic), including designing colorful Minnie ears and serving as a celebrity ambassador to one of the best-kept secrets in the park: La Cava del Tequila, an agave spirits haven tucked away in the park with over 200 pours of tequila. The establishment is known for its celebrity adoration, as it recently partnered with A-lister Neil Patrick Harris for a margarita collaboration, per the Disney Food Blog.
For this year's festival, Aldridge created a signature margarita, The Lily, exclusively for the event and served at the Mexican Pavilion's El Artista Hambriento. The brightly-hued drink, which combines Blanco tequila, violet essence Infusion, rose petal liqueur, cranberry, and lime juice, is served in a stemless glass emblazoned with "xo Lily."
The rest of the festival is pretty epic as well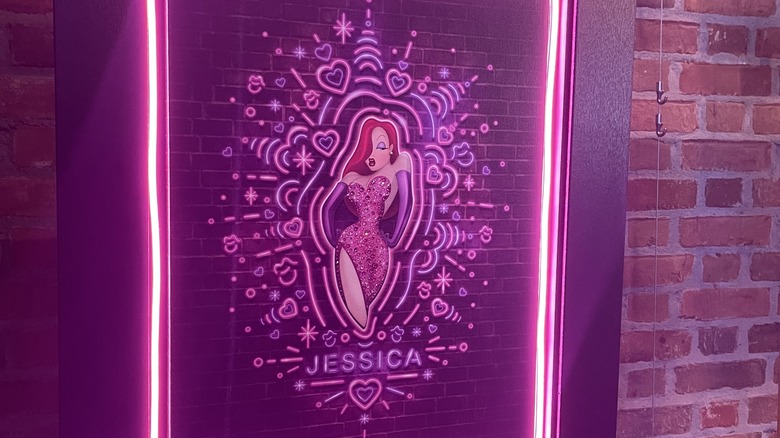 Carly Caramanna/Mashed
The festival passport is your one-stop shop for all the exciting happenings surrounding Epcot's International Festival of the Arts. Since this unique festival embraces not only culinary accomplishments but the visual and performing arts as well, you'll find plenty of activities to keep you engaged and entertained while your belly is on a break.
Our preferred way to kick back is with the Disney on Broadway concert series. Daily performances, which showcase some of the most well-respected performers of the stage, are included with admission.
Throughout the festival, nearly 100 Disney and visiting artists sell their own masterpieces and conduct demonstrations that bring art to life right before your eyes. We were positively wowed by a Swarovski crystal piece of Jessica Rabbit that goes for a cool $7,000. Guests are invited to join in on the fun with interactive photo opportunities and even a chance to contribute to an art project themselves.
With entertainment galore and delicious bites, this festival proves to be our favorite of Disney's offerings year after year.