Aldi Customers Have Noticed That 'Tons' Of These Items Aren't In Stock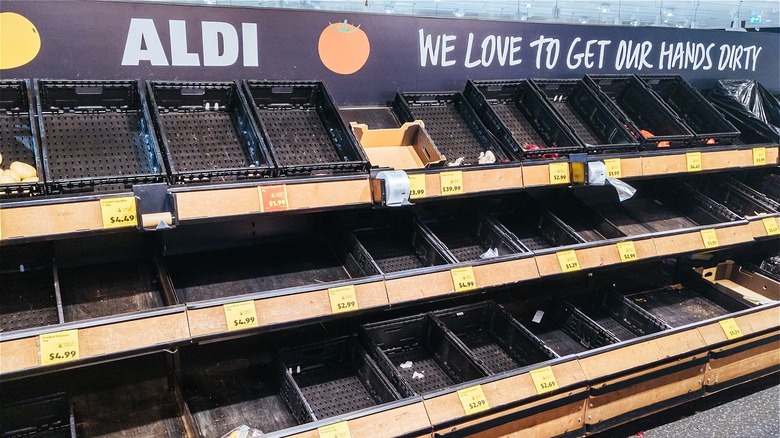 FiledIMAGE/Shutterstock
Shortages have become a fact of life. We understand that with a just-in-time supply chain, any disturbance can disrupt the whole thing. The severity of the ongoing shortages, however, was more acutely noted several days ago in the Aldi subreddit. "Are **tons** of frozen items out of stock for you guys too?!" the OP asked in their post. They said Aldi had been lacking chicken parmesan tenders for weeks. Other items were missing, and other stores suffered shortages of frozen food. But the chicken tenders hurt the OP the most. That is, until they tried a different store and found them.
Another user could relate to the poultry woes: "Yup. I'm in Minnesota and my local Aldi basically has zero frozen chicken. Or fresh chicken for that matter." A commenter from southeast Pennsylvania lamented, "I just want my beloved zesty meatless meatballs. They've been gone for months." That person was joined by a choir of bereft shoppers. Someone shared their situation from across the country: "Here in SoCal, a lot of things are sold out. My fries are sold out."
A possible explanation came from one self-professed worker at an Aldi distribution center in the Midwest: "In addition to ongoing supply chain issues everyone is experiencing, our warehouse alone has cut over 100,000 cases from orders in just the last week due to 1/3 of our selector workforce out with Covid." Despite working extra hours to compensate for the diminished workforce, the warehouses could not keep up with demand. 
Omicron has added extra pressure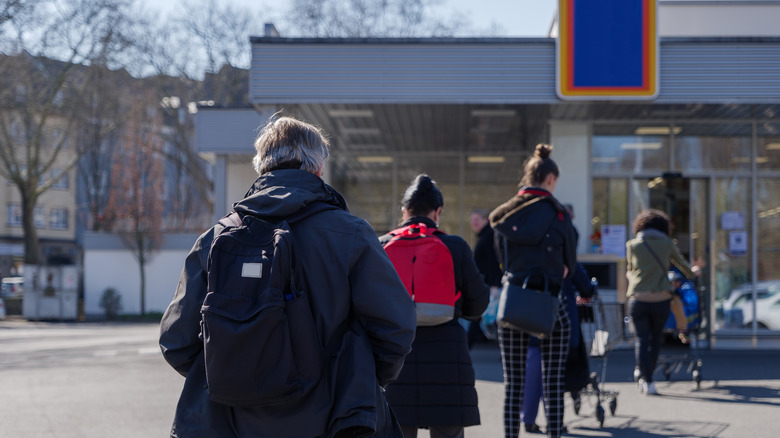 Peeradontax/Shutterstock
Aldi, however, has been experiencing shortages or delays in inventory for more than just frozen food. As the chain explains in an apology on its website, certain upcoming Aldi Finds like Valentine's Day Gnomes and a knife block could be missing from different locations. "We are experiencing shipping delays and are working around the clock to fix it," the statement said. "We know it is frustrating and we are sorry for any and all inconveniences." These issues stretch all the way back to at least last May.
The issue with stocking select items echoes what the distribution worker said in the Aldi subreddit. Namely, there were already struggles in areas such as shipping, but the recent surge of COVID cases caused by the Omicron variant made things even tougher. This view was also arguably reflected in a prediction made by Sean Connolly, the president and CEO of Conagra Brands (via Seeking Alpha): "It's entirely reasonable for all of us to project that the next month or so could remain strained within the supply chain as Omicron runs its course." Until the spike surge caused by the new variant recedes again, it seems possible – if not likely – that Aldi locations across the country will see empty frozen food shelves.