Shake Shack's New Game Day Menu Items Are Hotter Than Ever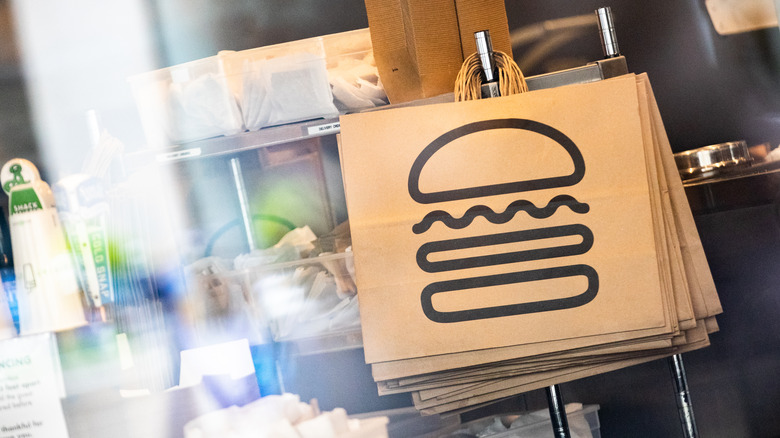 Jeenah Moon/Getty Images
Super Bowl LVI and its star-studded halftime show are set to take place on Sunday, February 13, which, depending on your level of enthusiasm for football, you may or may not have already known. Sports fans across the nation are patiently (or maybe impatiently) waiting for the AFC and NFC Championships this weekend to see who will end up competing in the big game (via Fox News). However, unless you root for the Cincinnati Bengals, Kansas City Chiefs, Los Angeles Rams, or San Francisco 49ers, you're probably more excited about all of the delicious foods you'll be digging into on football's biggest night. This year, Shake Shack wants to be a part of the spread.
According to Thrillist, the New York-based eatery is releasing two new menu items inspired by a beloved Super Bowl snack that you won't even have to wait until kick-off next month to sink your teeth into. Starting January 28, Shake Shack restaurants nationwide will be serving up Buffalo Chicken Sandwiches and Buffalo Spiced Cheese Fries. The menu additions will be available through April 25, giving you plenty of opportunities to enjoy them long after the next Super Bowl champion is crowned.
Shake Shack app users don't need to wait to get their hands on these spicy new menu items
It seems that Shake Shack's new game day menu items aim to embody everything that football fans and foodies love about buffalo chicken wings with the added bonus of not having to use an entire pack of napkins while scarfing them down. Per Thrillist, the new Buffalo Chicken Sandwich offers a spicy take on the crispy chicken patty from the chain's classic Chicken Shack by coating it in a house-made Buffalo sauce. It will be also be dressed with shredded lettuce, pickles, and ranch, and served on a toasted potato bun.
Meanwhile, the Buffalo Spiced Cheese Fries – which can also be ordered sans-cheese – adds a spicy buffalo seasoning blend atop the cheesy, crinkle-cut fries that customers are already familiar with, and will be served with a side of ranch dressing. Suggested prices for the menu items are $7.79 for the handheld and $4.79 for the fries (via Eat This, Not That!).
Earlier today, Shake Shack took to Instagram to share the news of its latest menu drop in a post that has, unsurprisingly, earned an enthusiastic response from fans. "I am SO EXCITED," one person commented. "Game changer," quipped another fan. "OH. DEAR. GOD. Cannot stop drooling," a third follower wrote, and if you're in the same boat, there's even more good news. Though the official launch of the new menu items is slated for Friday, Shake Shack app users have exclusive access to the gameday treats starting today. We'd certainly call that a win.