Padma Lakshmi Just Shared A Touching Tribute To Julia Child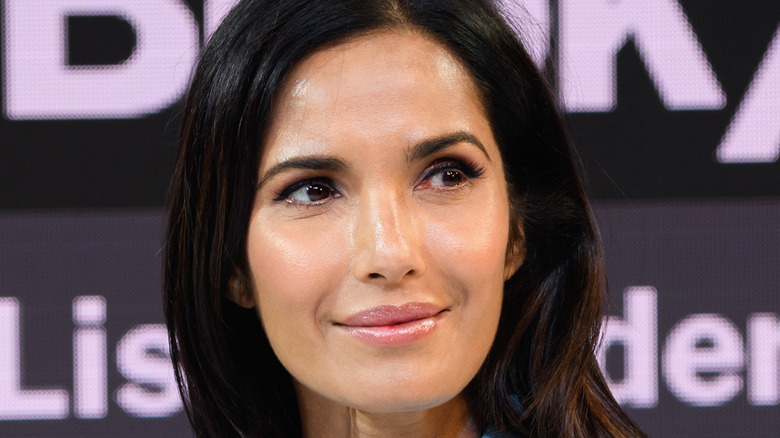 Michael Cohen/Getty Images
Known best for her legendary cookbook "Mastering the Art of French Cooking" and iconic 1960s television series "The French Chef," the late Julia Child remains one of the most respected figures in culinary history. As the host of the first nationally broadcast cooking show (via Create TV), the California-born cook broke ground for nearly all future food personalities. Through each of the lessons she shared on-screen, she showed countless people how cooking could be a genuinely fun process rather than an arduous task or skill that required high-level culinary training. She also wasn't afraid to make mistakes or get messy. Per Taste of Home, the author famously said, "The only real stumbling block is fear of failure. In cooking, you've got to have a what-the-hell attitude."
That humility combined with her visible passion for food had a profound influence over the many televised chefs that would come after her, including Ina Garten and the late Anthony Bourdain (via Los Angeles Public Library). Child's teachings also apparently spoke to cookbook author and television personality Padma Lakshmi. The "Top Chef" host shared a thoughtful tribute to the late culinary icon on Twitter following news that "Julia," the documentary based on Child's life, had earned a nod on the Oscars shortlist. In a caption over a gif of the late chef clapping pans together, Lakshmi wrote, "Julia Child was such an inspiration to me. She was far from perfect in her cooking, but approached food with endless curiosity & openness."
Julia Child's legacy reaches beyond the culinary world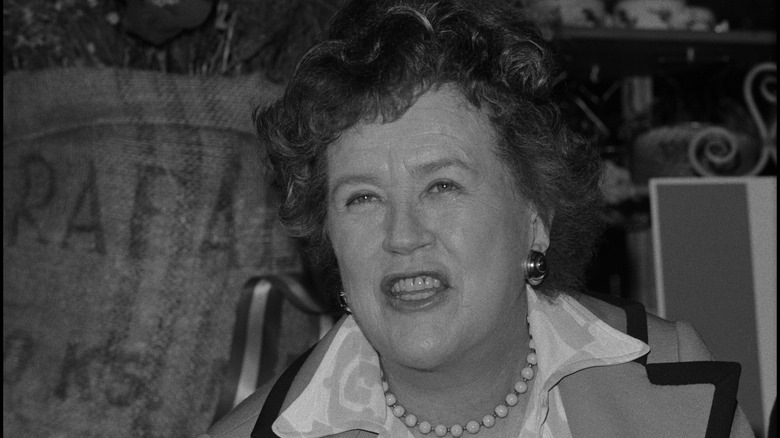 Janet Fries/Getty Images
It's easy to see how Julia Child's life and work would resonate with Padma Lakshmi. Like Child, the "Top Chef" host has a passion for food and an insatiable appetite for learning. Her show "Taste the Nation" perfectly encapsulates this, as it shows Lakshmi as she explores various food cultures around the country (via Hulu).
But Lakshmi's admiration for Child goes beyond a mutual love of cooking and entertaining. Per The New Yorker, Child was notably vocal in her support for a woman's right to choose and even spent time in her later years leading cooking classes to raise funds for Planned Parenthood. Similarly, Lakshmi is a passionate supporter of various social causes and isn't afraid to use her platform to make a bold statement on feminism. She was also lauded for marching in Texas for women's rights. In the second part of her Twitter dedication to the cookbook legend, Lakshmi notes, "Not only did she change the way Americans cook & eat, but she was an advocate for reproductive health rights & a big supporter of [Planned Parenthood]."
So far, Lakshmi's tweet has earned almost 1,000 likes, as well as mentions from fans sharing their approval of her tribute. And while many flooded the replies to share how Child impacted their own lives, one user expressed their gratitude for Lakshmi's dedication in the best way. Tagging her under the tweet, they wrote, "Keep carrying the torch."