Robert Irvine Wants Fans To Wake Up To This Decadent French Toast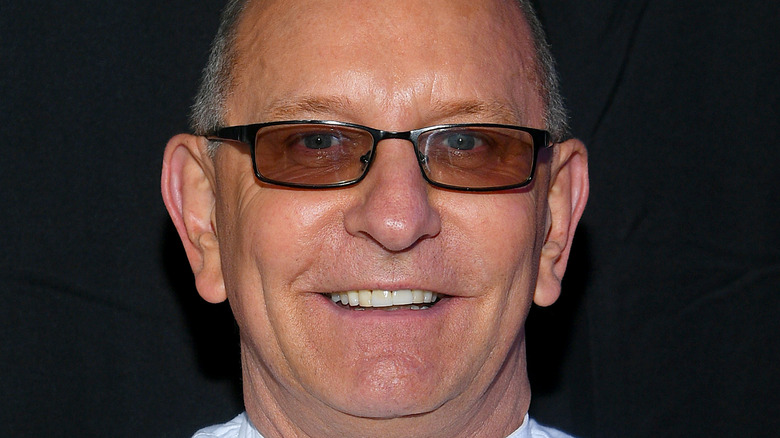 Dave Kotinsky/Getty Images
While weekday breakfasts tend to be practical and routine — you hardly have time to scarf down a protein bar or quick bowl of oatmeal as you rush out the door — weekend breakfasts are much more slow and relaxed. Because you actually have time to whip up more than a microwaveable meal, your Saturday and Sunday mornings can consist of something a little more elaborate and, in some cases, more indulgent. Think: a boozy brunch with bottomless mimosas with friends or a pile of homemade pancakes smothered in syrup with your family.
Another popular weekend breakfast treat is French toast. In its most basic form, French toast simply consists of sliced bread that's been dipped in a cinnamon egg batter and then pan-fried (via Simply Recipes). However, there are tons of variations, whether you switch up the type of bread, the flavors, or the toppings (fresh fruit and powdered sugar, anyone?). Even Robert Irvine has a take on the classic dish. He recently shared a mouthwatering photo of a dessert-like French toast recipe on Instagram.
Robert's Churro French toast comes from Restaurant: Impossible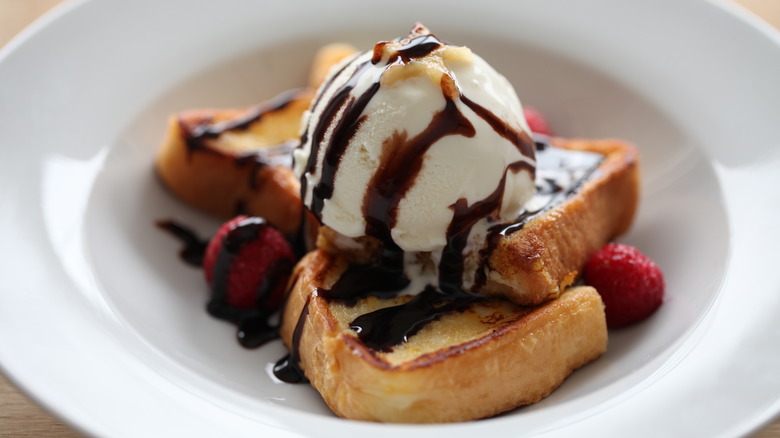 decoplus/Shutterstock
If you're looking for a little inspiration for breakfast next weekend, look no further than Robert Irvine's Instagram page. He recently shared a photo of his Churro French toast, along with the full recipe on social media. "Well, folks, it looks like a lot of you are about to get snowed in," Irvine captioned the delicious-looking photo. "Luckily, I've got just the thing to wake up to tomorrow – from this week's Restaurant: Impossible!" The Food Network chef even wrote out the recipe for the decadent brunch dish, which he says serves four. It uses fluffy brioche bread and is topped with homemade Mexican chocolate sauce, sliced strawberries, churro cereal, and dulce de leche ice cream. Indulgent much? Yes — but fans say it's worth it.
Many people chimed in with their approval in the comments, with one person specifically thanking Irvine for only using ingredients most people already have in their pantry. Another person declared, "Can't wait to make this for our kids tomorrow!!!!" And another user planned on having it for dessert. If you want something a little more basic, however, you can find Irvine's original French toast recipe — nothing decadent or extra involved — on The Food Network.