These 2 Boston Market Foods Are Based On Family Recipes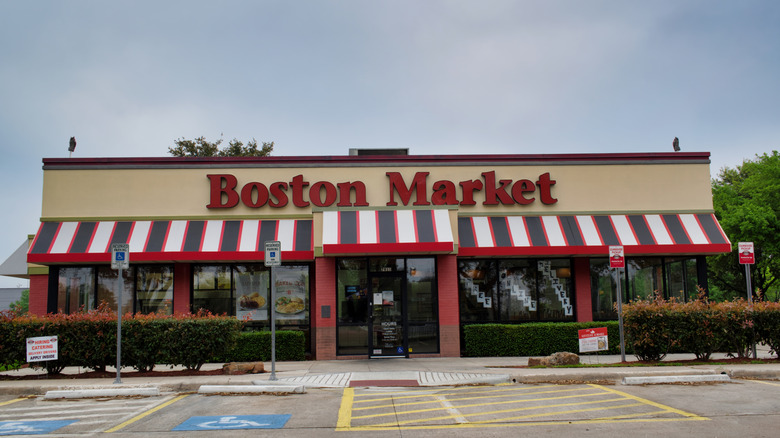 Brett Hondow/Shutterstock
When many people think of Boston Market, one of the first things that comes to mind is quick, inexpensive Thanksgiving-inspired food. But did you know that two of the fast-casual restaurant chain's original menu items are also rooted in family tradition?
According to the New York Times, founders Arthur Cores and Steven Kolow adopted two famous menu items from their grandmothers to sell at their original fast food restaurant, which they called Boston Chicken, in Newtonville, Massachusetts. Ownership changed the chain's name to "Boston Market" in 1995, according to The Balance Small Business, because it now offered other meat entrees. But of course, Boston Market's rotisserie chicken remained its core menu item.
Cores and Kolow's small business venture has since grown to a whopping 342 locations across the United States (via Boston Market). Yet, many people might not be aware of the wholesome origins of two of the chain's famous menu items.
The chicken soup is based on their grandmothers' recipes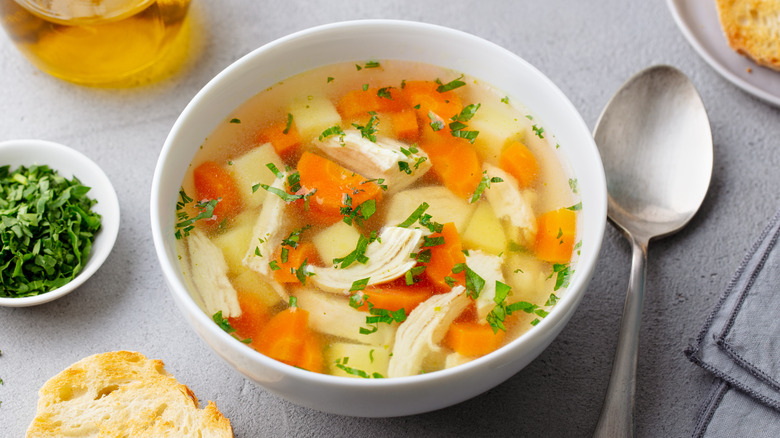 Anna_Pustynnikova/Shutterstock
Fittingly, a chicken dish — chicken soup — is one of the original Boston Market menu items that's based on Cores and Kolow's grandmothers' recipes, according to Funding Universe. Many grandmas are experts at cheffing up a steaming hot pot of chicken soup — for both comfort and medicinal reasons, WebMD notes — making the dish a perfect choice for a comfort-food restaurant. 
Still on the menu today, Boston Market's chicken soup is made with the chain's famous rotisserie chicken. The dish also features dumpling-style noodles and chopped veggies (via Boston Market). It could be the perfect meal if you're sick — or just want a liquid warm hug.
Back in 1997, The Spokesman-Review called Boston Market's variation of the dish "predictable but good," meaning if you desire a bowl of liquid comfort, the chain's chicken soup does the trick. The reviewer writes that the food item is, "industrial-strength, by-the-book, always-the-same chicken soup." However, the dish does have some characteristics that stand out, as the review highlights its thick broth, wide noodles, and fresh vegetables.
The oatmeal cookies are gone but not forgotten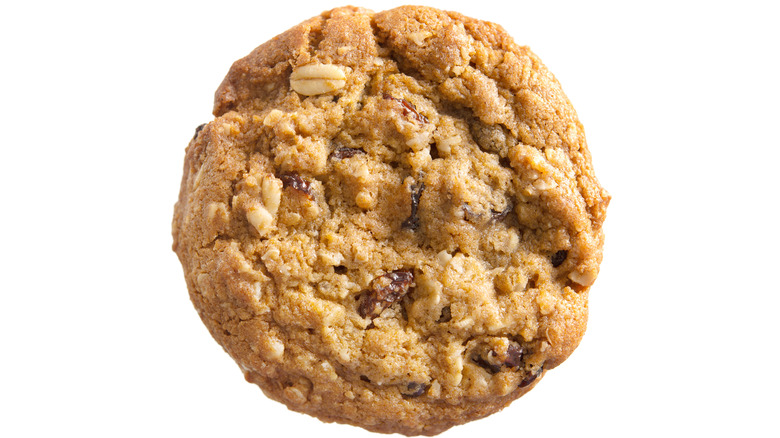 szefei/Shutterstock
Another menu item based on a family recipe is none other than the chain's oatmeal cookies, according to the New York Times. Although present-day restaurants now carry the popular Triple Chocolate Chip Cookie instead, we must not forget about its original Boston Market predecessor.
Oatmeal cookies can get a lot of flack, but Truism Fitness founder and certified nutritionist Jamie Hickey recommends them to those craving dessert, Delish reports, for their healthy attributes including being high in fiber. Some people's hate can stem from their preference for the classic chocolate chip, but Boston Market's oatmeal cookies were an original menu staple.
While it might be sad that the chain's oatmeal cookie is no longer on its menu, we must remember that this sweet treat paved the way for many of the restaurant's newer desserts today. According to Brand Eating, Boston Market started featuring seven new sweets in April 2021, including the Indulgent Chocolate Brownie and Vanilla Caramel Cheesecake.