Trader Joe's Fans Can't Wait To Try Its Everything But The Bagel Seasoned Crackers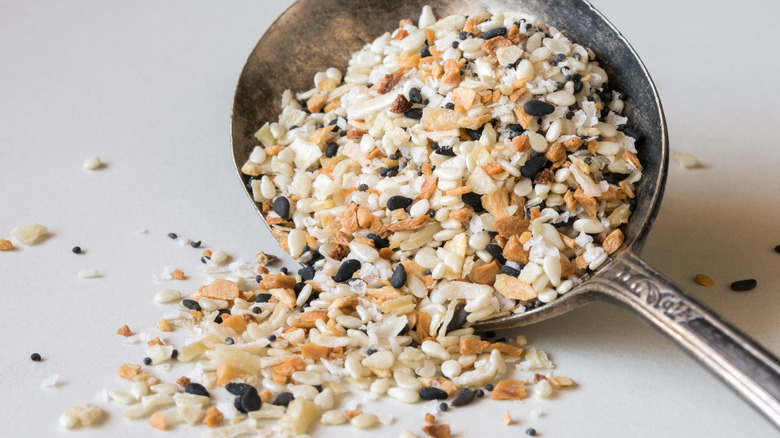 Michelle Lee Photography/Shutterstock
Since it first opened its doors in Pasadena, California in 1967, Trader Joe's has slowly grown into America's favorite grocery store (via Eat This, Not That!). What began primarily as a wine depot has transformed into a one-stop-shop conglomerate with a wide range of cheap, convenient, home-brand products. Today, hordes of devoted fans flock to TJ's for its broad selection of coffee, healthy meals, internationally-inspired entrees, and unbeatable snacks. Even the biggest TJ's skeptics are guaranteed to find something they love within the aisles.
While this popular chain has a slew of fan-favorite items, from its Mandarin Orange Chicken to its Cauliflower Gnocchi, no product is more beloved than the Everything But the Bagel Seasoning Blend. The winning combination of sesame seeds, poppy seeds, dried garlic, onion, and sea salt in one ingenious blend landed this product the first place title in Trader Joes' Customer Choice Awards in 2020. This versatile blend can help heighten the flavor of various dishes, from avocado toast and scrambled eggs to chicken breasts and simple salads. If you view it as a must-have ingredient in your spice cabinet, here's some more good news: Trader Joe's recently debuted an all-new product inspired by the seasoning that fans can't stop talking about.
TJ's new crackers are heavily inspired by the favorite spice blend
When something becomes incredibly popular, one thing that people can come to expect are lots and lots of spin-offs. It's done just as much with popular TV shows and it is with beloved grocery store items — after all, why not give the people what they want? So when their Everything But the Bagel Seasoning skyrocketed into a cult-favorite product, Trader Joe's began to gradually unveil similar items, including the Everything but the Bagel Dip and Everything but the Bagel Seasoned Kettle-Cooked Potato Chips. Joining the ranks now are the new Everything but the Bagel Seasoned Bite-Sized Crackers.
Topped with garlic, onion, caraway, poppy and sesame seeds, it appears that these crackers are infused with a similar blend that's found in the popular spice product. User @traderjoeslist took to Instagram to celebrate the debut and said in their post, "If you're a fan of EBTB then this is for you ... This minimalist themed box of crackers [is] packed full of flavor! These are perfect for a cheese board, dips, or on their own!" The comments section was flooded with TJ's fans who are excited to try this new option. "Oh my! I must try," one person wrote, while another commented, "Aw man! Just left the store ... now I have to go back." And another shared what everyone was thinking, "That's a good branding call."