Disney Fans Need To Know About Its Creative Valentine's Day Desserts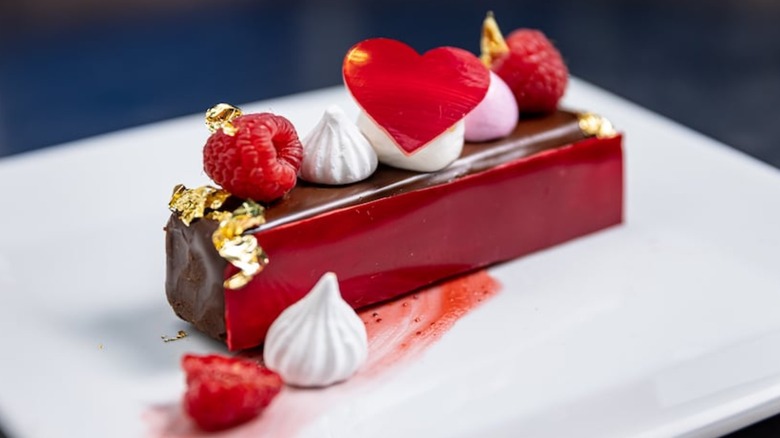 Disney
Valentine's Day is typically filled with plenty of chocolatey recipes, and lots of red and pink foods. There's even a red wine hack to give your pasta some Valentine's Day cheer! Not surprisingly, Disney is also rolling out a range of Valentine's Day desserts that fall squarely into the whimsical air of the Happiest Place on Earth.  
If you're heading to a Disney Park, you're sure to see all things Mickey, which this year includes a Mickey Beignet "with cinnamon candy drizzle" and topped with more "crushed cinnamon candies," according to Delish. The website also lists a Mickey and Minnie bouquet made of red velvet cake pops that are shaped like the characters, as well as a sundae with — you guessed it — Mickey and Minnie waffles.
Although Pineapple Dole Whips are the typical flavor found at Disney parks, Good Morning America reported that there will be two new variations of the fruity soft serve coming for Valentine's Day. This includes one that's half Strawberry Dole Whip and half chocolate soft serve with a chocolate-covered strawberry on top, and one that's half watermelon and half cherry. Mashed has ranked the Dole Whips, with watermelon landing dead last. Cherry didn't even make the list, but who knows, maybe the festive color combination will do the trick. But besides Mickey-shaped desserts and the infamous Dole Whip, there are a few other special desserts on offer by Disney for Valentine's Day.
What else is on Disney's Valentine's Day menu?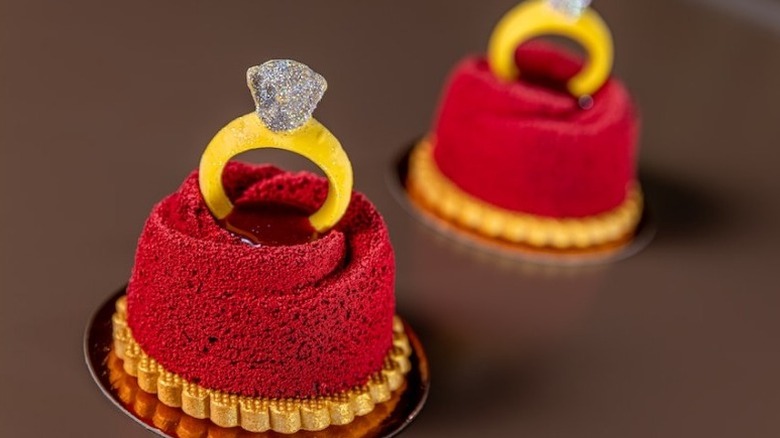 Disney
If you've ever wondered what that grey dessert is in "Beauty And the Beast," you're not alone, and here's how to make it. Disney turned this on-screen dessert into a cookies and cream mousse, and Good Morning America explains that it has now been adapted into a version for Valentine's Day. This limited edition "Grey Stuff" comes with a red shortbread cookie, red velvet cake, and a generous handful of sprinkles.
Although it certainly takes some Disney magic to make a pile of gray mousse seem enticing, some of its other Valentine's Day desserts have an immediate wow factor. The Disney Blog offers what appears to be a comprehensive list with its Valentine's Day Foodie Guide, and the highlight has to be the plant-based Engagement Ring Cake that's shaped like a rose and topped with a white chocolate engagement ring that has the shimmer of a real diamond (shown above). There's also a Flourless Chocolate Cake that comes in a single portion (shown in the previous slide) or one made "for two" that comes with fresh raspberries, raspberry whipped cream, and raspberry méringue — if you're willing to share your dessert. 
The list hardly stops there. From cannoli to cupcakes, and Bon Bons to bars, the House of Mouse seems to want lovers, at the very least, to swoon over their dessert on Valentine's Day.