Little Caesars Is Bringing An Unexpected Twist To Valentine's Day Bouquets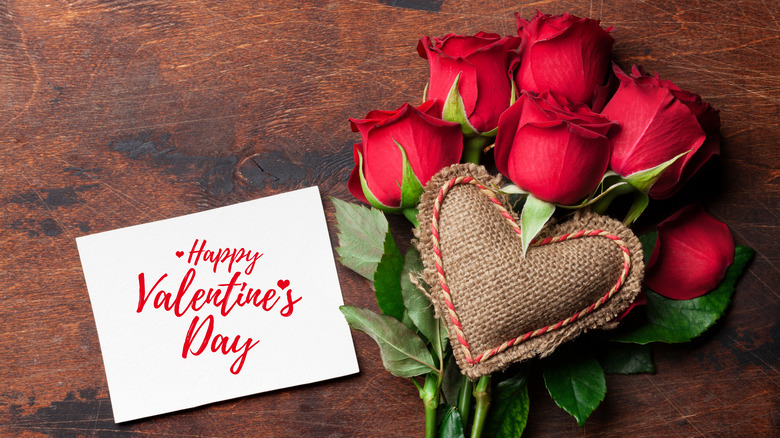 Evgeny Karandaev/Shutterstock
When you think of romantic gifts, you likely imagine a bouquet of roses and a box of chocolate for Valentine's Day. Although these might be classic presents for your sweetie, there are some more unique gift options out there if you want to think a little bit outside the heart-shaped box. This year, for example, Little Caesars is offering a limited-time gift option for bread lovers.
From today through February 14, fans of the pizza chain can order their giftee a "bouquet" of Little Caesars Crazy Bread, per a company press release. In lieu of roses, eight of the chain's butter, garlic, and parmesan breadsticks fill each paper cone. They're packed in an orange box that's studded with hearts and also contains a side of tomato-and-herb-based Crazy Sauce for dipping. While Crazy Bread isn't likely to last as long as roses, it does take care of your date's appetizer on Valentine's Day.
Where Little Caesars is selling Crazy Bread Bouquets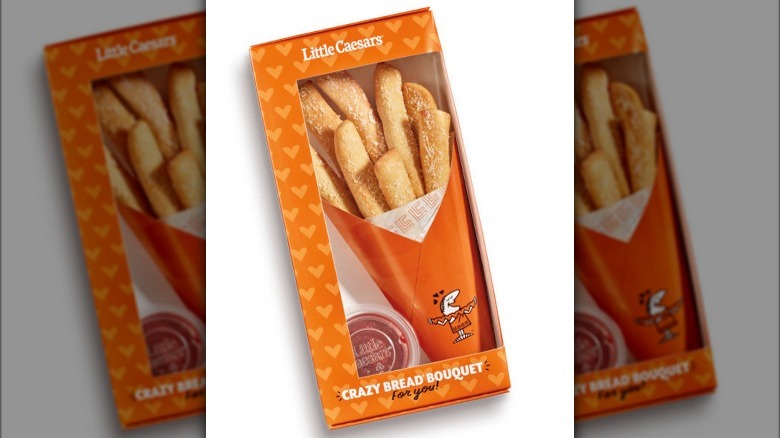 Little Caesars Pizza
Little Caesars' Crazy Bread bouquets won't be a nationwide offering. The company's press release explains that the temporary menu offering is only available to customers ordering online from participating locations in Charleston, West Virginia, as well as select other stores along the southern Atlantic coast. If you don't live in the area, we're guessing it would be pretty easy to pick up some Crazy Bread and turn it into your own bouquet with a paper cone and some ribbon.
Customers can order Crazy Bread bouquets online or through the Little Caesars mobile app for delivery or in-person pickup from one of the chain's Pizza Portals. Menu prices and delivery fees may vary from location to location, but you can expect to spend around $9.99 per bouquet. Little Caesars isn't the only fast food chain offering specials for the upcoming holiday: Shake Shack's Valentine's Day creation involves matchmaking and a buffalo chicken sandwich, while Dunkin' is bringing back fan-favorite donuts.