Aldi's Valentine's Day Cheeses Are Back For Your Charcuterie Board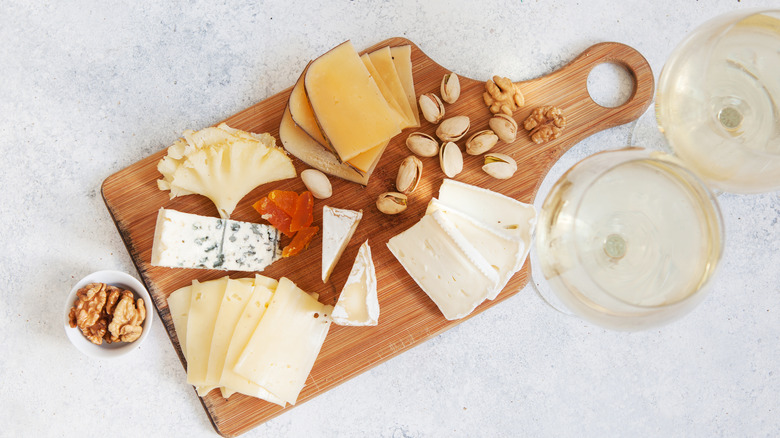 Maria Medvedeva/Shutterstock
For those who would rather stay in than go out, a romantic Valentine's Day that takes place from the comfort of your own home could be perfect. Ethel M's is doing virtual chocolate tastings, and you can use this pasta hack when cooking at home for gorgeous red noodles. And if you want to make a charcuterie board to share with your special someone, Aldi has the products for you.
Instagram user @aldi.mademedoit posted one of their recent finds in Houston, Texas. The photo shows off three heart-shaped blocks of cheese. To make it extra thematic for Valentine's Day, the cheeses are wrapped in pinks and reds, and in the caption, the Instagrammer points out that "Valentine's Day is the best time to have a charcuterie board!" We've got a recipe for a Valentine's Day charcuterie board that includes a salami rose, and you can add one (or more!) of these cheeses to pull it all together.
It looks like a few other Aldi fans are also excited to check out these cheeses. One person wrote, "Going tomorrow just for this yes," while another Aldi customer said, "Yum I have to grab those when I see them."
What kinds of cheeses are available at Aldi for Valentine's Day?
On the Instagram post from @aldi.mademedoit, there are three different cheeses to keep an eye out for on your next grocery trip to Aldi. If you prefer to keep things simple, there's a Mature Cheddar Classic English Cheese, but if you want a cheese with some sweeter notes, snag some Wensleydale Cheese with Raspberries & White Chocolate. Finally, there's a Gin & Rhubarb Wensleydale Cheese, which is a flavor that you won't find in most cheese aisles.
Wondering what Wensleydale cheese tastes like? According to Cheese Month Club, this is a firm yet creamy cheese and both sweet and tart. While these three kinds of cheese do have quite a bit of variety, Aldi has other cheeses that are charcuterie-ready if you're looking for another flavor to satisfy your palate. And Aldi's got another cheesy item up their sleeve for Valentine's Day. Don't forget to grab Mama Cozzi's Pizza Kitchen Heart-Shaped Cheesy Bread.