Bobby Flay's Cat Just Made Her Super Bowl Prediction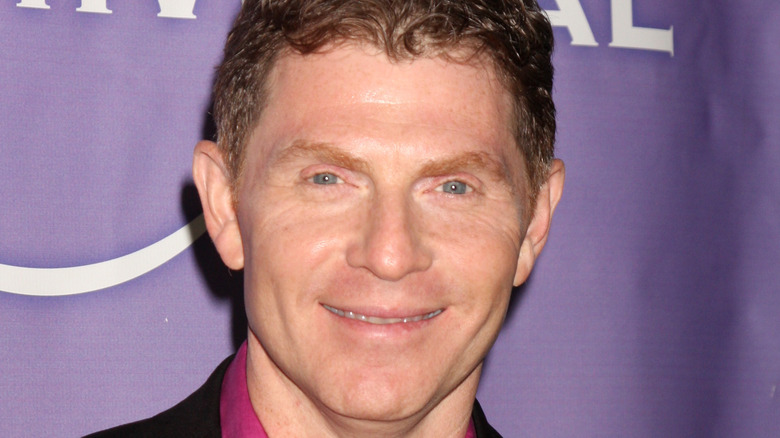 Kathy Hutchins/Shutterstock
You know celebrity chef Bobby Flay from his Food Network show, "Beat Bobby Flay," from his restaurants, including Amalfi and Bobby's Burgers, and maybe even from the podcast he hosts with his daughter Sophie, "Always Hungry" (via Flay's website). But perhaps you're not familiar with the lesser-known members of the Flay household: Flay's two Maine Coon cats, Nacho and Stella.
Nacho is the more outgoing of the two felines, and not only does he have his very own verified Instagram account, he's come out with a new line of cat food – with a little help from Dad, of course — called Made by Nacho. It's Stella, however, Nacho's more subdued, quieter sister, who comes out of the woodwork for football's biggest event and makes her official prediction as to who the winner will be. "Stella's a little more low key, likes to be behind the scenes, but when it comes to the Super Bowl, we all know she likes to pick the winner. People always ask me, 'Who do you like in the Super Bowl?' and I always say, 'I can't pick until Stella picks,'" Flay said in a recent Instagram video posted on Nacho's account.
Stella puts her kibble on the cats
So just how does Stella make her yearly prediction as to who the Super Bowl winner will be? In the Instagram post, Flay placed two cat food bowls filled equally in front of Stella, one labeled "Rams" and the other "Bengals." In a moment of true solidarity with her feline brothers and sisters, Stella paid no attention to the Rams bowl and instead started eating directly from the Bengals bowl. "She went for the cats!" Flay exclaims from the background with his arms in the air. "Bengals win the Super Bowl! It's as easy as that. Place your bets, everybody." The video, which has over 133,500 views as of this writing, blew up with comments filled with tiger and heart-eyed cat emojis. "Year of the Tiger, and Stella has chosen," wrote one user.
For those who might be a little skeptical, know this is not Stella's first rodeo. She correctly predicted the winner of Super Bowl LIV in 2020, as recorded in a post on Flay's Instagram account, sniffing only for a moment at the 49ers bowl before digging into the Chief's bowl. "Go Chiefs!! Yay Stella you [were] spot on," commented one fan.
What's next for Stella Flay's fortune telling career? One Instagrammer who may have bought into her speculative powers suggested another event to predict, humorously commenting, "Okay, but how are her Oscar picks?"