Andrew Zimmern's Snack Charcuterie Is For Super Bowl 'Overachievers'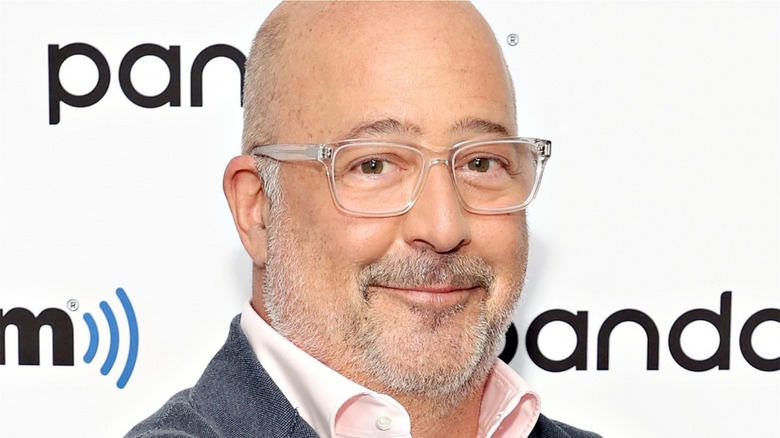 Cindy Ord/Getty
For many football fanatics, Super Bowl Sunday is the equivalent of Christmas, especially if they're lucky enough to see their beloved team take the field. However, sports lovers aren't the only ones who wait in anticipation for the culmination of the NFL season and all of its fanfare. The unofficial holiday is also a big one for snackaholics, who, according to data compiled by IRI, chowed down on a whopping 112 million pounds of snack foods during the big game last year (via SNAC International), ultimately making Super Bowl Sunday the second-largest day of the year for food consumption in the U.S. — behind Thanksgiving, per Premio Foods.
That being said, curating a top-notch spread is key to pulling off an unforgettable Super Bowl party, and recently, chef Andrew Zimmern provided some inspiration for hosts looking to go above and beyond this weekend for Super Bowl LVI. "Are you a game day entertaining overachiever? Make this Super Bowl Snackadium," the former "Bizarre Foods" host tweeted on Thursday, February 10.
Described on his website as a "food-filled novelty snack station," the Super Bowl Snackadium puts a football-themed spin on the popular charcuterie trend by replacing the traditional board with a hand-made, stadium-shaped vessel that gets filled to the brim with yummy treats, creating a one-of-a-kind snack table centerpiece that Zimmern guarantees will be a hit with the crowd. "Your guests will go nuts, I promise," he said.
Andrew Zimmern suggests filling your Super Bowl Snackadium with these foods
Constructing a Super Bowl Snack Stadium is sure to draw a few "oohs" and "ahhs" from your Super Bowl party guests this weekend, and may even have the power of getting your non-football-loving friends interested in the big game. "Oh my gosh Andrew — I have ZERO interest in any 'games days,' but if you'll supply this? I'll watch any game you choose — even Super Bowl!" Twitter user @Laurie_Bridgman said in response to Zimmern's recent tweet about his Super Bowl Snackadium (via Twitter). "It looks great!" they added.
Creating the vessel yourself will likely leave at least a few of your guests impressed, but it's what's on the inside of your Snackadium that will give it the potential to become a talking point among your friend group for many Super Bowls to come. On his website, Zimmern provided several recipe ideas for things to include in your edible sports arena, like his Chinese sticky chicken wings, Canteen Dogs, and a "field" made up of various dips. Additionally, the Travel Channel host also suggested filling the "stands" with "grab-and-go snacks" like celery, soft pretzels, and chips.
Ultimately, the snacks you choose for your charcuterie football field are up to you, though Zimmern does have one piece of advice that all Super Bowl Snackadium creators may want to abide by. "Make sure to invite plenty of your friends over to enjoy!" he advised. How else are you to become the "hostess with the mostess" of your friend group if you don't?