Savannah Guthrie Has A Hilarious Nickname For Super Bowl Snacking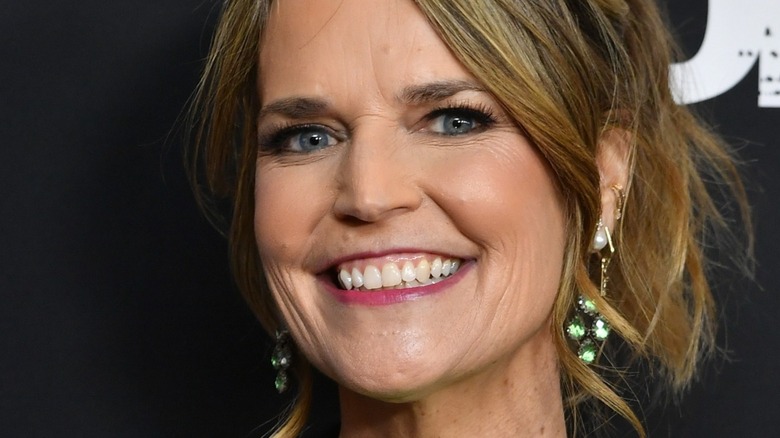 Roy Rochlin/Getty
It shouldn't take a snack food industry expert to recognize that, "In America, football, snack foods, and fun go together," yet that's exactly what SNAC International president and CEO Elizabeth Avery affirmed in a press release issued by Frito-Lay on February 8, just days ahead of Super Bowl LVI. To her point, Americans spent $15 billion dollars on 2021 Super Bowl-related foods and beverages, not to mention the necessary party supplies, according to World Food Program USA (though, we're still waiting on official 2022 data). A good bit of that may have gone solely towards the consumption of chicken wings, per the National Chicken Council, that predicted Americans would eat 1.42 billion of them while watching Sunday's big game.
Of course, wings aren't even the most popular Super Bowl snack food, according to a 2021 YouGov survey, which assigned that honor to "chips and dip" – 42% of those surveyed said they planned on indulging in that food of choice. Wings came next (37%), followed by pizza (31%), nachos (23%), cheese and crackers (21%), burgers or sliders (15%), cookies (14%) and/or ice cream (12%). Bleacher Report apparently concurs, identifying chips as the number-one most popular Super Bowl snack, with numbers two through five all being dips, followed by, yes, you guessed it, chicken wings. 
But, if numbers don't do it for you, that's okay because "The Today Show" anchor Savannah Guthrie has a hilarious nickname for Super Bowl snacking that basically sums it up in a mere four words. 
How was your "National Day Without Nutrition"?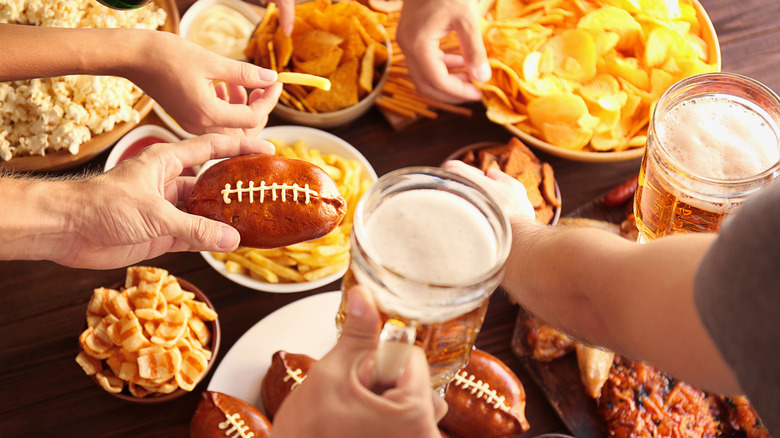 Africa Studio/Shutterstock
Tortilla chips, especially when served with easy-to-make queso dip, is a go-to for game day snack food for many people. And "The Today Show" anchor Savannah Guthrie seems to have a soft spot for it, too. On Super Bowl Sunday 2022, she posted an Instagram story featuring several bowls full of what appear to be Nacho Cheese flavor Doritos in various states of having-been-noshed-on (via People). She may be just one of many at her home network who favor a crunchy and savory snack food, given that she captioned a photo, "NBC: "Nothing But Chips." 
Of course, Guthrie also seems to understand that Super Bowl Sunday's indulgent selection of snack foods is not exactly the stuff of sustainable eating habits. In her post, she dubs the Super Bowl the "National Day Without Nutrition." With one single hilarious nickname, Guthrie nails it and also reminds everyone that, on Monday morning, it's back to business as usual, America. Bring on those fruits and veggies, please.