Chick-Fil-A's Returning Sandwich Is A Barbecue Lover's Dream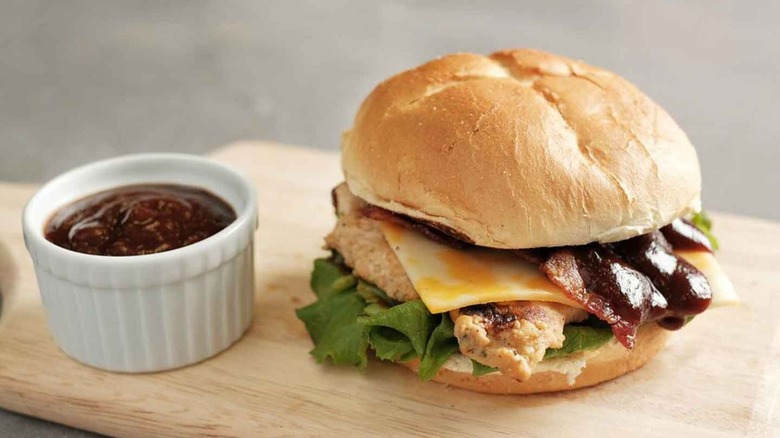 Chick-fil-A
Whether it's breaded and stuffed in a sandwich, fried as nuggets or tenders, or simply grilled, chicken is the main attraction at Chick-fil-A. But unlike other restaurants, Chick-fil-A's poultry offerings are surprisingly humble. No crazy flavors, nothing breaded in Doritos, no radically "hip" commercials showing off their sandwiches — the company prefers to let its chicken do the talking. But as this returning item shows, that doesn't mean Chick-fil-A is afraid to explore new flavors every now and then.
Having last appeared in 2019, the Smokehouse BBQ Bacon Sandwich returned to the Chick-fil-A menu on Feb. 21. The sandwich consists of a grilled, marinated chicken breast, brown sugar-and-pepper bacon, Colby Jack cheese, lettuce, and Smokehouse BBQ sauce on a toasted "sweet yeast bun." This take on a BBQ chicken sandwich is the brainchild of Chick-fil-A chef Christy Cook and restaurateur Ford Fry (yes, those are their real names) back in 2015 before being introduced nationwide in 2017, per a Chick-fil-A blog post. According to Cook, people loved the Smokehouse BBQ sauce — to the point where they wanted to purchase little cups of it alongside strips of the sandwich's special peppered bacon. 
Chick-fil-A has other limited-time items, too
While Chick-fil-A's Smokehouse BBQ Bacon sandwich surely sounds delicious to some people, there are others who aren't as wowed by it. But Chick-fil-A has plenty of other limited-time items that make an appearance on menus every now and then.
Perhaps the most beloved limited-time Chick-fil-A menu item is the Peppermint Chip Milkshake, which returns around November to help kick off the holiday season. Per a Chick-fil-A press release, the shake is made with the chain's "Icedream" dessert whipped together with crushed-up peppermint and finished off with whipped cream and cherries. For fans of peppermint and chocolate, it's a sign that the most wonderful time of the year is around the corner. 
But if chicken is still on your mind, and you want something spicy, you may want to keep an eye out for the Chick-fil-A Spicy Grilled Chicken Deluxe sandwich. According to Meat + Poultry, this upgraded version of the chain's chicken sandwich features grilled chicken breast in a spicy marinade alongside lettuce, tomato, Colby Jack cheese, and a specialty-made cilantro lime sauce on a toasted multigrain brioche bun. The sandwich was available for a limited time in January 2021, so fans will have to wait and see if it makes a triumphant return for 2022.