TikTok Is Emotional About Guy Fieri's Touching Self-Reflection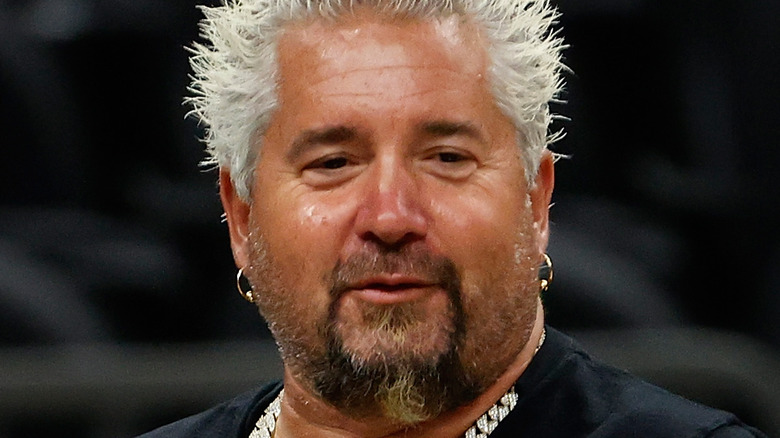 Christian Petersen/Getty Images
Guy Fieri is a polarizing figure. Despite his massive success (his television shows, books, and restaurants have given the star an astounding net worth of $50 million, according to Celebrity Net Worth), some people really don't care for the "Diners, Drive-Ins and Dives" host.
Guy's detractors are turned off by what one Redditor called Fieri's "obnoxious 'roadie for Smashmouth' personal style" with the loud shirts, spiked hair, sunglasses and over-the-top jewelry. Others cite homophobic and antisemitic comments the star has made in the past (via Grub Street and SFist).
But Fieri, who is also known for his philanthropy, especially in response to the COVID-19 pandemic, has plenty of fans, too. He has millions of followers on Twitter and Instagram, and fans have liked his Flavortown TikToks 8.5 million times. One TikTok really resonated with those who love the "Mayor of Flavortown," and Flavortown "residents" commented on the post more than 12,000 times. Guy posted a video of himself behind the wheel of his convertible, set to "Motion Sickness," by Phoebe Bridgers. Overlying the video is a caption in which Guy reflects on what his 8-year-old, 15-year-old, and 21-year-old selves might have thought of the number of diners, drive-ins, and dives present-day Guy has been to. He concludes the missive by writing: "54-year old me is rolling out looking for all three." In fact, DDD is filming its 42nd season, according to IMDb, and Guy is showing no signs of tiring of the show that propelled him to stardom.
Guy Fieri's fans still love DDD
It's a serious TikTok moment for the famously-goateed Guy Fieri and his fans are loving it. One fan emoji-ed a crown for the Mayor of Flavortown, noting "You dropped this king." The retail giant Walmart commented, "Diners, Drive-Ins, and Deep Thoughts." Maddy Morphosis of "RuPaul's Drag Race" is apparently a Fieri fan, dropping "I love you Dad" in the comments. Famous "Millennial Made" TikToker Rod Thill said "This is important to me," while musician and social media star Bryce Xavier added, "You are everything." More than one fan wondered "Why did this make me emotional?"
Many posts really revealed how important Guy Fieri is to his fans. One wrote, "Keep going Guy! the world needs your energy now more than ever." Another commented, "tiktok asked me how i felt about this video. [I]'m feeling moved and inspired." "You are an amazing person, you've done so much for your community," wrote another follower. "This is the most beautiful tiktok i've ever seen," said another, while one entrepreneur credits Guy with making their dreams come true "from watching you as a kid to owning my own restaurant. [You're] a real inspiration Guy," they wrote. 
The video sparked nostalgia for many of Guy's followers, who shared sweet memories of watching DDD with their parents. "It's comforting," to see Guy, said one follower. Phoebe Bridgers fans loved the combination of their favorite musician and Food Network host, sharing comments like "My king is a PHARB? [I'm] crying."