TikTok Isn't Buying Giada De Laurentiis' Claim She Eats Her Own Food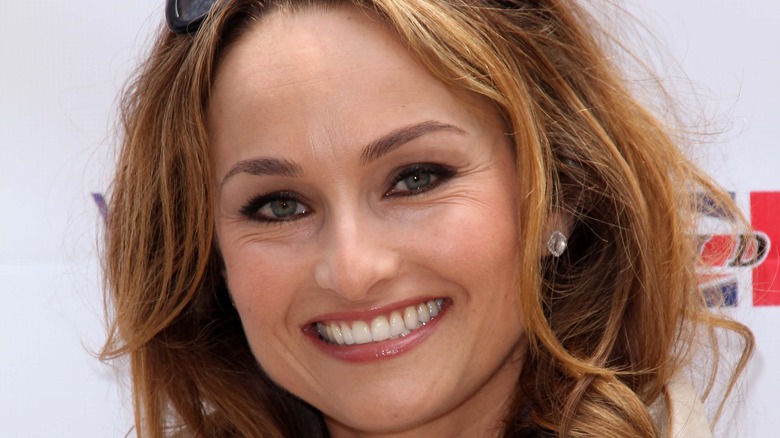 s_bukley/Shutterstock
Food Network star Giada De Laurentiis is known for the beautiful Italian comfort foods she whips up on her shows — and she cooks a lot of it. Producers film three episodes every day they're on set, and sometimes call for six to 10 takes of every segment, her representatives told PopSugar. Since De Laurentiis' show "Everyday Italian" premiered on the Food Network in 2003, this adds up to a lot of delicious food.
However, some on-set rumors have left fans wondering if she really eats the food that she cooks. What's more interesting is that more than a third of fans think Giada can't actually cook well, and even celebrities like Nicole Kidman and Matt Lauer couldn't bring themselves to swallow her food on live TV. Rumors also swirl about an infamous on-set habit of spitting out bites into "dump buckets" once the cameras turn off.
The seasoned celebrity chef addresses these allegations in a TikTok video — but not all her fans are buying it.
The truth about the food Giada really eats
In a TikTok post, Food Network star Giada De Laurentiis tried to dispel rumors that she doesn't eat the food she's become famous for cooking. Under the caption "People ask if I actually eat the food I make," Giada takes a bite of pasta in her kitchen. And to answer her question even further, she lip-syncs along to a viral sound of singer Kali Uchis saying "Umm... yeah."
However, fans in the comment section aren't convinced. "Girl, no you do not. Lmao," one commenter wrote. Another pointed out that "'Eat' and 'taste' are different, but okay."
So what's the truth? Turns out the food De Laurentiis really eats is both Italian at its core and healthy. For breakfast, she'll add warm olive oil to her oatmeal or brown rice, and she saves proteins — even eggs — for later in the day with dishes like frittata or salmon with lemon and capers.