Martha Stewart Is Raining Praises Over This Palm Beach Restaurant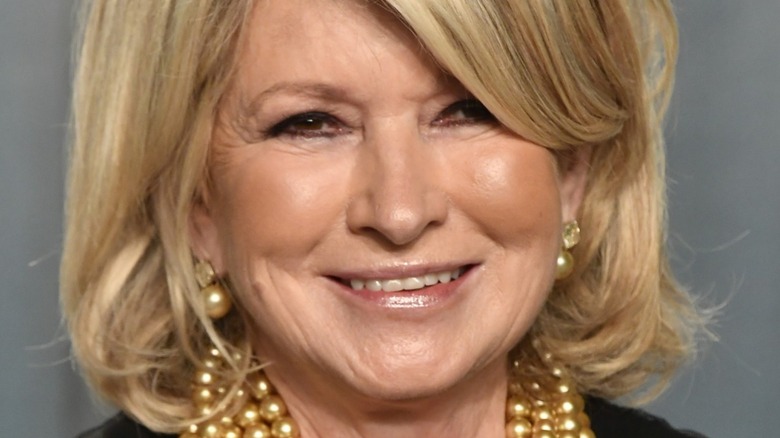 Frazer Harrison/Getty
When Martha Stewart talks, or posts to her social media platforms, we can't help but listen. The lifestyle expert, who celebrated her 80th birthday last year, knows a thing or two about pretty much everything. Stewart has doled out tips, tricks, and hacks for removing labels on pots and pans, peeling garlic, preserving tomato paste, and the rule she follows for making an amazing cocktail. To put it succinctly, the media maven has a lot of sage wisdom and we are so happy she is willing to share, and shares she does.
Recently, Stewart posted a rather big announcement: You can dine in her home. Well, sort of. The cookbook author revealed to People that she's opening a restaurant at the Paris in Las Vegas in the spring, and that The Bedford by Martha Stewart would be modeled after her own home. The concept sounds amazing and we can't wait for a tour, but until then, the closest we will get to dining like Martha is by taking note of her restaurant recommendations, the latest of which came in the form of an Instagram post.
Martha Stewart fell in love with this Palm Beach venue
On Instagram, Stewart shared eight photos of her first night in Palm Beach, which she spent with friends dining at Le Bilboquet, a restaurant that describes itself as having a "South of France vibe." From the balmy palm trees to the artsy menu to the swanky outdoor dining to the delicious-looking seafood dishes and decadent dessert, Stewart gave her seal of approval to the fancy French eatery. 
She wrote, "We ate at [Le Bilboquet]... One of nine restaurants worldwide this excellent fancy bistro serves classic French cuisine of high quality I have known the proprietor for many years Philippe Delgrange is the undisputed king of his group of restaurants and tries very very hard to please his guests with great ambiance, good food and fun people." But Stewart did not end there. She capped off her praise with even more compliments, typing, "It was so nice to eat outside under the stars and palm trees! Best sole meunière I have had in a long time!!!"
It was quite an endorsement coming from Stewart, who boosts 1.5 million followers on Instagram, and within no time, she had her followers weighing in. One wrote, "Looks fun! They have the best burger," while another eagle-eyed fan noted, "Wonderful spot indeed, Martha! Love the moon in the last photo." It definitely looked like an evening to remember.