What The Kids Baking Championship Producer Refuses To Let Valerie Bertinelli Do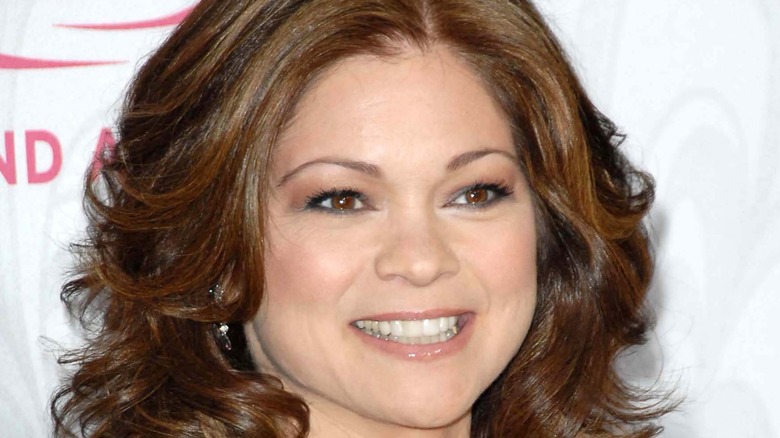 s_bukley/Shutterstock
Valerie Bertinelli has built an impressive career. She starred in the popular TV shows "One Day at A Time" and "Hot in Cleveland," has earned a Golden Globe and Daytime Emmy award, and is a New York Times bestselling author. But many now know her best as a Food Network star — the host of "Valerie's Home Cooking" and "Kids Baking Championship."
Bertinelli co-hosts "Kids Baking Championship" with fellow celebrity chef Duff Goldman, and on the show, the duo recognizes the most creative and talented young bakers they can find. Fittingly, Bertinelli developed a love for cooking as a child herself, watching her Italian grandmother roll out fresh pasta and bread. 
In a 2015 interview with Food Network, the celebrity chef shared that the toughest part of hosting the show was the first episode, revealing, "The amount of food that we had to taste-test was a little daunting." However, she faces another challenge as the popular series continues. Once the cameras are rolling on "Kids Baking Championship," producers don't let the co-host do this one big thing and Bertinelli has a tough time with it.
The one rule Valerie Bertinelli wishes she could break on Kids Baking Championship
The producers of "Kids Baking Championship" won't let co-host Valerie Bertinelli do the one thing she most wants to do — help the young contestants when they need a hand. Producers let the hosts encourage the kids, but not give instruction or assistance. "A few times I've begged our producer to let me help someone and she always tells me no," Valerie says (per Food Network).
Still, admiring the children's growth is gratifying for her, Bertinelli reveals in an exclusive interview with Mashed. She shares, "We don't give [them] enough credit, I think, sometimes. We think, 'Oh, they're a kid; they don't know any better.' Oh my God, they're these little human beings that really process things and can work through problems."
Bertinelli's co-host, "Ace of Cakes" star Duff Goldman, has been known to bend the rules on the set of "Kids Baking Championship." In previous seasons, per Food Network, when kids were struggling, the celebrity chef has sneakily offered pointers to contestants on leveling cakes, using the fondant sheeter, and other techniques he knows well.
Although Bertinelli isn't technically allowed to aid the contestants, maybe if we watch closely, like Goldman, we'll see her sneak in a helping hand.