Disney Just Revealed Never-Before-Released Recipes. Here's Where To Find Them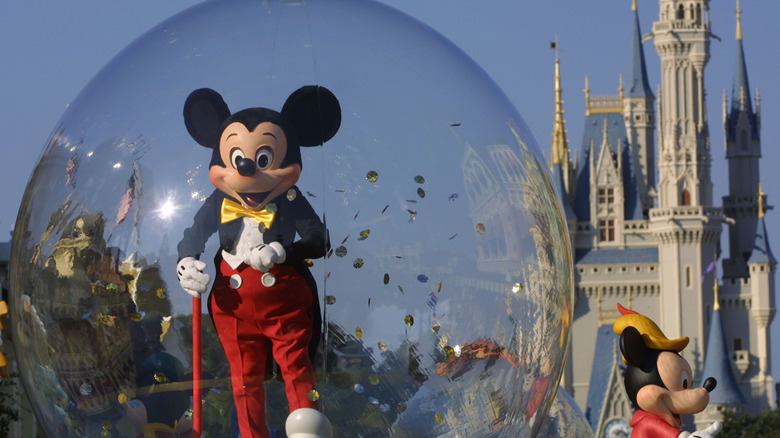 Joe Raedle/Getty Images
We may receive a commission on purchases made from links.
For some people, a trip to a Disney park or resort could mean meeting their favorite cartoon characters. For others, the main attraction might be the thrill and going on every ride. But another possible draw for people who flock to Disney is the food. Those who visited in February might have seen Disney's creative Valentine's Day desserts, which included rose-shaped cakes topped with chocolatey engagement rings. Adults can drink their way around the world at Epcot, or folks can indulge in Disney Dole Whips galore.
There's a lot you might not know about the food at Disneyland, but Disney's food is going to become a little more accessible to us all, even if you're not in one of the theme parks. According to People, Disney World's 50th anniversary is here, and as part of the celebration, Disney is releasing a cookbook with plenty of recipes for fans to whip up.
The cookbook is called "Delicious Disney: Walt Disney World: Recipes & Stories From the Most Magical Place on Earth." Written by Pam Brandon and Marcy Carriker Smothers, it focuses on recipes from Florida's Disney World. Previously, resort- and park-goers could buy it as a limited-edition item when Disney released the cookbook in Fall 2021. But this spring, it'll be available for purchase online.
What are some of the recipes in Disney's cookbook?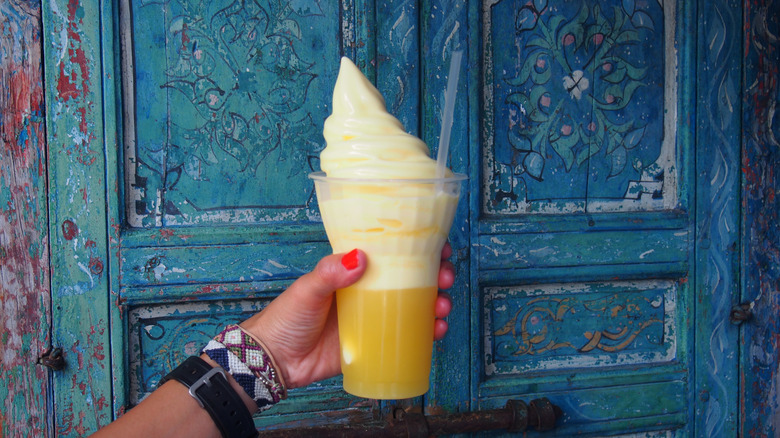 Mithrax/Shutterstock
According to the Disney Books website, the cookbook has more than 60 recipes. If people want Disney resort appetizers, they will find them. Of course, they can also find main courses, not to mention drinks, side dishes, and desserts. The website describes this work as a "cookbook-meets-culinary history coffee table book" that includes "behind-the-scenes anecdotes." So the book also aims to please readers who want to know more about the history and lore of the parks.
People reports that "Delicious Disney" has recipes for Tonga Toast from Disneyland's Polynesian Island Resort and the Breakfast Lasagna, which guests can find at the Crystal Palace. It also has a drink based on the Dole Whip. Judging from the Amazon listing for the cookbook, it will also explain how to make Sonoma Goat Cheese Ravioli, a veggie-packed Cilantro Coconut Curry, and the brightly colored beverage, Monorail Yellow. Many of the pages contain recipes that the public has never laid eyes on and instructions for recreating discontinued menu items.
"Delicious Disney" is slated for release on April 5 but can be pre-ordered on Amazon. In the meantime, folks who want to bring the House of Mouse home with them can try out our copycat recipe for Disney World's Magical Churro or find out how to make Disney's famed Dole Whip.