Lionel Messi Teamed Up With Lay's To Create A Limited-Edition Chip Flavor
When it comes to the globally popular sport, soccer fans have their loyalties, opinions, and favorite players. But if you ask who the greatest players of all time is, you may hear Lionel Messi's name. Cristiano Ronaldo fans talk amongst yourselves because it appears Lay's is in agreement over Messi with their latest potato chip campaign. Lay's is once again placing a spotlight on European football's beautiful bearded G.O.A.T., also known as the Maestro of Football, with its latest snack food release, and soccer fans are excited (per PR Newswire). The company has teamed up with the 7-time Ballon d'Or winner for their limited-edition Lay's G.O.A.T. Cheese Flavor Series as part of their UEFA Champions League partnership, and this is definitely going to ignite some conversations. 
Messi has a long relationship with the chipmaker, having linked up with the brand in previous years for what equals a library of commercials and promotions, including last year's fun campaign that allowed fans to participate in Lay's Messi Messages which provided the opportunity to create A.I. Messi video messages. But this time around, the Paris St. Germain player's likeness is not only featured on the bag of chips, he has his very own limited edition chip flavors, and the one being released in the United States is as hot as his La Liga record of most goals scored (via The Mirror).
This cheesy chip collaboration began in France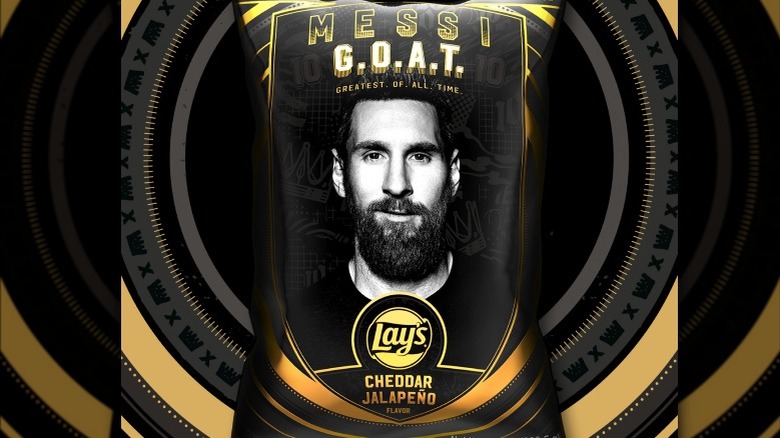 According to Lay's announcement, while there are three flavors being released, those living in the United States will only get to enjoy bags of Lay's Cheddar Jalapeño, and we are hoping they bring the same heat as Messi's ability to hit the back of the net. The bags have a black and gold theme, and feature Messi's face. If you are living in or visiting Argentina, you get two flavors to feast on: Queso & Pimienta and Caramelized Onion. All three new Lay's chip flavors are described as having a "distinctive" cheese flavor. 
Messi is thrilled over the collab, stating, "I've worked with Lay's for many years now, and of course been featured on their packaging. But this is new level. I am so excited Lay's was able to make this happen for fans and hope they can get their hands on one of Lay's G.O.A.T. bags!"
The idea to create this campaign actually originated last year in France around the same time Messi left his longtime club Barcelona to join PSG. Lay's tweeted, "So our flavor chefs in France have an idea... #lays #messi #GOAT," and fans were quick to help the post rack up over 110k likes and lots of comments. Including this response for all Messi fans, "Lays knows ball. There's only 1 [GOAT], and it's LIONEL MESSI."