There's A Camp Dedicated Entirely To Cooking Bacon - Here's What It's Like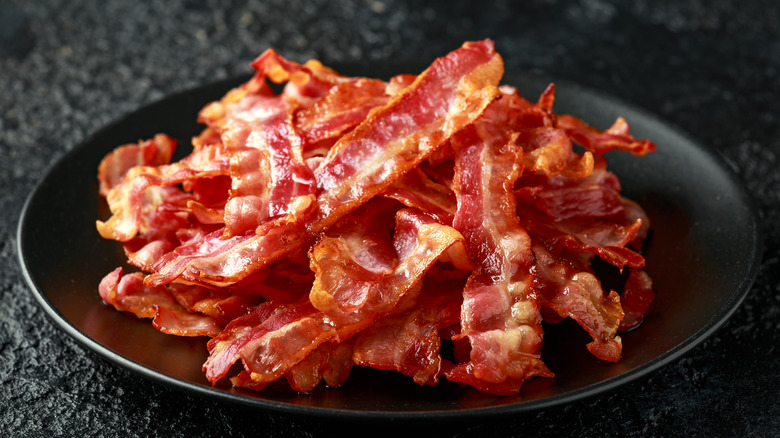 DronG/Shutterstock
Bacon has always been a fan favorite, but in recent years this breakfast staple has enjoyed a cult-like following. With middle schoolers touting bacon-scented erasers, Burger King customers chowing down on bacon sundaes, and imbibers sipping on bacon-flavored vodka, these pan-fried morsels of pork have reached a celebrity status that few foods will ever enjoy. Who knew that a pig's belly could taste so good? And, kudos to the brave souls that discovered this and provided eggs with the perfect companion.
While finding things that pair well with bacon is not fraught with the same perils as discovering bacon in the first place, it surely comes with challenges of its own. With so many people trying to come up with the next big bacon sensation, one has to wonder what the process is really like. Does homemade bacon pie hit the spot? How do dogs feel about dressing up as bacon? What does bacon bubble gum taste like when it begins to lose its concentrated bacon flavor? And where do prospective bacon entrepreneurs go to hone their craft?  
It turns out that bacon aficionados now have a place where they can go to learn more about their breakfast-meat-of-choice and rub shoulders with fellow pork pundits. It's called "Zingerman's Camp Bacon."  
Zingerman's Camp Bacon is completely devoted to the meat
Located in Ann Arbor, Michigan, the multi-day Zingerman's Bacon Camp is a celebratory homage to all things bacon. Attracting visitors from as far away as Australia and Spain, the event has been welcoming pork eaters for a decade. While the pandemic forced them to cancel the past few years, they have big plans to be back with a bang in 2023. 
What can you expect to find at this unusual "camp?" Jam-packed with meaty events like a film festival featuring food-centric flicks, a "Bacon Ball" that showcases award-winning chefs, "bakin' with bacon" classes, a street fair, an array of well-known speakers, a bacon-tasting event for kids, and plenty of opportunities to dig into some top-notch pork, this meaty extravaganza fulfills every bacon-inspired need. And it's origin story is quite unique. 
In 2009, Zingerman's cofounder, Ari Weinzweig, penned the book, "Zingerman's Guide to Better Bacon." In it he mused, "What if there was a camp you could go to, and everything was about bacon?" Former employee, Peter Sickman-Garner, said they should really do a bacon camp. What started as a clever aside in a cookbook became a reality just a few months later, creating a beloved food ritual that keeps getting bigger and bigger — and is the perfect destination for the bacon lover in your life.