Here's How You Can Celebrate St. Patrick's Day Twice This Year With Jameson - Exclusive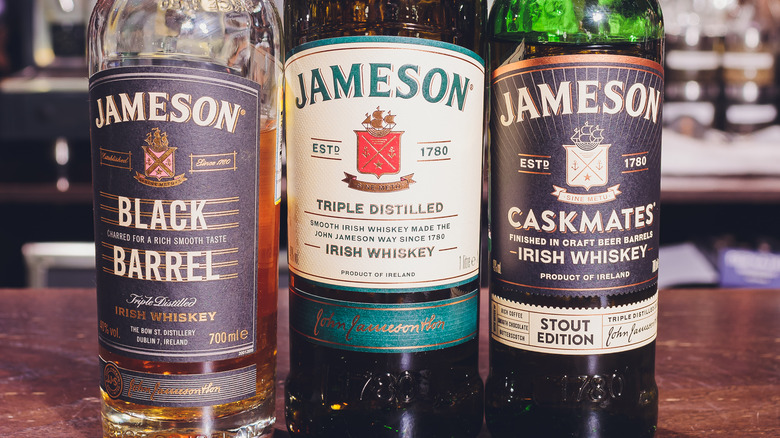 Vershinin89/Shutterstock
We've made it to mid-March, and that means everyone's favorite drinking holiday — AKA St. Patrick's Day – has finally arrived. While we've still got a few more weeks of winter weather to push through, at least we can all warm up this week with a round with friends, a special green cocktail, a classic Jameson neat, or whatever else gets you feeling the luck of the Irish.
Speaking of Jameson, the iconic Irish Whiskey brand (and arguably the unofficial sponsor of St. Patrick's Day) is officially partying like it's 2022 this year — as in celebrating a little extra after the last two years of pandemic lockdowns and canceled plans. "This year, what we really wanted to do is make up for those two years we missed with family and friends," the company's brand director, Kelly Suhr, told Mashed. "That's why in 2022, Jameson wanted to officially take a stance on this and say, you know what, let's make [St. Patrick's Day] a double holiday." 
Yes, you read that right. Jameson says it is "encouraging consumers to get together with their family and friends to celebrate, responsibly, on both Thursday, March 17th and Friday, March 18th" for two days of fun, festivities, and plenty of freshly made Jameson cocktails – perhaps including the company's newest drink creations.
Jameson says the double celebration "is about coming together with family and friends." Did we mention there are also prizes involved? Folks who are down to party twice this year could even win some cash money and a free breakfast. Mashed got all the details in an exclusive interview, and we found out exactly how you can celebrate St. Patrick's Day twice this year with Jameson.
Celebrate two St. Patrick's Days with Jameson, and win some prizes along the way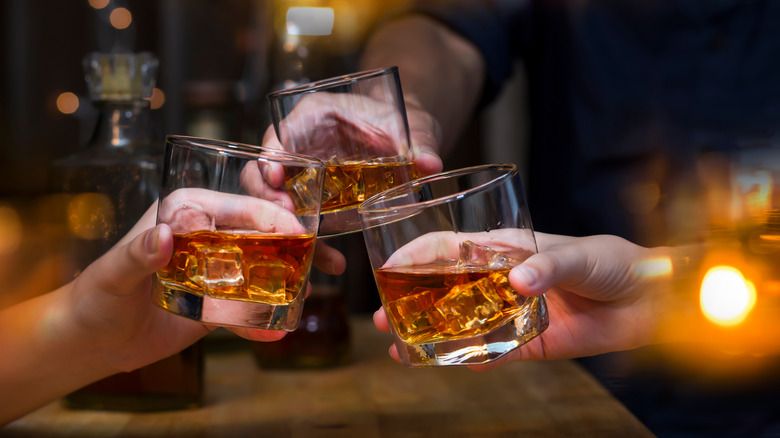 maeching chaiwongwatthana/Shutterstock
It couldn't be easier to celebrate St. Patrick's Days, as Jameson is calling it. Fans who want to take part simply need to make a pledge online. "You go onto the website, we've got a hyperlink there and [you can] sign up to the announcement," says Jameson Brand Director Kelly Suhr. Everyone who signs up will be automatically entered to win some fuel from Jameson to keep the party going for two days, in the form of cash and food. Suhr says Jameson is giving "a $20.22 gift [on Venmo] out to consumers, so that they can use that to enjoy a drink with their friends or family members," as well as "an UberEats voucher ... up to $30 to make sure that on March 18th, we can deliver a full Irish breakfast. That includes the meal, the delivery, and the tips." Jameson says it will be randomly selecting "2,000 consumers who are going to win the $20.22 and the UberEats voucher."
As part of the celebration, Jameson is also looking to give back to the restaurant industry and say thank you to all those servers, bartenders, and more who pour our drinks and make us smile not just on St. Patrick's Day, but every day. "We know they've had a very challenging couple of years. We want to make sure that we are helping to support them," says Suhr, who announced that Jameson is donating up to $100,000 to the Restaurant Workers Community Foundation – "a flat fee of $75,000" plus a dollar each for the first 25,000 people who sign the St. Patrick's Days pledge. Consumers also have the option to donate themselves through Jameson's "digital tip jar back to the restaurant workers."
Click here to sign up for St. Patrick's Double Days with Jameson. Visit their website for recipes, merchandise, cocktail kits, and more to help you celebrate. You can also show support for restaurant workers (and your favorite bartender) by donating to Jameson's digital change jar. Proceeds go to the Restaurant Workers Community Foundation.