22% Believe This Is The Worst Trader Joe's Frozen Meal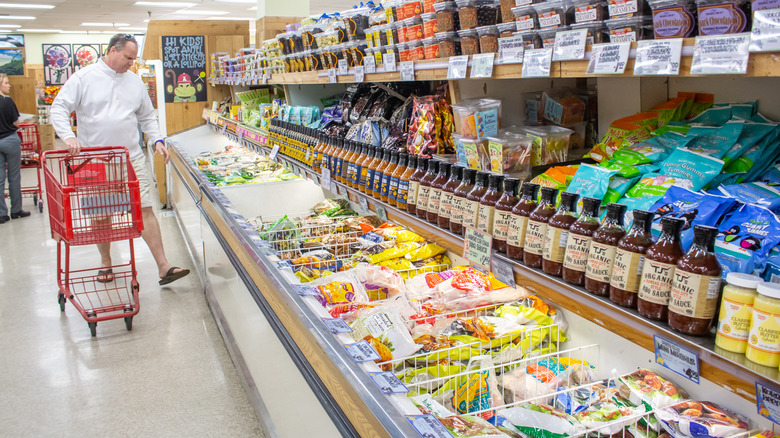 TonelsonProductions/Shutterstock
Along with affordable produce, tasty store-brand snacks, and friendly customer service, one of the big perks of shopping at Trader Joe's is the retailer's vast frozen food section. Walk down the freezer aisle and you'll be transfixed by the rows and rows of unique eats. While there are plenty of frozen fruits and veggies to choose from, what shoppers are really obsessed with are the frozen entrees, side dishes, and desserts. According to the 13th annual Trader Joe's Customer Choice Awards, the most popular frozen entrees right now are mandarin orange chicken, chicken tikka masala, butter chicken with basmati rice, and Joe's Diner mac 'n cheese.
With so many choices, it can be hard to know which to pick when you're standing in front of the freezer. A recent Mashed poll found that the best Trader Joe's frozen food is in fact mandarin orange chicken. But what about the worst? To find out, Mashed surveyed more than 600 people on their least favorite frozen dish from Trader Joe's. Here's which food nearly a quarter of respondents dubbed their last choice.
Shoppers don't love the riced cauliflower bowl
Cauliflower rice has become all the rage over the last few years as more and more people look for healthier, lower carb alternatives to their favorite foods. However, according to Mashed's poll results, the riced cauliflower bowl from Trader Joe's is nothing to write home about. More than 22% of people chose it as the worst frozen food at the retailer. The bowl comes with a base of cauliflower rice topped with marinated chickpeas, sweet potatoes, baked tofu, roasted onions, and tahini sauce. "For some reason the mix of tastes didn't really do it for me," one person wrote on Trader Joe's Reviews, and multiple people described it as "sour."
How did some of the other popular frozen foods at Trader Joe's compare? The cacio e pepe was customers' second least favorite, receiving 16% of the votes, followed by the Sriracha shrimp bowl with 14%. Both the mushroom and spinach quiche and mac and cheese bites weren't far behind, each garnering 12% of respondents' votes. Potato pancakes received 10%, while mandarin orange chicken earned nearly 6%. Last place went to the chicken burrito bowl, with just 4% of the votes, making it the best frozen food out of all the options in the poll.