The Humble Origins Of Duff Goldman's Cake Business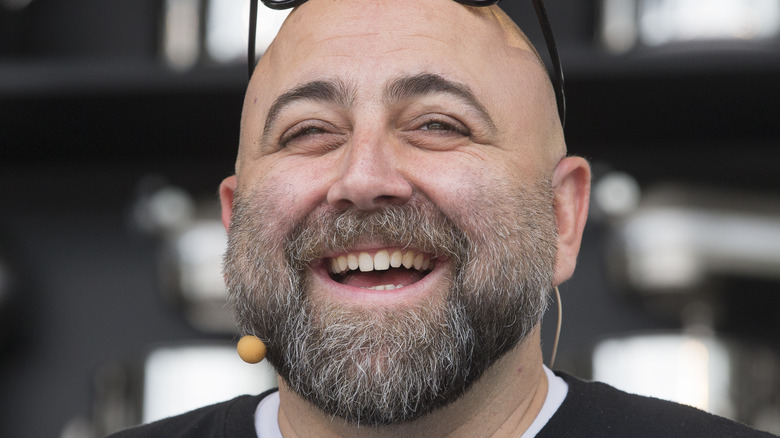 Sterling Munksgard/Shutterstock
You don't have to be an aspiring baker to know the name Duff Goldman. Celebrated for his pastry chef prowess and winning personality, Goldman's star has risen to meteoric heights. Boasting television shows like "Ace Of Cakes," "Buddy vs. Duff," "Guilty Pleasures," and his puppet-populated "Duff's Happy Fun Bake Time," you're likely to find his smiling face on your TV screen at some point every day. 
Goldman has also published popular cookbooks like "Duff Bakes" and "Super Good Baking For Kids." In the pastry world, he designed the cake for former President Obama's 2013 inauguration, baked up an R2-D2 for "Star Wars" creator George Lucas, and wowed audiences with a stunning golden elephant cake. He owns the highly successful Charm City Cakes, which has locations in Baltimore and Los Angeles, and he recently enjoyed a stint as McTerrier on Fox's "Masked Singer." This is a man with an astounding list of accomplishments. 
It may seem fitting that someone who spent many of their formative years in a town named Sandwich would enter the culinary world, but growing up in this Cape Cod community with the food-centric name was merely a coincidence. The story of his earliest success had little to do with where he came from and a whole lot to do with his parents and some good advice. 
Duff Goldman's dad, Morrie, offered him valuable advice
Many successful people owe their initial success to the guidance and school-of-life wisdom handed down by their parents. Since Duff Goldman began cooking at the tender age of 4, his mom has endured many nerve-racking moments, including the time he was caught "swinging a meat cleaver while watching" a chef on television and the day he nearly cut off his pinkie while pumpkin carving (via Goldman's Food Network bio). Thankfully, his digits remain intact and, likely thanks to his mom's watchful eye, he survived his early kitchen antics.  
While his dad may not have witnessed his son's narrow misses with kitchen carnage, he did play an important part in his son's early career. Goldman shared with Food Network that his dad, a "business guru extraordinaire," imparted the knowledge that he needed to launch his first cake business. What would later turn into one of the most celebrated cake shops in the world started in Goldman's apartment in Baltimore. And what wise words did Morrie Goldman share with his boy? "Get some business cards, get a website, and sell some cakes," Goldman remembers his father telling him. He followed his dad's pragmatic instructions, fired up his oven, and made cake deliveries in his Volkswagen. 
His baking empire shares zero resemblance with the cottage industry that was launched all those years ago, but that's what makes Goldman's story so special. All he needed was a kitchen, some solid advice, and a whole lot of determination, and this gifted pastry chef was able to share his talent — and some seriously synapse-blowing cakes — with an adoring public.