What Makes Hugh Jackman's Cookbook So Sweet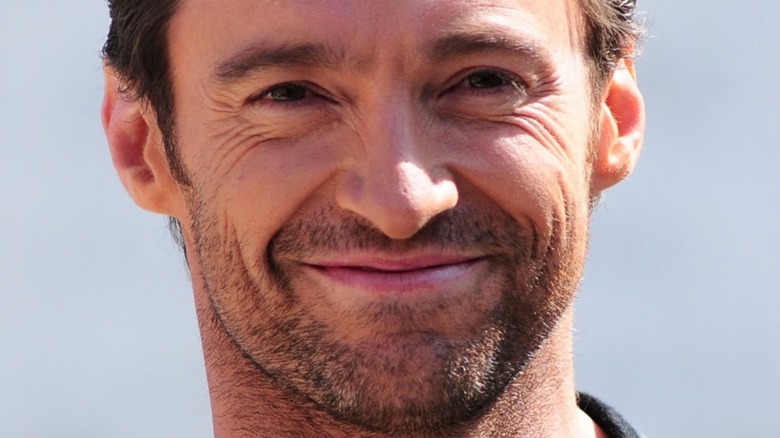 lucacavallari/Shutterstock
Believe it or not, Hugh Jackman isn't always trolling Ryan Reynolds on social media. Although, we have to concede that Reynolds seems to be the instigator, constantly seeking attention, like sending charcoal portraits of himself to mark Jackman's opening night of "The Music Man," according to BuzzFeed. Luckily, Reynolds' antics haven't distracted the "Wolverine" star from more important matters, like cooking. As it turns out, Jackman's a bit of a foodie, and the one cookbook he uses, which he has shared with his Instagram followers, is pretty sweet.
We have to admit we love family recipes. There's just something special about the food we grew up eating that in some cases makes it better than any other food that will ever touch our taste buds. We loved when Carla Hall reminisced about the cornbread her grandma made for her growing up. And Trisha Yearwood's cookbook, "Trisha's Kitchen: Easy Comfort Food for Friends and Family," is overflowing with recipes like her chicken pot pie burger, which she describes as a mouthful of nostalgia, telling Taste of Country, "When you bite into it, you're like, 'This tastes like childhood.'" Well, it turns out Jackman can relate because the meals he likes to cook most come from his younger years, as well, and we are loving how his mom preserved these recipes for her son.
Hugh Jackman's mother gifted him handwritten recipes
On Mother's Day 2020, Hugh Jackman shared the handwritten book of recipes featuring all of his favorite meals that his mother gave him on Instagram. He wrote, "Several years ago my Mum gave me a special gift ... A handwritten book of my favorite recipes over the years. Many of the recipes are passed down through generations. These past weeks I've spent a lot of time trying to recreate a few of them. They're pretty good (if I do say so myself) but ... never as good as the way my Mum makes them!" 
The post has close to 435,000 likes (and lots of gushing), because honestly, can you imagine how much TLC his mom put into writing out all those recipes? A rep for Jackman told TODAY, "I can tell you that it is one of the most important gifts Hugh has ever received. She hand wrote every single recipe all from memory!"
Jackman shared two recipes with his followers, one for butternut squash and spinach risotto and another a roasted vegetable and Halloumi bake. Both dishes in their final form looked pretty amazing. But this wasn't the first time Jackman revealed how much his mom's cooking means to him. In 2017, he dropped a photo of the two making cashew-nut flapjacks and, on another occasion, he shared his mom's Creme Caramel. Maybe if Ryan Reynolds changes his tune, Jackman will cook up one of his mom's recipes for the "Deadpool" actor. Then again...