What Makes The U.S. Army's Official Pumpkin Pie Recipe Unique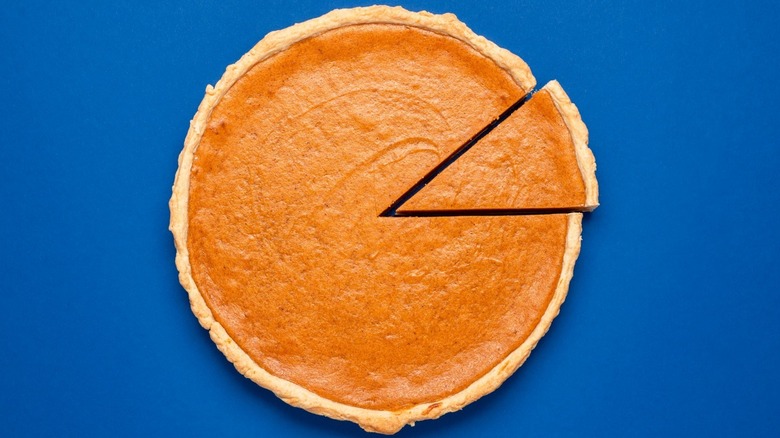 YesPhotographers/Shutterstock
There are no shortage of pumpkin pie recipes out there: Just Google the phrase "pumpkin pie recipe," and more than 151 million results pop up — not to mention all the recipes in cookbooks, magazines, and that spattered recipe card handed down from grandma! When military reporter Haley Britzky decided to bake a pumpkin pie for the first time, she turned to the recipe most readily available to her: The official pumpkin pie recipe of the U.S. Army. 
In an article for Task & Purpose, in which Britzky wrote about her pie-making adventure, she offered a humorously self-deprecating disclaimer: "I'm not a bad cook, necessarily, but I'm not a great cook either. I can follow a recipe (usually) but even still, it's not a fool-proof system." Although she may be dismissive about her baking skills, Britzky followed one of the most important rules of baking that many new (and not-so-new bakers) fail to do, according to Epicurious – she read the recipe before starting. Doing this led her to pick up on an important detail, something that seemed off — the recipe called for well over a gallon of canned pumpkin. (That's like ten, 15-ounce cans of store-bought pumpkin.) 
"Surely one pumpkin pie wouldn't take an entire gallon of canned pumpkin ... right?" she wrote. Britzky turned to Twitter for help, and that pumpkin pie-loving community spotted what was unique about this recipe from the U.S. Army: It makes 13 whole pumpkin pies. 
This baker found a way to make the recipe work
Once reporter Haley Britzky's friends on Twitter pointed out that the U.S. Army pumpkin pie recipe makes enough to feed an army (literally!), she realized that the canned pumpkin wasn't the only super-sized ingredient listed. The recipe also calls for 13 pie crusts, a half-gallon of sugar, and a quart-plus of frozen eggs. "It makes sense given that the Army is likely making pies for a DFAC [short for Dining Facility, according to Military.com], not for just one family," she wrote in her article for Task & Purpose.
One of her Twitter followers helped Britzky convert the ingredients to amounts for just one pie, but she soon learned that it's a tricky process in baking recipes. King Arthur Flour shares that the math needed to scale recipes down is easier if ingredients are measured by weight, which isn't an option for bakers without a kitchen scale. It can also create confusing quantities for home bakers. For example, Britzky was left wondering how to measure 1-1/4 eggs. 
In the end, Britzky shared that she bravely decided to just "f—ing wing it." She went with two eggs and added extra pumpkin, and was very worried about how watery her pie filling seemed after mixing. (She even thought about phoning "Restaurant Impossible" host Robert Irvine for help!) To Britzky's delight, her scaled-down U.S. Army pumpkin pie turned out great. She summed up her baking adventure this way: "Folks ... this pie is good."