The Sweet Story Behind Lindt's Golden Easter Bunny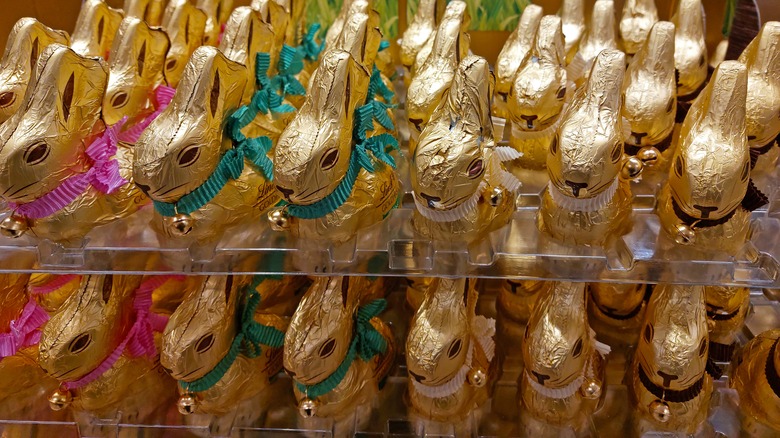 AlexBuess/Shutterstock
Queen Elizabeth II isn't the only famous name celebrating a platinum jubilee this year (via CNN). Lindt & Sprüngli, the Swiss chocolatier that has been making the world sweeter for 175 years now, is also celebrating its own platinum jubilee in 2022, according to a press release dated March 28. Just in time for Easter, the maker of the Lindor line of chocolate truffles, as well as an oat milk version of its vegan chocolate Lindt Classic bars, is kicking off the 70th birthday of the Lindt Gold Bunny.
Anyone born after 1952 who has ever celebrated Easter with family or friends will likely recognize the iconic gold foil-covered bunny made out of Lindt's signature chocolate, adorned with a bell-bedecked cloth ribbon reflecting its flavor (red for milk chocolate, ivory for white, brown for dark, and green for hazelnut). As Lindt explains, the celebratory sweet has always found a variety of ways to work itself into family Easter traditions all over the world, including as clever stand-ins for Easter eggs. But one thing we bet not a lot of people know is that the Gold bunny was actually created in Germany — or, for that matter, the adorable origin story behind this golden-foil-wrapped, rabbit-shaped chocolate treat.
Lindt's bunny backstory is so sweet, you might melt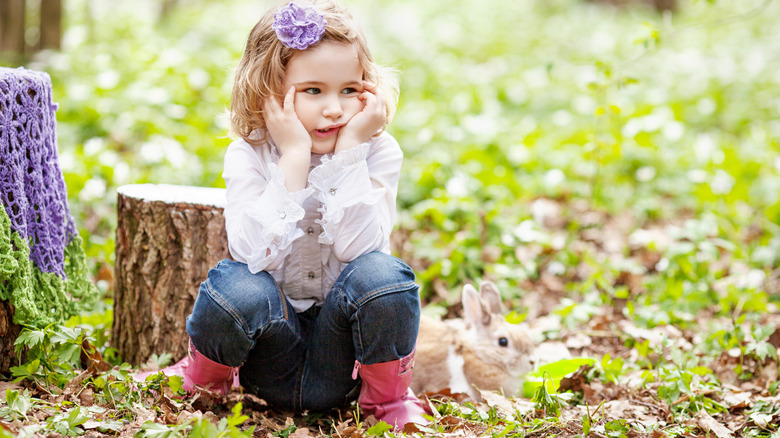 Liudmila Fadzeyeva/Shutterstock
The sweet inspiration behind Lindt's golden bunny was a dad's love for his daughter. According to Lindt & Sprüngli, once upon an Easter Sunday more than 70 years ago, a Lindt chocolatier and his family were enjoying Easter brunch when his daughter spied the sweet woodland bunny playing in the grass. Entranced, she ran outside to play with it, but alas, she was not in time and it hopped away. This made the girl sad, but after a few days, dad realized he knew just the thing to cheer up his girl. 
A chocolate bunny — no, make that a chocolate Easter bunny with gold foil! It worked! The gilded treat became an instant Easter tradition — for the chocolatier, and families the world over. In fact, as the company is all too happy to share, around 150 million Lindt Gold Bunnies are produced every year.