7-Eleven Shoppers Will Love This BOGO Pizza Deal
Despite struggles brought on by the COVID-19 pandemic, 7-Eleven made $91.8 billion in sales in 2021 (via Franchise Times). The chain launched its own delivery app, 7Now, in 2018, which helped business greatly when lockdowns started.
Need batteries, eggs, and a Monster energy drink, but can't run up to the convenience store to get them? Not a problem. Using the 7Now app, you can get just about any 7-Eleven product delivered right to your door. And if you pay $5.95 a month for a Gold Pass subscription, you can get your items delivered for free (via Food on Demand).
That isn't the only perk of the 7Now app. In addition to letting you get your Slurpee delivered, the app also features some pretty sweet deals. Visit the "Deals" tab to scroll through a number of offers, from free items to savings on your order. One of the current deals on 7-Eleven's pizzas comes at the perfect time — March Madness.
Feed your guests with 7-Eleven delivery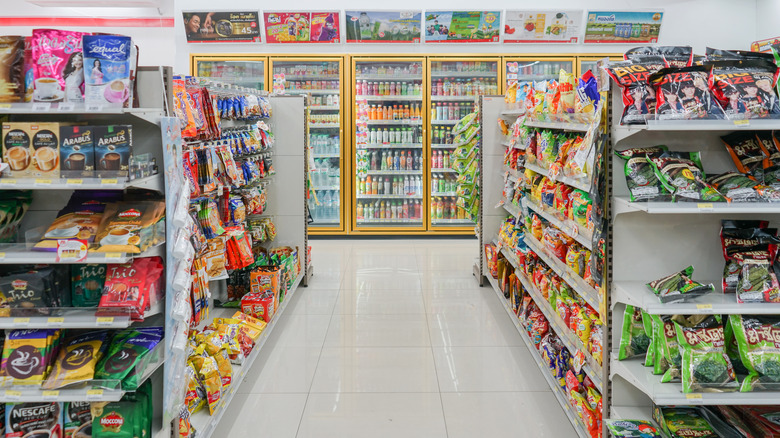 O n E studio/Shutterstock
In 2021, a Mashed survey revealed that Americans think 7-Eleven has the best food as far as gas stations go. A further breakdown by Thrillist ranks the chain's cheese pizza within its top three most popular food items, with the pepperoni pizza not too far behind.
So, 7-Eleven pizza-lovers, take a bite out of this BOGO deal: When you order one large pizza through the 7Now app, you get a second one free. According to Chew Boom, the deal includes the cheese, pepperoni, and 7-Meat pizzas, and is valid through April 4.
A large pizza usually goes for $5.55, which is already quite cheap, but getting two for that price is a major steal. However, if you're ordering delivery for your March Madness watch party, keep in mind that you can only use the offer once per order. Still, it's one slam-dunk of a deal, especially when paired with the other 7Now deals, like a $2 discount on beer 18-packs and additional savings on chips.