Duff Goldman's Daughter Eating Pizza Is Instagram's New Favorite Picture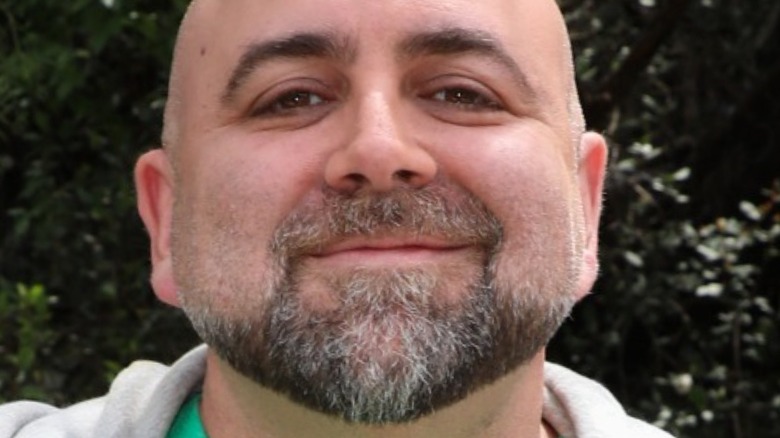 Paul Archuleta/Getty
Pastry chef Duff Goldman and his wife Johnna welcomed their baby girl, Josephine, just over a year ago on January 31, 2021. In his Instagram announcement, Goldman gushed over his "little family" and all the things they had to look forward to, like "pizza and candy and swimming and concerts and riding a bike."
In the months since then, Goldman has been keeping fans updated on Josephine's adventures and milestones, from visiting his bakery Charm City Cakes in Baltimore to splashing around in the toilet, to trying new foods.
In Goldman's latest post, little Josephine took on the first item from her dad's list: pizza. And although Goldman's been known to push the envelope when it comes to the definition of pizza — for example, his Tweet declaring quesadillas to be pizza — it would seem he's starting his daughter's pizza experience out in a more conventional way. No doubt they'll work their way up to quesadillas. 
Instagram celebrates Duff Goldman's daughter's discovery of pizza
For many Americans, pizza is a pinnacle of cooking achievement, and there's hardly anything better than kicking back with a greasy, cheesy slice. So naturally, chef Duff Goldman had to introduce his little girl to this classic dish.
He announced on Instagram that Josephine could "officially eat pizza," sharing a picture of her eating a tiny, kid-sized slice. Fans went wild, showering the post with more than 13,000 likes and nearly 300 comments. Some fans commented on how adorable Josephine is and how much she resembles her dad.
Others simply celebrated the culinary milestone. Zane Caplansky wrote, "Is that like a Pizza Mitzvah? Her coming of age as a pizza eater?" Kim Parker Shook said, "A girl after my own heart!" Kiki D commented, "Food life has officially begun." A few other fans wondered when Josephine would get to try her dad's famous desserts. Whether she tries quesadillas or cakes next, it's clear that the littlest Goldman has a life of good eating to look forward to.