Guy Fieri's Puppy Is The Latest Chef Pet To Melt Instagram's Heart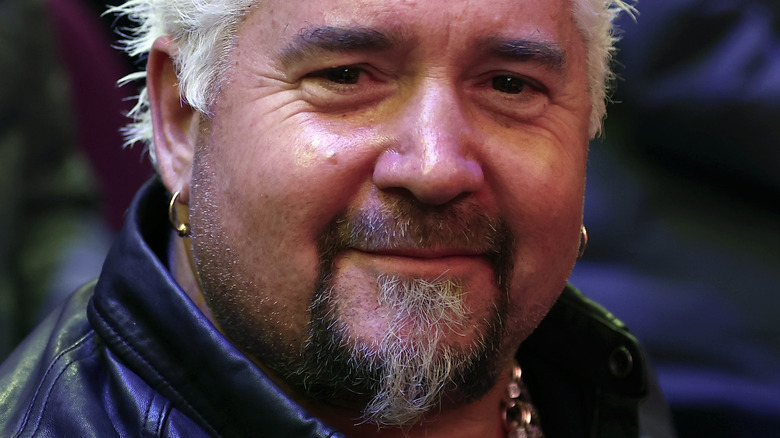 Arturo Holmes/Getty Images
If you refer to yourself as an animal lover, that must include man's best friend! The four-legged pets have stolen the hearts of many, and celebrity chefs are no more immune to the sweetness of dogs than the rest of us. There's a long list of favorite Food Network stars with pets that they, and their fans, love to pieces.
Take Rachael Ray, for instance, who loves her pets so much that she created a pet food line inspired by them (via Dogs and Treats). Michael Symon lost his much-Instagrammed dog Ozzy a few years ago but has since adopted another beloved pup, Norman, who has his own Instagram account detailing his escapades. Ree Drummond's followers regularly tap hearts on her down-home cooking posts but also on those that include any (or all) of her seven dogs. In fact, one video of her pack garnered a whopping 82,000 likes. And we can't leave out Giada De Laurentiis' furry friends. Dogs Bruno and Ollie, and cats Luna and Bella, also have their own Insta, Giadaszoo, with 15,400 followers.
So, it's no surprise that fans are raining Instagram hearts and likes all over a video of one member of the celebrity chef pet community — Guy Fieri's French bulldog, Cash.
Cash causes a ruckus on the set of 'Guy's Grocery Games'
In Guy Fieri's Instagram post, French bulldog Cash, whom Fieri adopted last November, chases a sad, half-deflated beach ball around the set of "Guy's Grocery Games." 
Fieri captioned the post, "The new guy on set is causin' all sorts of problems!" In the video, we can hear Guy jokingly say, "On the set of Grocery Games, Cash showed up, and what does he do? Already destroys the props and pops a beach ball. Can't take this guy anywhere."
Commenters on the "new guy" include celebrity chef Rocco DiSpirito who wrote "Oh boy Smokey can't be ok with this," referring to Fieri's often blinged up chihuahua, who is just part of the Fieri pet menagerie that includes the goats and peacocks the Mayor of Flavortown keeps at his California ranch (per Insider).
Guy's fans are loving the mischievous Cash, despite his mild destructive streak. "So stinkin cute," one said, and another stated, "Cash wants in on the GGG fun too!" One dog lover demands, "We need more of this baby on the set," and another offers "So you're saying you're in the market for a dog sitter?!" 
One clever fan, however, may have the right idea with this comment, "He's not getting union scale that's the problem." Come on, Guy, put Cash on the GGG payroll!