Secret Pizza Hut Menu Hacks You Have To Try, Straight From The Execs - Exclusive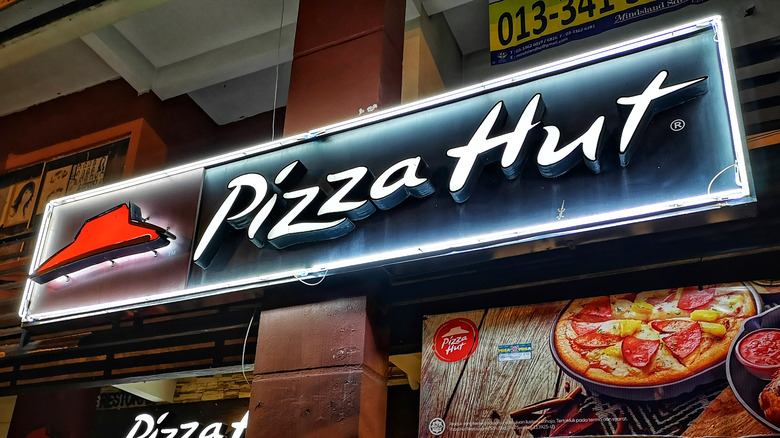 Zety Akhzar/Shutterstock
The Pizza Hut of today is a far cry from the Pizza Hut of our childhood. Phoning in your weeknight pizza order has been replaced with online ordering through an app, and the menu has expanded far beyond your basic pizza and salad bar situation. These days, you can load up on wings, pasta, side orders, and desserts to round out your meal. That's not all — if you know the right hacks, the Pizza Hut menu possibilities are nearly endless. So we turned straight to the experts for the inside scoop.
Mashed spoke exclusively with the company's Chief Marketing Officer, Lindsay Morgan, about all things pizza, including some of the best ways to hack the menu. Fair warning — if you keep reading, you may feel compelled to hit up your closest Pizza Hut ASAP. "We actually chatted with our team members" working in Pizza Hut restaurants, says Morgan, rounding up some of the best recipes employees have created on their own from the menu, "or the things that have come in from customers that are delicious." 
Pizza Hut actually plans to put some of these creations on the official menu at some point. "We actually have two more [in the works] that we'll be putting out on social media that are inspired from customers tricking out their pizzas," Morgan told Mashed.
Until then, the secret is out — these are the unofficial Pizza Hut menu hacks you have to try.
Try these tricked out Pizza Hut pizzas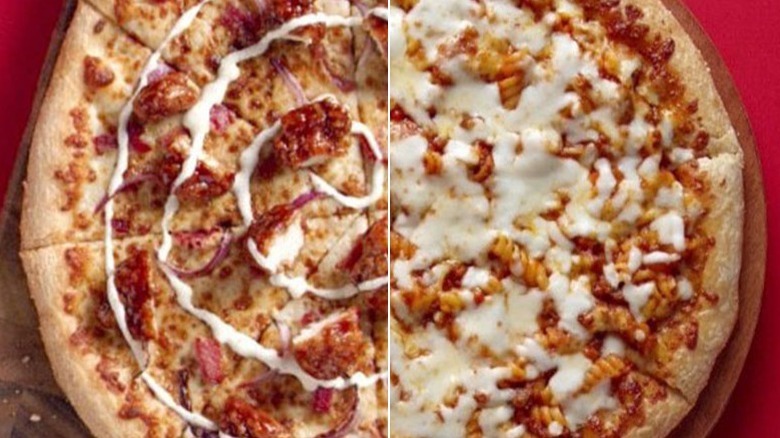 Pizza Hut
If you want to move beyond your basic pepperoni and meat lovers, take your next Pizza Hut order to another level with some off-the-menu recipes. First up, we've got Honey BBQ Chicken Pizza. Here's what you do: First, order a BBQ chicken pizza without the chicken. Next, order some Honey BBQ boneless wings and at least one side of ranch. Finally, top the pizza with the boneless wings, drizzle the whole thing with the ranch (bonus points for a swirly pattern), and dig in.
If you want to get even more extravagant, Pizza Hut workers suggest the ultimate pizza-pasta hybrid, the La-ZA-gna. It all starts with a basic cheese pizza. Grab an order of Pizza Hut's Tuscani® Meaty Marinara Pasta alongside it. Bring it all home, layer the pizza with the pasta bake, and top it all with half a cup of shredded mozzarella cheese. Pop that pizza back in the oven at 350 degrees for 3-4 minutes until the cheese is hot and bubbly. This might be one pizza that it's okay to enjoy with a fork and a knife, but you're in for a treat no matter how you eat it.
Pizza Hut hacks for buffalo chicken lovers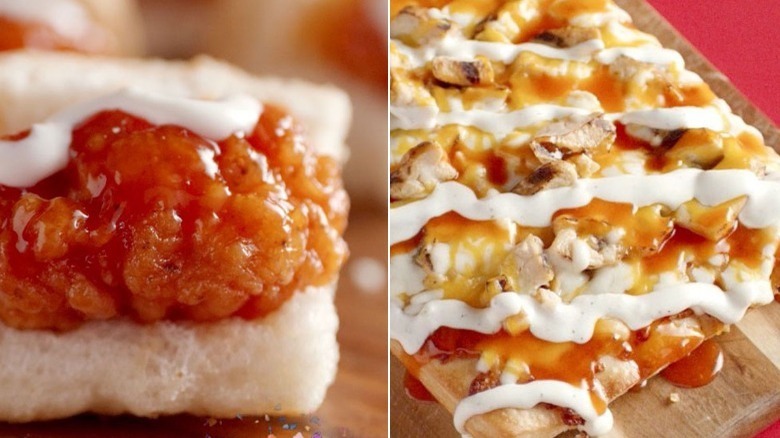 Pizza Hut
The beauty of the Hut is that you don't have to limit yourself to just pizza. They offer all kinds of tasty possibilities for the buffalo chicken aficionados out there — Garlic Buffalo Sliders, for one. All you need is an order of Pizza Hut breadsticks, an order of their buffalo boneless wings, and a side of blue cheese dressing. Slice the breadsticks lengthwise and then into little squares, making your own slider buns. Load up the buns with the boneless wings and drizzle with the dressing.
For a craveable cheesy appetizer with a kick, you can also try this recipe for Buffalo Cheese Sticks. It takes a little more leg work at home, but it's so worth it. It starts with an order of Pizza Hut's Cheese Sticks. Ask for a side of the grilled chicken pizza topping, a side of Pizza Hut's buffalo wing sauce, and all the ranch your heart desires. Once you get it all home, layer up those cheese sticks with the grilled chicken, and then sprinkle half a cup each of shredded mozzarella and shredded cheddar on top. Bake the loaded breadsticks for 3-4 minutes at 350 degrees until the cheese is perfectly melted. Remove from the oven, and drizzle it all with the buffalo sauce and ranch. All you'll need next is a cold beer, a good game to catch, and maybe some friends to chow down with.
Follow along with Pizza Hut's newest promotion, the Struggle Bus, and more on Pizza Hut's Facebook and Instagram accounts. Tune into the special Betches "U Up?" podcast episode featuring the Pizza Hut Struggle Bus on Wednesday, May 4th.