The Martha Stewart Post That Had Instagram Impressed For A Surprising Reason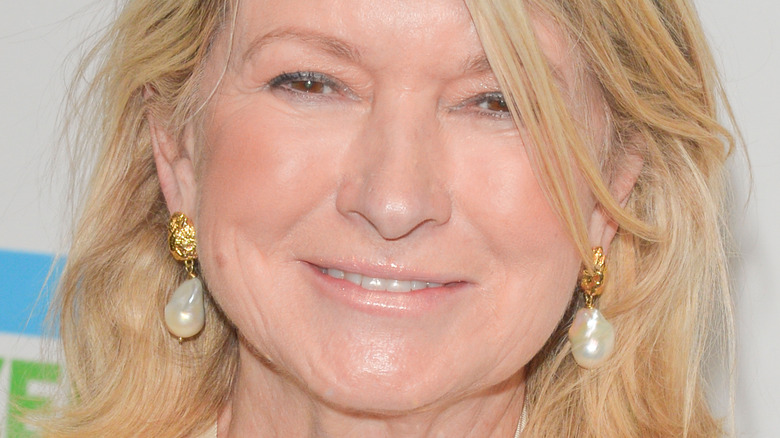 lev radin/Shutterstock
If you are a fan of Martha Stewart (and let's be honest, we all are), then you probably know the lifestyle diva is besties with Snoop Dogg and a fan of Eminem, as she has a real love for rap music, according to Us Weekly. You also know that she makes a mean Martha-rita; that she not only knows what sexting is, but she has done it, as she revealed on "The Ellen DeGeneres Show;" and she's a pro at snapping poolside cocktail selfies that turn into the perfect thirst trap.
You might also have an inkling that Stewart is a fan of all things green. In fact, the goddess of green doubles down when it comes to this color. She dabbles in "green" beauty routines and, per her website, she created an Earth Day guide that focuses on sustainability in what you eat, drink, and grow. In fact, the one thing Stewart drinks every morning is a green juice — and she loves to dazzle us with her green salads. Green is definitely Stewart's shade, so it should come as no surprise that her Instagram followers are showering her with praise for a surprising reason that may leave you a little green with envy.
Martha Stewart's thumb is truly green
Instagram is loving Martha Stewart's green thumb, which she showed off in a photo post of her gardens and grounds on her farm that prove spring has truly sprung. Stewart explained in her caption she was riding around her farm after a storm, only to find her green grounds speckled with spring flowers blooming and trees budding. As she stated, "It was so beautiful," and Stewart is not alone in this declaration. Almost 7.8k followers liked Stewart's post and a quick scroll through the five photos is all you need to confirm the lush and "verdant" vibes of her farm.
One follower noted, "Absolutely gorgeous Martha. Your farm is major goals."  Another took note of the Sycamore tree and how "majestic" it is, and still another wrote,"Sometimes you just have to stop and enjoy what's around you." Truth. This isn't the first time Stewart has shared spring photos from her properties. Stewart shared a slideshow on her website and revealed it was after seeing Monet's garden at Giverny that she became a fan of color. This visit prompted Stewart to plant tulips, daffodils, and bleeding hearts at her previous property, Turkey Hill Farm. 
Her love for color has not stopped, and we are loving the yellow and lavender flowers in these pictures. Instagram is right — Stewart's photos are all about the beautiful green signs of the season.