Costco Shoppers Are So Excited To Grab This Returning Frozen Mango Treat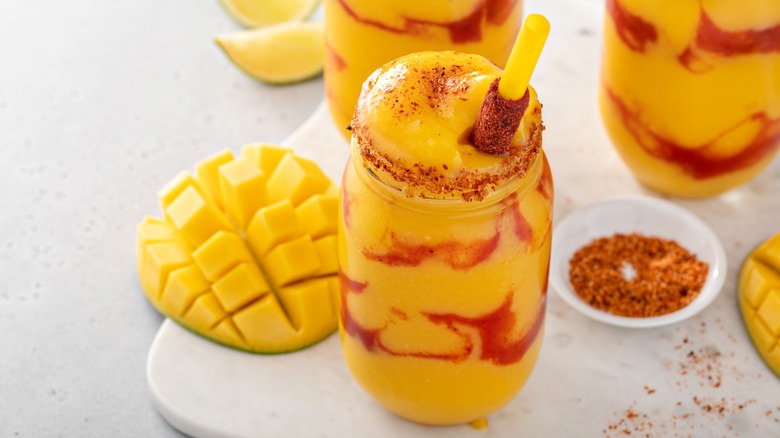 Elena Veselova/Shutterstock
As we head into warmer weather, it's time to stock up on frozen treats. Whether you prefer fruit flavors or a creamy chocolate, there's sure to be an ice pop for you to enjoy. If you want to take matters into your own hands, try these summer ice pop recipes. But if you don't want to wait around for your sweet treat to solidify in the freezer, then head over to a grocery store, where there'll be plenty of options you can eat right away.
Instagram user @costcohotfinds recently posted a video of a box of mangohelada treats that you can buy at Costco. This frozen mango creation, which is made by La Michoacana, has chamoy and Tajín, so there's a bit of saltiness and spice in addition to the sweetness from the fruit. If you liked these mango chile popsicles from Costco, then make sure to keep an eye out for these mangohelada cups on your next Costco run. In the video, @costcohotfinds says that one box contains eight treats and sells for $10.99, but prices can vary from store to store.
What are shoppers saying about Costco's mango treat?
If you've never had these mangohelada cups and are thinking of trying them, here's what people had to say about this product. The comments of @costcohotfinds' Instagram post are full of raving reviews. One person said, "They are so good! I found them at my local Costco and am so happy that I did! My favorite treat!" Others have been looking out for this frozen dessert for a while, and it sounds like it was worth the wait. Another commenter wrote, "I was literally waiting for these to come the Midwest and they did not disappoint!!"
Although it sounds like people would enjoy the mangohelada cups as-is, one person had an idea for making this treat a little more fun. For adults who want to spike their drink, here's what one commenter had to say: "I'm picturing this in a cup ... summer... and some rosè or vodka poured over top." Another commenter chimed in, saying "I put them in the blender with some tequila. They make delicious frozen margaritas."
Prefer your frozen treats with a little bit of booze? Try out Giada De Laurentiis' spiked watermelon popsicles or make these frozen cocktails to welcome summer.