Best Michelada Recipe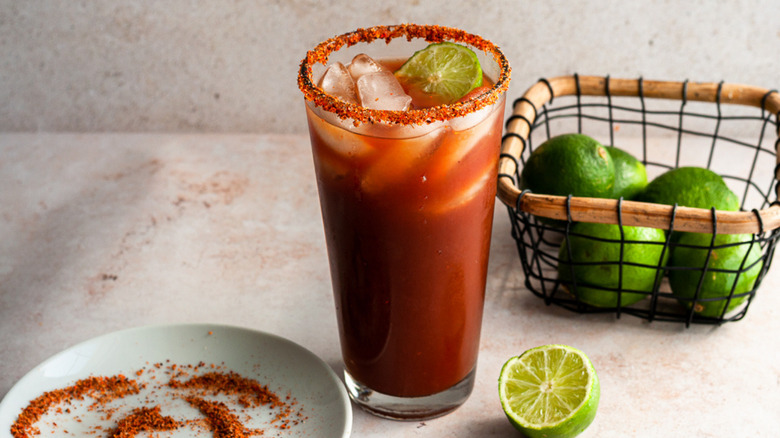 Christina Musgrave/Mashed
You don't need to be a bartender to whip up a cocktail that is restaurant-quality good. This recipe for a classic Michelada is super simple, and it takes just a few moments to whip up. In case you are not familiar with this tasty Mexican beverage, we'll give you a quick little run down. According to Tales of the Cocktail, the name Michelada simply translates into "my cold beer." It's similar to a bloody Mary in that it uses tomato juice and a splash of hot sauce, but instead of vodka, you use Mexican beer, which happens to compliments the tomato juice just as well. We should also mention that the drink features a wonderful Tajin rim, adding even more flavor to the beverage with each sip.
Recipe developer Christina Musgrave came up with this recipe, and it's perfect for serving on a hot summer day. Heck, it would also be great in the winter, but there's something about this drink that's incredibly refreshing when the sun is beating down. "I like that this Mexican drink is so flavorful — it's spicy, salty, and just good! If you like bloody Mary cocktails, you definitely need to try a Michelada," Musgrave raves adding, "I like that this recipe is super easy to make and only takes one glass to make it."
Gather the ingredients for a Michelada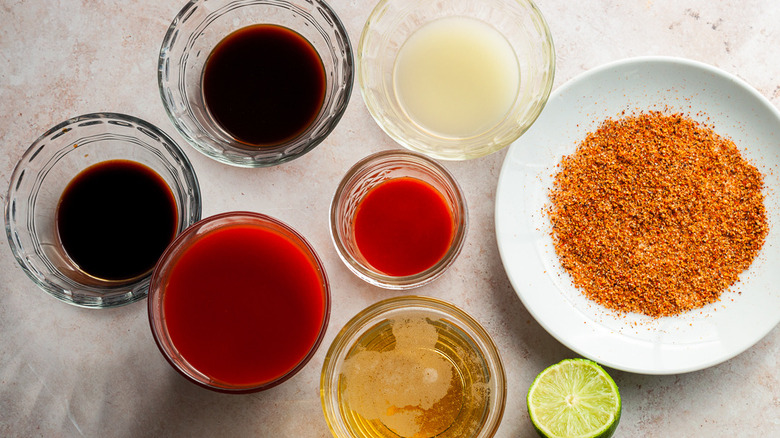 Christina Musgrave/Mashed
Once you are ready to begin, you will need to gather all the necessary ingredients. Pick up Mexican beer, tomato juice, lime juice, hot sauce, soy sauce, Worcestershire sauce, Tajin seasoning, and lime wedges. "Any Mexican light beer like Corona will be good," Musgrave suggests, but feel free to use your favorite!
Line the rim with Tajin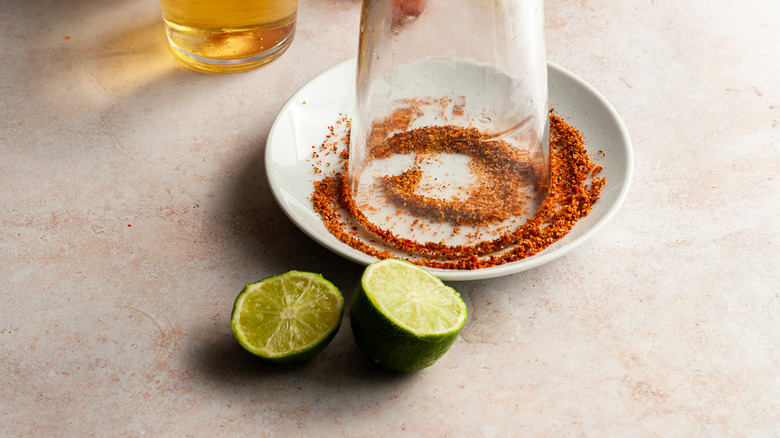 Christina Musgrave/Mashed
Be sure to select a large glass to fit all the liquid. Using a lime wedge, line the rim of the glass. Then, add the Tajin seasoning to a plate and dip the perimeter of the glass into the seasoning to coat the top of the glass. The lime serves as the glue that makes the Tajin stick. 
Other than a salted rim for margaritas, the Tajin rim has to be one of the most popular out there. "Tajin is an excellent drink rim because it's so flavorful," Musgrave explains. "There are spicy, sweet, and citrus flavors in this spice, making it great as a rim for a variety of drinks."
Pour the liquid into the glass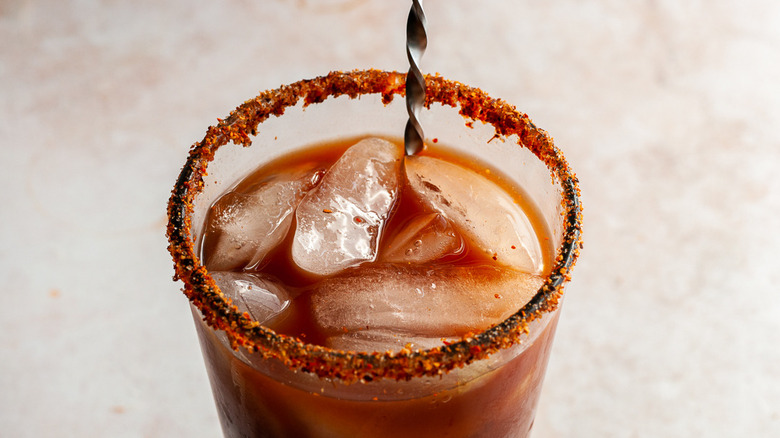 Christina Musgrave/Mashed
Now, you can start adding all the components of the drink. First, add the ice to the glass, followed by the beer. Next, add tomato juice, lime juice, hot sauce, soy sauce, and Worcestershire sauce. Use a spoon to mix the ingredients together and bring out the flavor. "You'll get a balance of tart, spicy, and salty flavors in this drink," Musgrave says. "Plus, the hint of lime juice balances all of the flavors out."
Garnish your cocktail and serve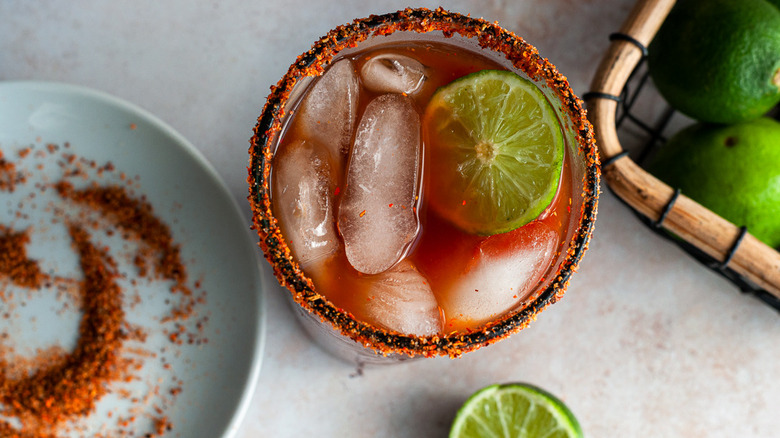 Christina Musgrave/Mashed
Believe it or not, you're almost done. The last step is to add a lime wedge for garnish and serve. How easy was that? This drink hits the spot and is great by itself, but Musgrave shares her favorite food to accompany it. "Serve this with tacos and chips and salsa," she says. 
You can also make it in advance if you wish. "If you're going to make this ahead of time, make it in a separate container without ice. When you're ready to serve, rim a glass with Tajin and pour in ice, then top with pre-prepared Michelada drink," Musgrave notes. Cheers to this refreshing cocktail! 
Best Michelada Recipe
This Michelada recipe is reminiscent of a bloody Mary, but instead of vodka, you'll use a crispy, light Mexican beer!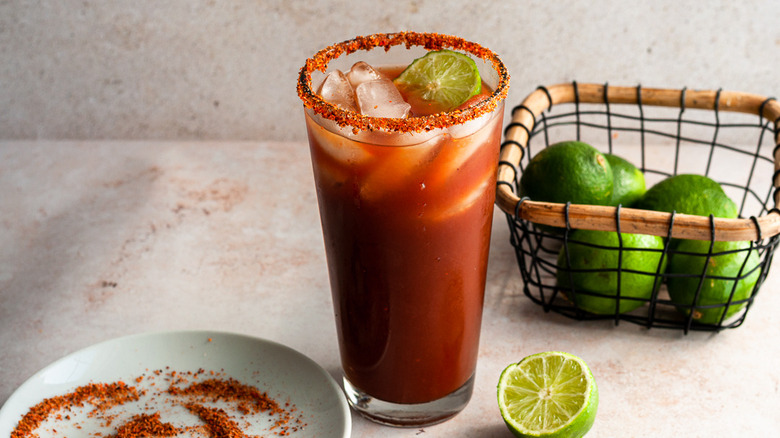 Ingredients
6 ounces Mexican Beer
6 ounces Tomato Juice
1 tablespoon lime juice
1 teaspoon hot sauce
1 teaspoon soy sauce
1 teaspoon Worcestershire sauce
1 teaspoon Tajin seasoning
1 lime wedge, for garnish
Directions
Line the rim of a large glass with a lime wedge. Pour Tajin seasoning on a plate, and drip the rim of the glass with the seasoning.
Fill the glass with ice.
Pour 6 ounces of Mexican Beer, 6 ounces of tomato juice, 1 tablespoon of lime juice, 1 teaspoon of hot sauce, 1 teaspoon of soy sauce, and 1 teaspoon of Worcestershire sauce into the glass. Stir with a spoon.
Garnish with a lime wedge and serve.
Nutrition
| | |
| --- | --- |
| Calories per Serving | 120 |
| Total Fat | 0.7 g |
| Saturated Fat | 0.1 g |
| Trans Fat | 0.0 g |
| Cholesterol | 0.0 mg |
| | |
| --- | --- |
| Total Carbohydrates | 16.7 g |
| Dietary Fiber | 1.2 g |
| Total Sugars | 5.5 g |
| Sodium | 909.5 mg |
| Protein | 3.0 g |