The Coca-Cola Museum You Have To See Before You Die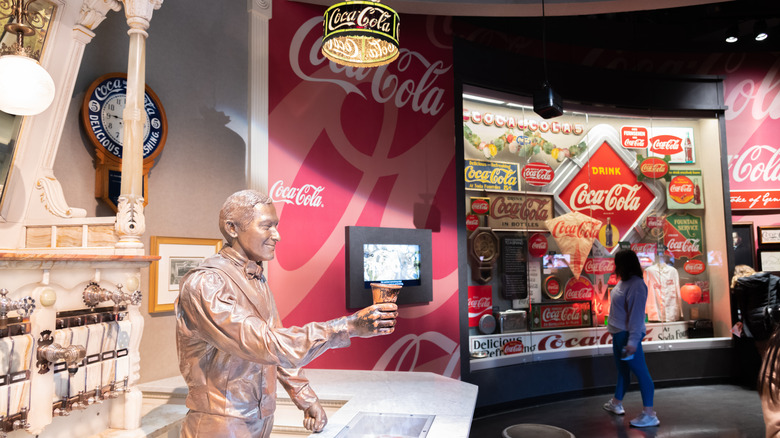 Michael Gordon/Shutterstock
Is Coke your cola of choice? If you take the cola wars extremely seriously, drool every time you see a radiant red can bearing white cursive, or long to have a scarf-sporting polar bear of your very own, you are likely a Coca-Cola superfan. And you are far from alone. According to Statista, Coca-Cola held 45% of the American market share for carbonated soft drinks in 2020, while Pepsi lagged behind at 25.9%. Clearly, legions of loyal soda drinkers choose to quench their thirst with a Coke. 
If you'd like to celebrate this win for your favorite soft drink in a big way, you may want to book a trip to Atlanta. "Why Atlanta?" you ask. Well, it is home to World of Coca-Cola — an internationally renowned museum dedicated to your favorite fizzy beverage. If you are now dreaming of being ensconced in all things Coca-Cola, you will likely be overjoyed by this next announcement. They have a tasting room with unique flavors for the true Coke connoisseur. 
World of Coca-Cola is a Coke lover's dream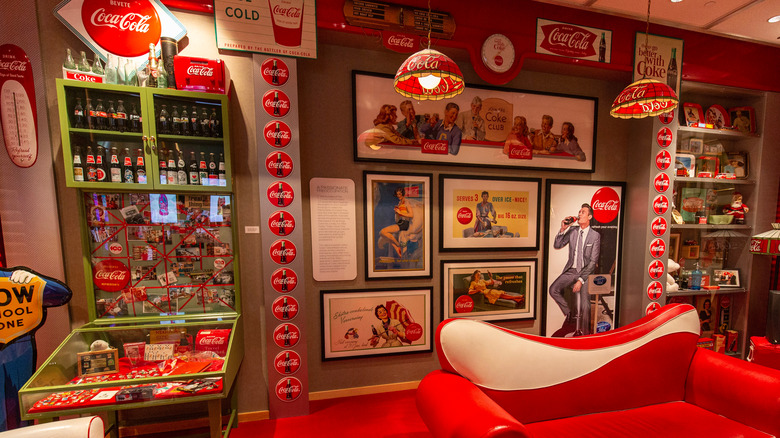 Andru Goldman/Shutterstock
Rated the second most popular thing to do in Atlanta, World of Coca-Cola is one of the few places on this planet where you can discover the story of the world's most popular beverage brand. TripAdvisor highlights, "It's a place where anyone can experience moments of happiness and wonder." World of Coca-Cola's Taste It! room invites guests to sample international and domestic Coke flavors. The Scent Discovery exhibit asks you to identify a collection of aromas and learn what new Cola beverages are best for your palate. The Vault invites you to try out a virtual tastemaker — known as a "Bubble-izer" — and test out your stealth skills by attempting to protect Coke's secret formula. 
But wait, there's more. Guests can check out the company's history in The Loft, enjoy a 3-D experience, create their own Coke artwork, and watch the beverage being bottled and capped. You can even visit a display dedicated to the Coca-Cola product that was a massive fail — New Coke from 1985, per National Geographic. Of course, you wouldn't want to miss the well-supplied gift shop with paraphernalia that's special to the World of Coca-Cola.  
And no visit would be complete without spending some time with your favorite beverage mascot. Yes, the Coca-Cola Bear is on the premises and you can have your picture taken with this big furry icon. You can snap it yourself or have one of their onsite photographers capture the shot for you, according to Atlanta Parent. World of Coca-Cola truly is a Coke lover's paradise. So head to Atlanta and experience firsthand why "Coke Is It."