Simple Baked Chicken Breast Recipe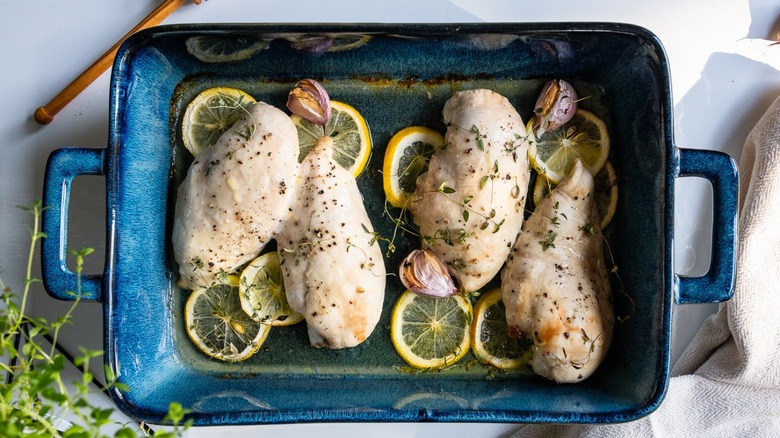 Jennine Bryant/Mashed
Sometimes, it feels like the more complex a recipe, the better it is. Sure, it's tempting to want to impress your loved ones with the kind of creative, labor-intensive culinary creation that takes all day to prepare, but don't overlook the power of simplicity in the kitchen. Maybe you're feeding a picky eater, or maybe you're having a low-energy day and still need to put food on the table. Or maybe, just maybe, you're trying to get back into meal prepping. Whatever your reason for needing an easy, consistent recipe is, you've found it in recipe developer Jennine Bryant's recipe for simple baked chicken breasts.
This recipe utilizes classic flavors and kitchen staples to make tender, well-seasoned chicken that can be easily enjoyed as a main course with your favorite side dish. Or, use it as the protein in your favorite recipe involving chicken breasts. Feeding a big group? No problem. "This recipe can very easily be scaled up and down," Bryant says. "It's a great one for feeding a large number of people in one go, as it's simple and quick to prepare while being very flavorful."
Gather the ingredients for simple baked chicken breasts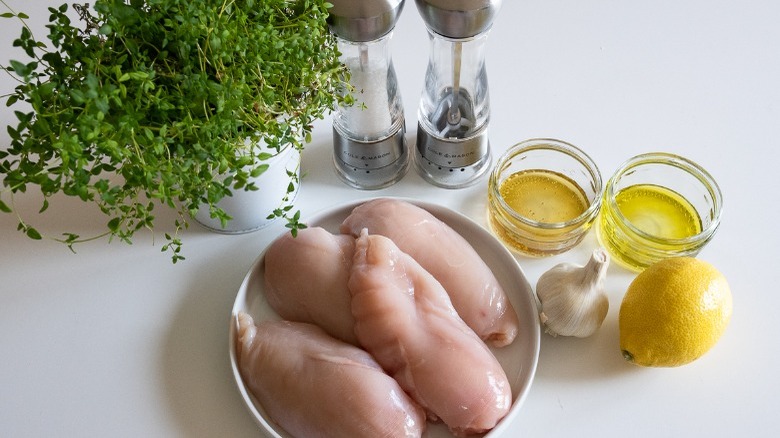 Jennine Bryant/Mashed
Though this recipe is simple, it's still a good idea to get everything ready first. You'll need chicken breasts, of course; Bryant says you can use skinless and boneless chicken or skin-on, bone-in. "I do actually prefer chicken with the skin on but I can't find any here where I live right now, for love or money! But the recipe works just as well either way," she notes.
You'll also need fresh thyme (though dried also works), a lemon, olive oil, honey, lightly crushed cloves of garlic, and good old salt and pepper. "I went with lemon, thyme, honey and garlic as they are quite classic flavor pairings with chicken and I wanted to keep the recipe simple, fresh and light," Bryant adds. "The flavors go amazingly well together and don't overpower the chicken breast."
Why chicken breasts?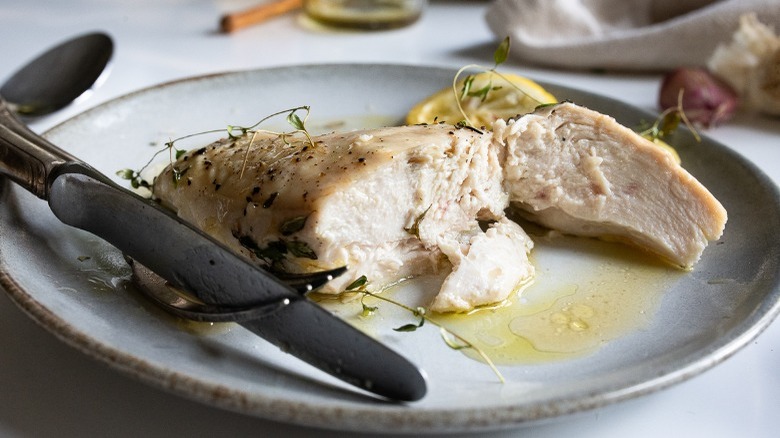 Jennine Bryant/Mashed
Chicken breasts are such a popular protein that you may never think twice about seeing it on your plate. But this lean meat is popular for a reason — according to Chef Gourmet, they're low in fat, relatively easy to prepare, and tend to be appealing to a wide range of ages. Plus, this recipe calls for baking the breasts, which is one of the healthiest ways to cook chicken! If you're not the biggest fan of chicken breast, Bryant says her recipe also "works wonderfully with chicken thighs."
Add your aromatics and spices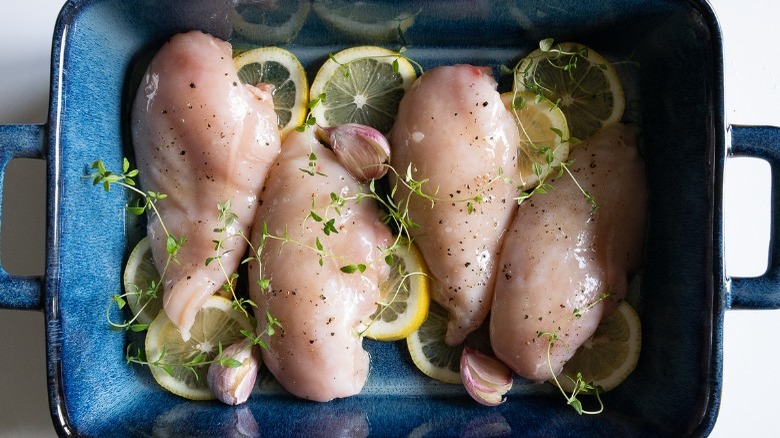 Jennine Bryant/Mashed
After prepping your ingredients, the rest of the process is fairly simple. Preheat your oven to 400 F, then slice the lemon into thin rounds. Start by adding oil to your roasting tray, then coat the chicken in that oil and arrange it in one layer in the pan. Sprinkle salt and pepper all over, and slide the lemon slices around and underneath the meat.
Finally, add a generous drizzle of honey and scatter the springs of thyme and crushed garlic over everything. "Lightly crushing the garlic allows the bulb to roast whole in the oven and release its delicious roasted flavor," Bryant explains. "It also stops the dish being overpowered by garlic as it might do if the garlic was minced. I think the roasted garlic cloves just make the chicken taste incredible. But then, I love roasted garlic!"
Bake, rest, and enjoy the chicken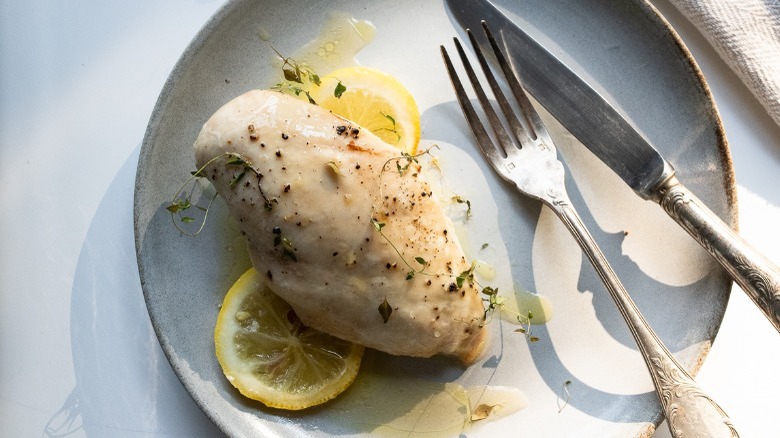 Jennine Bryant/Mashed
Now that you've added all the seasonings, there's not much left to do. Simply pop the roasting tray in the oven and bake the chicken for 25 to 30 minutes. When the meat is fully cooked, let it rest for a few minutes. After that, all you need to do is plate it up and dig in! If you need some ideas, Bryant says she recently "had it with cabbage and roast potatoes, like a pared-down roast dinner." The next day, she "[had] the leftover chicken alongside a sweet potato and spinach salad. It's great hot or cold, and delicious sliced up in sandwiches with some avocado!"
If you're making this chicken to use later or end up with some extra, Bryant's got you covered: "The best way to store leftovers is to wait for the chicken to cool completely, then transfer it to an airtight container and keep the leftovers in the fridge. They will be good to eat over the next two to three days."
Simple Baked Chicken Breast Recipe
If you're looking for an easy, simple, yet fulfilling dinner option, this flavorful baked chicken breast recipe will do the trick!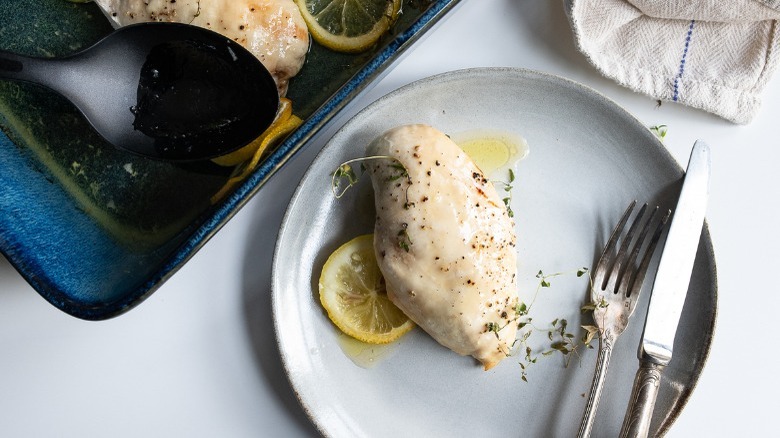 Ingredients
1 lemon
1 tablespoon olive oil
4 chicken breasts
salt, to taste
pepper, to taste
1 tablespoon honey
3 cloves garlic, gently crushed
1 bundle fresh thyme
Directions
Preheat the oven to 400 F. Slice the lemon into thin rounds.
In a medium-sized roasting tray, add the olive oil and the chicken breasts. Roll them in the oil to thoroughly coat the chicken breasts.
Season the chicken breasts with salt and pepper, and then tuck the lemon slices around the chicken and drizzle everything with honey.
Add the gently crushed garlic cloves and fresh thyme.
Place the roasting tray in the oven for 25 to 30 minutes, until the juices of the chicken breasts run clear when cut with a knife. Remove them from the oven and allow them to rest for a few minutes before serving.
Nutrition
| | |
| --- | --- |
| Calories per Serving | 355 |
| Total Fat | 19.6 g |
| Saturated Fat | 5.1 g |
| Trans Fat | 0.2 g |
| Cholesterol | 111.4 mg |
| | |
| --- | --- |
| Total Carbohydrates | 7.0 g |
| Dietary Fiber | 0.7 g |
| Total Sugars | 4.7 g |
| Sodium | 466.8 mg |
| Protein | 36.7 g |